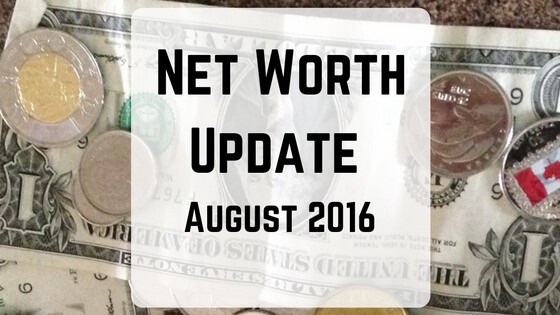 Net Worth Update for August 2016
As a background, I have been running my net worth numbers every month for 10 years. It's been a huge factor in my financial development and success. If you are new to personal finance I would suggest you get familiar with all things net worth with this post, if you are looking for a quicker way to calculate your net worth you can check out Personal Capital.
(On a side note if you are interested in tracking your own Net Worth you can do it easily with Personal Capital. It does all the tracking for you. If you are in Canada you can use Mint.com but it's not as good as Personal Capital from what everyone tells me)
Changes in Total Net Worth
(As I mentioned in the inaugural net worth update. When it comes to monthly reports I'm going a different route than a lot of others. Instead of going through the nitty-gritty of every detail on my net worth statement. I'm taking a macro view so we don't get bogged down by the details.)
43%
Our increase in net worth was a whopping 43% of our take home income. Talk about a drop from last month!  Looking at the numbers our investments were flat. We started to throw more down on our remaining debt, which passed into the 4 digits this month. Which is awesome. I'm at the point where I just want it gone so I can get on with life. (You know what I mean right?)
Expenses for the month
Our spending wasn't as bad as July. Which is good but not great. We decided to do a lot of free or affordable activities this month which led to us keeping our expenses down.
Honestly it's kind of humorous, last month was a big spending month and our net worth did better than this month when we spent less. The joys of investments and being in the markets.
Cash Diet Time!
September means it's time to whip our financial butts into shape. We are doing a cash budget month where we track everything that we spend. We are determined to get our budget back in check and this is the best way to do it. We are a few days into it and we are noticing a lot of changes to our spending. Part of it is getting back into the school swing of things and other parts are just getting out of holiday mode.
I'm really strict when I go on a Cash Diet, I set it up in my mind that this is how it's going to be and if we are to run out of cash by the end of the month we will just have to go without. It's always a great way to get yourself back into check.

Passive Income for the month of August and The Grid
Our passive income for the month was low compared to other months.
August does have a few big notes. This is the 3rd month in a row that our site has generated revenues!!! Our other passive income numbers are down but that is part of the way August is for our numbers.
September is set to be a better month. I'm also changing around some investments this month as I am spotting some new opportunities out there in the market.
One Last Thing
If you would rather track your net worth with software Personal Capital or Mint.com are good choices. Both are completely free.  Most people swear by Personal Capital but it's not available to us northern folk (a.k.a. Canadians).
If you are wanting to track your net worth either one are a good place to start. Personally, I absolutely love being able to see my net worth every day as it's a huge motivator to keep making smart financial decisions.

If you are needing a primer on net worth, you should check out this post here.
Have you calculated your net worth for August? I'd love to hear how your month went, post a comment below.
FREE Ultimate Guide: How To Get Out Of Debt
Sign up for our weekly emails and we will send you our guide to becoming debt free and other useful resources to help you with your money.