Net Worth Update for December 2015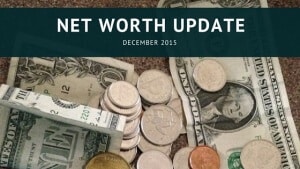 (When it comes to monthly reports I'm going a different route than a lot of
others. Instead of going through the nitty-gritty of every detail on my net worth statement. I'm taking a macro view so we don't get bogged down by the details.)
Changes in Total Net Worth
This month our net worth increase was great. Especially considering that December is our biggest expense month. Overall year over year we are at 10.84% increase from last years net worth. Which is still good, but I would like to see it above 12%. (And for the record if I was at 12% I would like it to be more than that too. 🙂
2016 is going to be a year of big things and big changes. I have a lot of things planned for Family Money Plan and I'm very excited for the year ahead. Make sure to sign up for the newsletter so you don't miss out on any of the action

Passive Income for the month of December
Our passive income for December was from our dividends and some interest in our accounts.
Income from Dividends $38.71
Interest $3.32
I'm really excited about the year ahead and to start building our nest egg and growing our passive income sources.
Total Passive Income for December $42.03
This may seem small to a lot of people but for us it's ground zero. I'm hoping as we go through the following years that we will be able to see how our passive income grows over time.
Overall Passive Income for 2015 – $772.94 in Dividends and $98 in Interest.
This was the first year of investing for dividends. I have been pretty happy with our dividend system so far. Many of our stocks are down over the year, but they are still cranking out the dividends which means that they are cash flowing decently. Despite what Mr. Market is currently valuing them at.
Passive Income and Expenses From Websites
Since this blog is also a business I need to be keeping track of all of my income and expenses come in. I have a threshold that once I hit I will start posting how much I am making from my online efforts.
A Few Other Notes
If you want to get started on your own net worth statement and take your first steps towards financial well being you can sign up for our mailing list here.
Have you calculated your net worth for December? I'd love to hear how your month went, post a comment below and let me know.


FREE Ultimate Guide: How To Get Out Of Debt
Sign up for our weekly emails and we will send you our guide to becoming debt free and other useful resources to help you with your money.