Net Worth Update for November 2015
(As I mentioned in last months inaugural net worth update. When it comes to monthly reports I'm going a different route than a lot of others. Instead of going through the nitty-gritty of every detail on my net worth statement. I'm taking a macro view so we don't get bogged down by the details.)
Changes in Total Net Worth
Wow that month went quick! This month our net worth was pretty decent. We increased our Net Worth by 54% of our income! This was largely due to the mortgage payments and paying down our car loan. Only 5 mortgage payments left ! WooHOOOOOO!
So what Happened this past month?
The nice gains we had from the stock market last month reversed on us.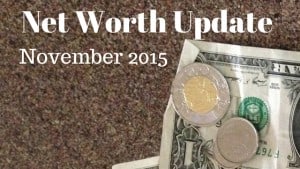 Hey! This happens in investing. Its unfortunate but I have no control over what Mr. Market decides t0 do in any given month (but man would it be sweet if I did have that control!).
On a Positive Note
This does mean that my stocks that I bought are down and are worth looking over to see if any are at bargain basement prices. Often I will grab some of the stocks I own when they have a higher yield over that of the historic yield. It's one of several stock criteria I have.
Remember there is opportunity in everything. You just have to keep looking for it.
Passive Income for the month of November
Our passive income for November was from our dividends and some interest in our accounts. One of our companies cut its dividend, which sucks. I'll be keeping an eye on it. I don't like when that happens, but it makes good business sense given the business environment they are in.
Income from Dividends $38.00
Interest $ 2.83
Total Passive Income    $ 40.83                         
Hardly needle moving, but starting out with the blog I want to be accountable to you. This is pretty light but I'm just getting started on the whole passive income and wealth and asset building side of things. That said I can't wait to start growing this part of my finances.
Passive Income and Expenses From Websites
Since this blog is also a business I need to be keeping track of all of my income and expenses come in. I have a threshold that once I hit I will start posting how much I am making from my online efforts.
A Few Other Notes
This was my first full month that the site was up. Thank you to everyone who read it, and a huge THANKS! to those who have left comments. I heard from someone who used the Satellite Radio technique I wrote about.
I am making my way through the Internet Business Mastery Academy. This has been a huge catalyst for me. Instead of trying to figure everything out for myself, I have a ton of resources at my use, and their guide to setting up a business online is a perfect step-by-step process that I will use for any new business that I start.
If you are needing a primer on net worth sign up for our mailing list below or you can check out last week's post on The Net Worth Statement.
Have you calculated your net worth for November? Are there any details you would like to see? I'd love to hear how your month went, post a comment below.
FREE Ultimate Guide: How To Get Out Of Debt
Sign up for our weekly emails and we will send you our guide to becoming debt free and other useful resources to help you with your money.