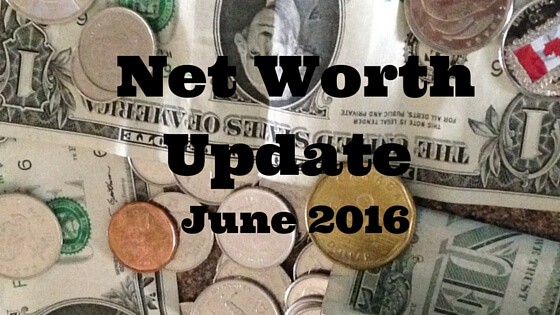 Net Worth Update for June 2016
Some quick housekeeping… I will be going to just 2 posts a week one on Monday and a Behind the Screen Interviews on Friday for the months of July and August. To make sure you don't miss out sign up for our newsletter here.  Now let's get to the juicy numbers.
As a background, I have been running my net worth numbers every month for over 10 years. It's been a huge factor in my financial development and success. If you are new to personal finance I would suggest you get familiar with all things net worth with this post, if you are looking for a quicker way to calculate your net worth you can check out Personal Capital.
Changes in Total Net Worth
(As I mentioned in the inaugural net worth update. When it comes to monthly reports I'm going a different route than a lot of others. Instead of going through the nitty-gritty of every detail on my net worth statement. I'm taking a macro view so we don't get bogged down by the details.)
70%
Our increase in net worth was a whopping 70% of our take home income!!! When I look at our numbers we had an extra payday that we were able to put away. Which is a huge help. The market was kind to us given all the noise about Brexit and overall we remained flat. We actually moved some more money into the market incase some good buying opportunities come up.
A few successes in the month. Our basement renovation is complete and came in under budget!!!!  If there are two words that put a smile on my face they are "under budget". I still need to do some touch ups but given everything. I'm thrilled with what we got accomplished.
Expenses for the month
Looking at our expenses June is always an expensive month but we managed to come in right around half of our income. This is not factoring in the hotel expense that we had to pay for our trip next month. Which by the time this comes out I will already be on and in the mountains. I can already smell the crisp mountain air.
Summer Spending Ahead
Honestly when it comes to the summer months we tend to go a little more lenient in our spending. We love getting together with people, going places and making the most of our summer. Because of that, some of what we have saved up will get put to good use and memorable experiences. Which, in my opinion, is the whole reason for looking after your money.
I almost go into a money saving hibernation, as long as we don't go too excessive I'm ok with it. The biggest part for me is to never spend more than we earn in any month, No. Matter. What. As long as we can still save a little in the summer months I'm good with it.

Save the Savings Challenge
I've decided to put the challenge on hold until the fall. The point of the challenge was to see how much I could save. Over the past 3 months I saved over $1300. This was enough to cover a weeks worth of hotel stays in the rockies for our summer vacation.
I'm thinking of some new challenges once summer is done. Stay tuned!
Some Sweet Savings
One thing that helped us out was using Ebates to book our hotels through Hotwire. I tried booking through Ebates and an hour later I got an email. I saved 10% on each hotel booking (before taxes). For a week's worth of hotels that's over $100 saved.
If you are wanting to get started using Ebates you can use this code here to get a free $5 just for signing up. Going forward any shopping I do I will be checking Ebates first. That's an extra $100 I just saved!!!
Passive Income for the month of June and The Grid
Our Passive Income for the month was it's biggest yerGoing forward, I'll only be sharing the passive income numbers with members of the Family Money Plan newsletter. I would love to have you as part of our weekly newsletter.
If you would like to see our passive income, you will need to sign up for the newsletter in the box at the bottom.
A Few Other Notes
If you would rather track your net worth with software Personal Capital or Mint.com are good choices. Both are completely free.  Most people swear by Personal Capital but it's not available to us northern folk (a.k.a. Canadians).
If you are wanting to track your net worth either one are a good place to start. Personally, I absolutely love being able to see my net worth every day as it's a huge motivator to keep making smart financial decisions.

If you are needing a primer on net worth, you should check out this post here.
Have you calculated your net worth for June? I'd love to hear how your month went, post a comment below.
FREE Ultimate Guide: How To Get Out Of Debt
Sign up for our weekly emails and we will send you our guide to becoming debt free and other useful resources to help you with your money.