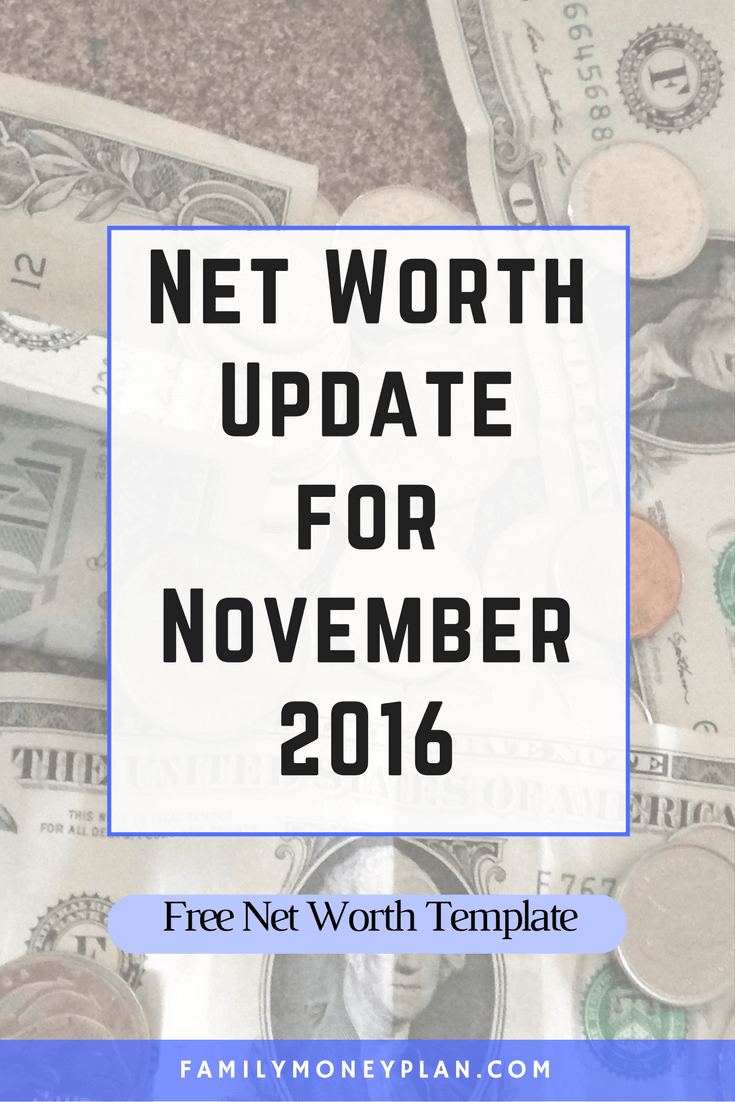 I have been doing my net worth statement every month for 10 years. This has been a driving factor in getting out of debt and becoming mortgage free. If you are new to personal finance, and want to take control of your money, I would suggest you get familiar with all things net worth with this post on how to calculate your net worth. If you are looking for a quicker way to calculate your net worth you can check out Personal Capital.
November seemed to whip by at a wicked fast pace. There was so much that happened and things that were done that it literally blew by. I love this time of year, I just wish there was a little more free time. But that's always the case.
Ok let's dive in and see how things went in November.
Changes in Total Net Worth
(As I mentioned in the inaugural net worth update. When it comes to monthly reports I'm going a different route than a lot of others. Instead of going through the nitty-gritty of every detail on my net worth statement. I'm taking a macro view so we don't get bogged down by the details.)
Increase: 68% of Earned Income For The Month
The growth in our net worth this month really came from some extra income through freelancing. I'm am starting to take on more freelancing work and all of the money is being saved at the moment. Add on that this site has seem some great growth over the past month it makes for a roller coaster of fun.
Expenses for November
This month and next month are where we really take it on the chin for our expenses. Our property taxes are due and then our car insurance. Add on Christmas spending and a bunch of other holiday goodness and it quickly becomes the most expensive part of the year.
With both of the annual expenses we have separate accounts that we use to put money away every month so this isn't a shock to our system.
Still it's always a little painful (ok a lot painful) to have that money go out of our accounts that you watch grow over the year.
Luckily the money was available thanks to our money system. Which you should totally sign up for, because it's free, and it changed my life, and others too. 
Compare November Spending to November of Last Year
One of the great things about tracking your finances for years with Personal Capital or Mint, is that you can go back and see how you did from one year to another.
This is the second month in a row where our expenses are within $100 of the same month last year (once we factor out debt payments). Which is nice to see we haven't been spending too much, but it means that we are going to need to dig a little deeper. I would love to see about 20% cut from our current spending totals. I'll be using my daily spending rate as a key factoring in my spending decisions.
Not sure if it's possible but I like to think about it (because I'm a nerd and that's what us nerd think about, cutting costs and making more money)  😉
I'm looking into other ways to earn income in the new year, one of them is through stocks.  I've been learning more about stocks on CMC markets site.
My big realization is that if we are going to change our spending habits, we are going to have to change a lot of our behaviours towards spending. More on that in the new year.
Travel Hacking Update
I mentioned previously we are taking our first shot at travel hacking. We got an American Express Gold Card. This card came with 25,000 point and a waived annual fee in the first year.  This is enough points for a flight in North America (or more if you take a red eye). All we had to do is spend $1,500 in the next 3 months to qualify. We managed to hit our spending limit this month, reaching the 3 month threshold and were immediately credited 25,000 miles. Chalk one up for travel hacking!
My plan with this is to cancel before it renews next year so I don't have to pay a fee. Really it's like getting a free flight for spending I was going to do anyways. Check out the American Express Gold Card it's here and get started on your own travel hacking adventure.
One Last Thing
If you would rather track your net worth with software Personal Capital or Mint.com are good choices. Both are completely free. 
If you are wanting to track your net worth either one is a good place to start. Personally, I absolutely love being able to see my net worth every day as it's a huge motivator to keep making smart financial decisions.

If you are needing a primer on net worth, you should sign up for our newsletter and get the Net Worth Template I have used for 10 years. It's  absolutely free, plus I'll throw in some other goodies too.
Have you calculated your net worth for November? I'd love to hear how your month went, post a comment below.
FREE Ultimate Guide: How To Get Out Of Debt
Sign up for our weekly emails and we will send you our guide to becoming debt free and other useful resources to help you with your money.