This week marks my first 6 months of this site. As a way to celebrate, I thought I would get a little personal with you. I saw this post on a few other bloggers sites and I thought I would take a crack at it. If you are looking for a blog post with more of a "Money" focus you can check out my guest post today on Jessica Moorhouse's site. Before that, I would like to thank you for visiting the site and being one of our readers. You motivate me with your comments and shares and I look forward to many years to come.
So this is all about me. It feels a little weird to be sharing this stuff online, but I've seen some other bloggers do it and I thought "Hey, why not?".
If you want to get to know me more here are some random facts about yours truly.
Travelling is a big part of my past and future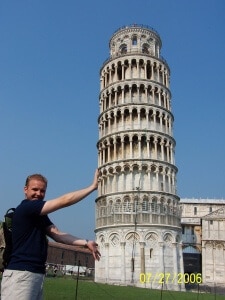 I traveled and worked in Europe for 6 months when I was 19. I went to Europe for the first time with my parents when I was 18. I decided I would try 2 weeks on my own. After those two weeks, I was able to meet an owner who offered me a job in a youth hostel. I returned home for 6 months and worked to make enough money to go back.
Working abroad was one of the scariest/most amazing/ crazy/ unbelievable things I have ever done. Looking back I know it's made me wiser. I'm not sure I would do it all again, but it has made for some good stories over the years.
When I was in Europe, I was a bartender (among many other things) in a 4-star hotel. In the town just outside Highclere Castle where Downton Abbey was filmed.
I worked in one of England's most haunted place for a week. It was creepy, like… really, really creepy, everyone who worked there had stories about things they would hear in the night and some claimed to have seen things.
I have travelled to 19 different countries. So far, I have been to the United Kingdom (England and Scotland), Spain, France, Switzerland, Italy, Vatican City, Belgium, Netherlands, Germany, Czech Republic, Austria, Hungary, Canada, USA, Morocco, Gibraltar, Greece, Cuba, Monaco. I've been through 6 provinces, and about 9 states.
Music is a huge part of my life
I worked in a Music Store for 5 years and got to meet quite a few famous musicians. This was probably the best gig I ever had. It was a small second-hand music store which was perfect for me. I hounded the owner for 3 months every day to give me a chance. He kept putting it off and finally gave me a shot. I took the job without asking what I got paid. That job changed my life in so many great ways.
My first job was a telemarketer and I hated it. I can't sell. I've been told I have a good voice on the phone and I thought that it would help… It didn't.
I used to play guitar and sing in cafes. Singing and playing guitar is still the ultimate way to put a smile on my face. For the past 10 years, I haven't really played that much. Although, lately I have been rekindling the romance with my acoustic and I love every chance I get to play.
I used to teach guitar (acoustic, electric and classical).
I own over 700 CD's (yes CD's), 5 Guitars and 1 Amp. I am a huge music buff. I pretty much love anything with a good tune, catchy beat or amazing lyrics. I'm definitely a lyrics person.
My favourite bands are…. pretty much all of them, but if I had to pick a few Matchbox Twenty, Pearl Jam, the Eagles, Train. Ed Sheeran's album was the last full album I bought, and it's probably one of the better well-rounded albums I've heard in a long time.
Life and Randomness
I started a 30-minute fitness centre for men, it was a good experience and decently successful but my business partner and I decided to stop after a year because we realized it just wasn't the right business for us.
I walked 50,000 steps in 8 hours this past fall and my goal is to do 100,000 this year in the spring. The tentative weekend is May 14-15.
I have been playing hockey since I was 6 and still play 3 times a week. My father plays and he is in his late 60's so I have a lot of years left if I'm going to beat whatever record he sets. For my family, hockey has always been a bonding thing. I love it and smile every time I drive to the rink. Even writing about it gets me excited for the next time I get to play
I still think I am a kid playing grown up. Doesn't everybody?
I used to buy and sell musical instruments when I was in high school and this paid for my time in Europe.
I am bilingual in French and English. I went to French immersion, and pretty much haven't used French since high school except for when I am in Europe or Quebec. I can think in French though it's getting harder and harder to do as time goes on.
I got engaged on a beach in Cuba. It was supposed to be on new years eve. My girlfriend (now wife) and I went down over Christmas break and I had it all planned out to do it when the countdown started. Once we got to Cuba, all I could think about was that moment, so I did it a few days early and enjoyed the trip a lot more knowing that we were engaged.
I didn't ride a bike from the age of 15 to 26. I fell off my bike and had a terrible accident when I was 15. It was nasty, like picking gravel out of the gashes on my arm for an hour nasty. After that my bike got fixed, the first time I took it out someone stole it. After that I figured "Screw it, I'll just walk". I finally rode a bike again when I was back in England. Totally not true what they say about "It's just like riding a bike", I wiped out almost immediately and a few times after that.
I once lent Tyne Daly (Lacey from Cagney and Lacey) my pen on the train on my way back to London from Stratford Upon Avon. She used it to do a crossword puzzle and thanked me for it when she was done.
A few years ago I nearly died from a blood infection, it started as a bad flu, turned pneumonia, turned to a blood infection. I've had several other times where I've been close to "punching out my time card", it's crazy but it never felt dire at the time. It's only when I look back on it and go …"Yeah I guess that was kinda bad"
I stood next to John Cleese on a train platform in Reading, UK and didn't have a clue what to say. Seriously what would you say to Basil Fawlty ? 😮
I watch a comedy before bed every night. Usually, an episode from It's Always Sunny In Philadelphia , the I.T. Crowd or Arrested Development. I love laughing, laughing is my favourite.
My favourite beer is Guinness and my top scotch is Glenmorangie with 2 ice cubes.
I love talking with people but I would probably put myself in the "introvert" group. I'm way better one on one than in a group. Except public speaking, for some reason, I'm ok doing that.
I love running though it didn't start out that way. In an effort to keep my weight in check I decided running was going to be "it". So I started with the premise "I'm going to do this until I enjoy it, or, at least, figure out why others like this form of punishment so much". I don't run races or marathons. I just like to get outside and go for a run.
I'm a huge fan of self-improvement and love taking on new challenges. Right now my latest challenge is to save all of my savings from when I buy things. You can check it out here. I would love for you to take the 30-day challenge.
I'm a proud Canadian father of two amazing kids. In case the whole French speaking, hockey playing thing didn't give it away. 🙂
Well, there you have it. A few facts about yours truly. If you have any common likes I would love to hear about them in the box below. Got a question? Pop it in the comments below.