There is nothing worse than buying something and feeling like you have paid too much. Or finding out you could have saved (more) money if you had only done it a little differently. This is how I just about threw away an extra $100 in this past week.
Quick Background
We are getting set to leave on our road trip. I can't wait! Rocky Mountains here we come! Whenever we travel I like to use Hotwire to book our hotels. I have been using it ever since our honeymoon in 2004. The first time we got the Sheraton in downtown Montreal for 75% off of what it would have been had we booked it through Expedia. From that moment on I was a fan.
Recently, in an attempt to save more and more money I stumbled upon Ebates. It's something that I have heard of in the past but never really understood.
What is Ebates?
Ebates is an online shopping portal where if you shop at certain stores through their app (think Nike, Hotels.com, Hotwire.ca and hundreds of other online stores) you get a rebate on the amount that you spend. This rebate can be anywhere from 1% to 10% or beyond depending on the site.
Pretty simple
Except it was new to me. I'm all for trying new things, but I'm always a little hesitant at first.  I didn't really know anyone who had used it, so as the self appointed "Crash Test Dummy of Personal Finance" I decided to give it a try.
Before I Used it
First, I wanted to make sure that I wasn't getting "scammed". I'm always wondering:  "Ok is this really saving money or are you charging me extra?"
To make sure, I went through the Hotwire app on my phone and checked out the price of a hotel.
Then I went on my computer and checked if it was the same price using Ebates. It was. So nothing fishy going on. All good.
It was at this point Hotwire had a special where you could save "up to 10%" on your hotel booking. I found the hotel deal I wanted and then went to Ebates. The same hotel was there for the same price.
GREAT! So it's a legitimate savings.
So I decided to book through Ebates because:
It's not costing me any more (in fact I got $5 for signing up, you can too by clicking here)
Worst case is I book the same hotel at the same price and I get no discount.
I WILL BE SAVING MONEY
So I booked the hotel using the Ebates site (which is just a browser that looks identical to your normal web browser) and an hour later I got an email.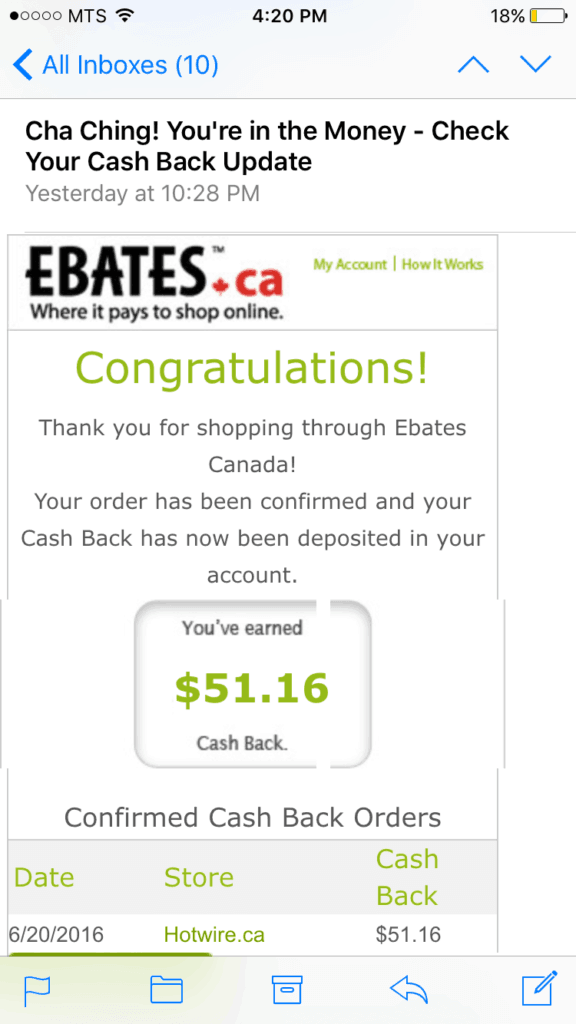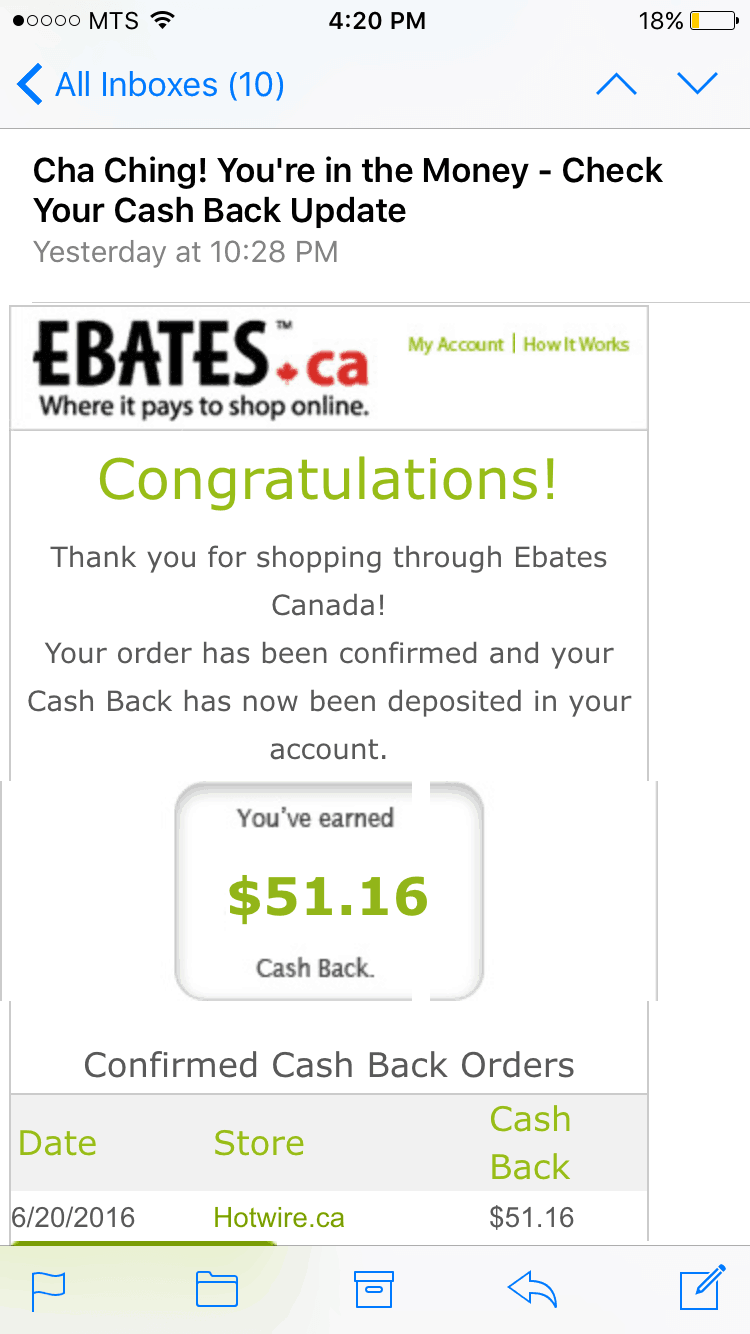 Ebates just made me a user for life
And that's how Ebates won my heart… wallet. The next day I jumped back on and book another hotel for a few more nights since there is a sweet discount.  A few hours later another email.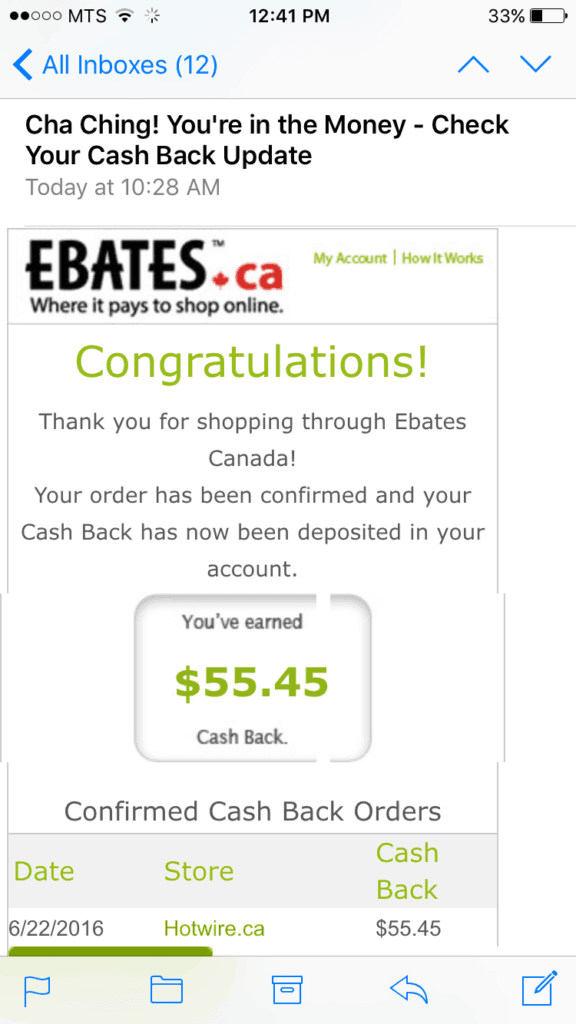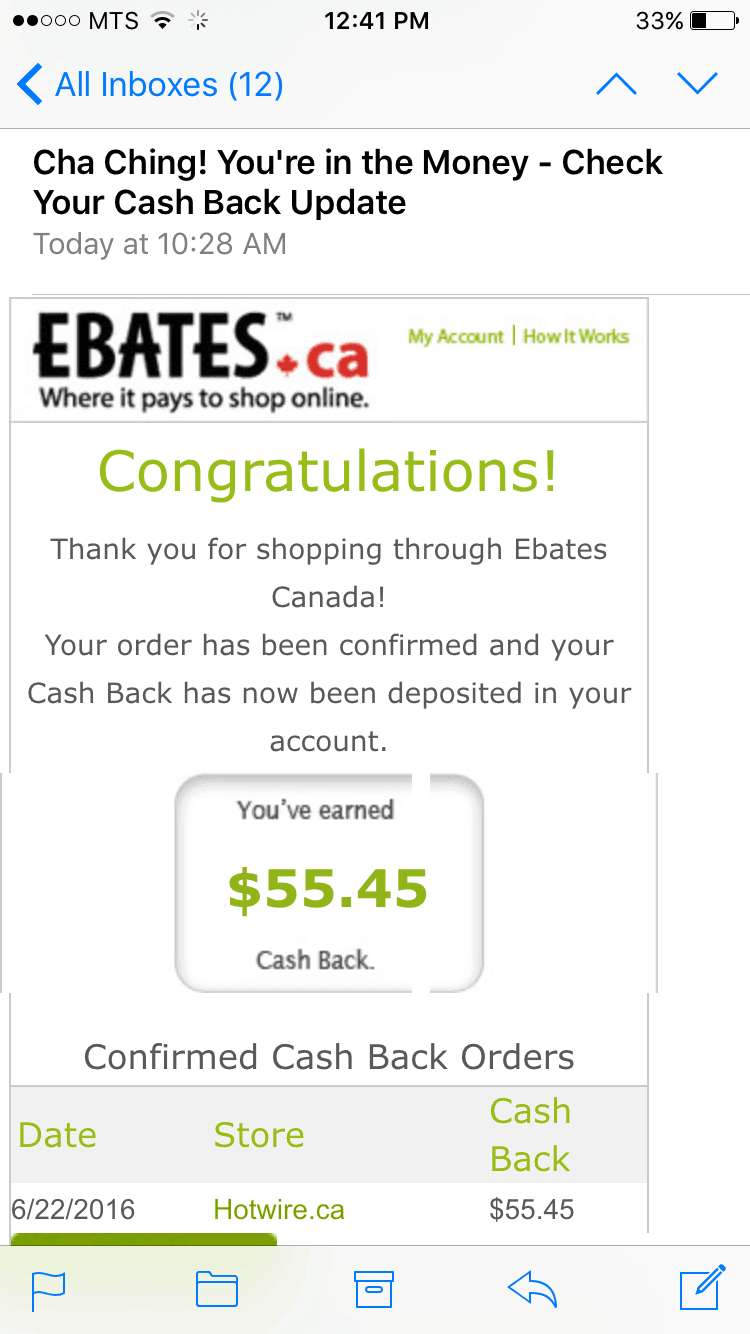 People! That's $106 I was about to give away that I didn't have to. I saved enough cash to cover a good part of the gas on our 14 hour drive. That's huge!!!!
Here's $5 to get you started
If you are wanting to get started using Ebates you can use this code here to get a free $5 just for signing up. Going forward any shopping I do I will be checking Ebates first.
That's a $100 I almost threw away.
To get started with Ebates and get $5 you can sign up using this link here.
Have you used Ebates before? Let me know in the comments below!
FREE Ultimate Guide: How To Get Out Of Debt
Sign up for our weekly emails and we will send you our guide to becoming debt free and other useful resources to help you with your money.