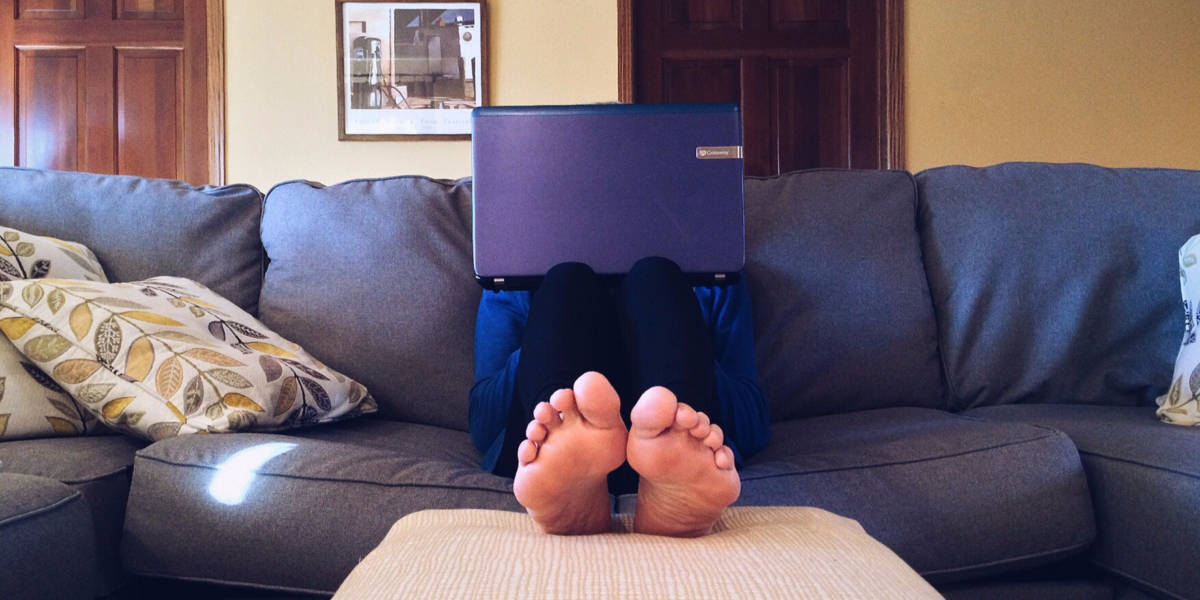 I'm coming up on my first 6 months of blogging and building a website. It's been a great 6 months. I love it. I can honestly say that going online and start sharing my experiences has changed my life in so many positive ways.
Deciding to start a blog was by far one of the best decisions I've made. I started this site as a way to keep accountable, but also to help others.  It's given my opportunities that never would have come my way otherwise.
Why Create a Blog?
I believe everyone should have a blog or a website of some kind. I'm starting my kids in online adventures because there is so much opportunity that comes from it.
If there is a topic you love, then I suggest starting a blog on that topic. If you love to write you can write, if you are better at talking then you can start a podcasting. If you just love being in front of a camera that option is there too.
But for any of those  you first need to have a place online for people to find you.
That's why you need a blog!
A blog (a.k.a. website) is like hanging your digital shingle, it tells people you have something worth sharing and a voice to express that opinion.
Here're a few things that have happened in my first 6 months. None of these would've happened without this site:
I've been interview by a national magazine publication, by a writer that I have followed for 15 years. The best part is that they found me, not the other way around.
I've had the opportunity to interview a published author.
I've had the ability to connect with fellow bloggers and find a community that I belong and fit in with.
My blog has been read in 88 countries, 1373 cities in the first 6 months. WOW!
My writings have been featured on several prominent sites and there are several more in the works.
My blog has given me credibility and allows me to reach an audience that 6 months ago didn't know my name.
I've had a great time interacting and digitally meeting these people.
Ok, that's enough of the pros I have experienced in my blogging. Let's cover what you need before you get started.
The One 2 Questions Before You Start
Pick Your Niche and Your Audience
What is your niche? Who is your audience? Once you know these two answers you will have a lot more success. Now to be fair, I didn't have a clear-cut audience or niche in mind. I just love writing about personal finance and money in general so it seemed like that was the right thing to do. Even if you don't know your niche and audience you can still start. Hey, I did!
Here's a Tip – Pick something you have an interest in OR something you are learning about and can share with people your progress along the way.
Contrary to what a lot of sites will tell you, it's very hard to earn a lot of money from week 1. The general rule is, for your first six months you will see barely any traffic or revenue. This is normal. It's also why you should stick with a topic you want to focus on for years to come. Find a topic you love and can't get enough of. That's where success will be easier when it's something you love writing and talking about.
Here's the bottom line, blogging is easy to start. I will show you how in this post. It's not too late to get started, in fact now is the best time because it's so easy and affordable.
First, Come Up With A Name For Your Site
When I came up with FamilyMoneyPlan.com it was something that I wanted to sum up where I was at (and still am). I'm a family guy who enjoys personal finance and planning things out.
I figured this site would be a personal finance site dedicated to helping families who don't know where to start when it comes to their finances.
As a huge plus, if you register with BlueHost you can get a free domain name. Just click here to get started.
It's well worth having a custom domain name. It looks more professional and gives you much more respect and credibility
Next, Find Your Host
I have been using Bluehost and I only have good things to say about them. Their pricing is great and they have great resources to help get you going.
As an added bonus you will get a Free Domain when you sign up for hosting with BlueHost.
Great Prices
This is where BlueHost takes the cake. I have a lot of friends who were over paying with other providers, their switch to Bluehost has saved them tons of money. I have used them from the start of Family Money Plan and am very happy with them.
Here's a look at their plans. You can start for as little as $3.95 a month. Seriously that's a cup of coffee.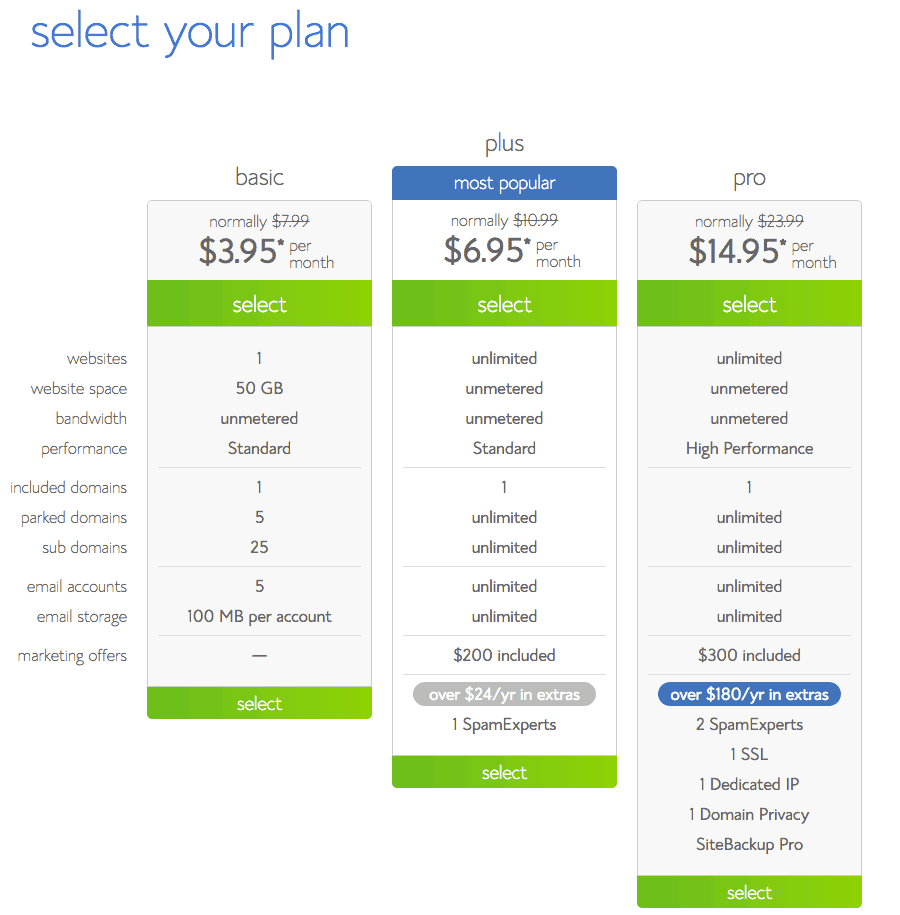 I locked in for as long as I could. To create a good site that will eventually have huge earning potential is not happening overnight. The truth is it is going to take some time and effort so I saw no problem with 3 years.
Don't go with a free service, they will limit some of the aspects of your site and what you can put on there. Or if you want to start adding extra pages you will be paying more than you would through Bluehost. I tried the free route first (with an old site) and it wasn't worth it.
The Number 2 Reason to Use Bluehost ( # 1 Is The Low Price Of Course)
Customer service
These guys have been awesome! I started out not knowing anything about websites, and have been able to talk with them or chat with every question I have had. Whenever I have had an issue they are super helpful getting things done right. Honestly, I love interacting with these people.
Steps to Opening a Bluehost Account
I made this quick video for you if you would  rather watch the step-by-step video than read it.
The first thing to do is go to the BlueHost page through this link
This will take you to their homepage that looks like this right now.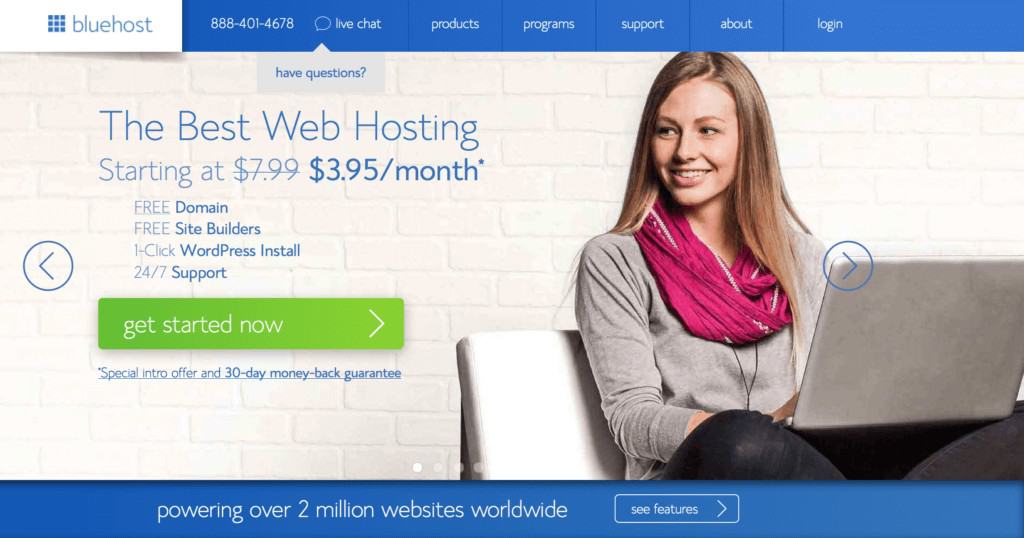 Action #1 – Click on the "Get Started Now" Box
Next, up you will need to select your plan. I went with the basic $3.95 per month plan, it's got everything a starter needs and you can always upgrade later on. (Their online service is really helpful with this stuff)
Action #2- Select Your Plan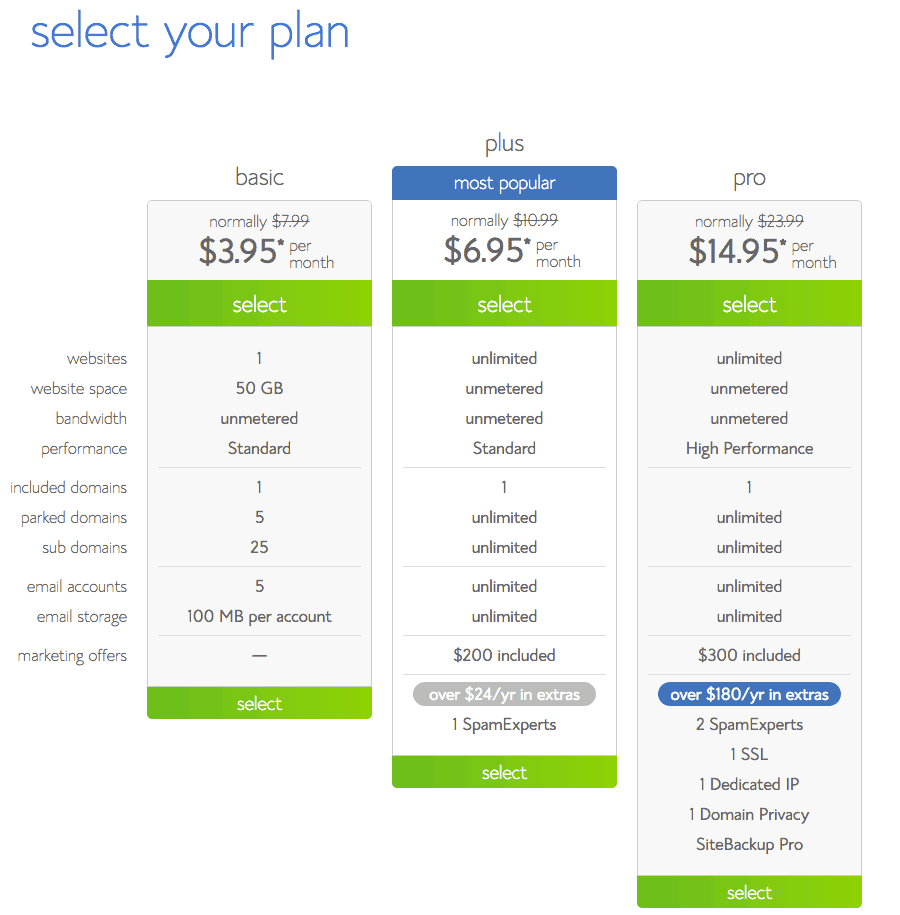 Action #3 – Select a Domain Name – Free with Bluehost
Next, up you are going to need a domain name. A domain name is what people will put in when they go to your site. Like FamilyMoneyPlan.com. When you sign up with Bluehost through this link you get one free!
You can get your domain right here:
This can be tricky but as a rule, it should be memorable. Try to avoid using "The" at the start of it if you can. Also, make a point of avoiding numbers in the name and plurals too.The .com is still the gold standard when it comes to a website, but they are getting hard and harder to find. If there is a name you just have to have, then consider a .org or .net or another extension that you prefer.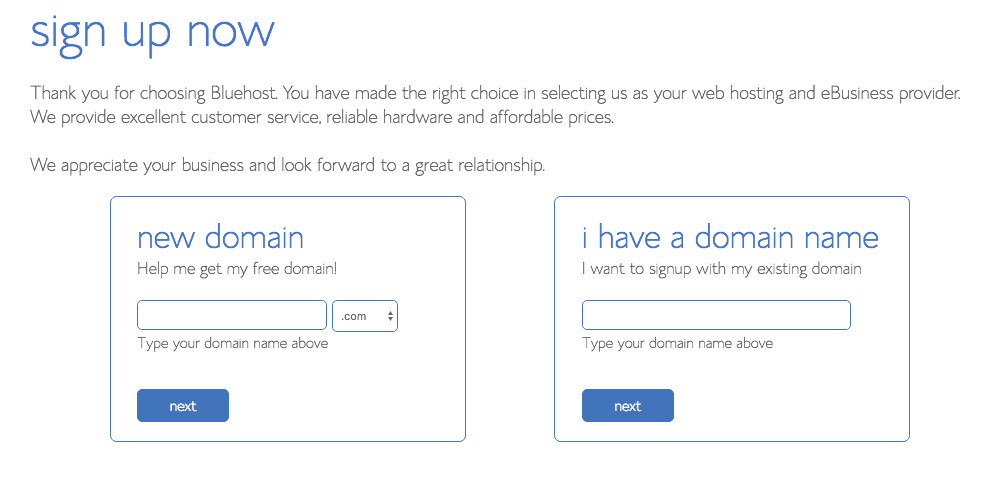 Once you have your domain picked out click on next and you will be taken to the next screen. Isn't this exciting !!!! 
Action #4 – Sign up for your account
This is where you will need to provide some information about yourself. So go ahead and fill that out.
 
Next, You Will Pick Your Package
I suggest going for the 3 years of hosting if you can handle the upfront cost. It's the best value. I opted for 3 years when I started because I wanted to give myself that much time to really develop my site.
One other note: There are a lot of options after this, I only picked the Domain Privacy and Protection for $0.99 a month. It keeps your name off of the online database as the registration for your site, just cuts down on the spam emails you get. Well worth it in my opinion. The others are entirely up to you, I opted not to do them, but there is some value to them if you decide to choose them.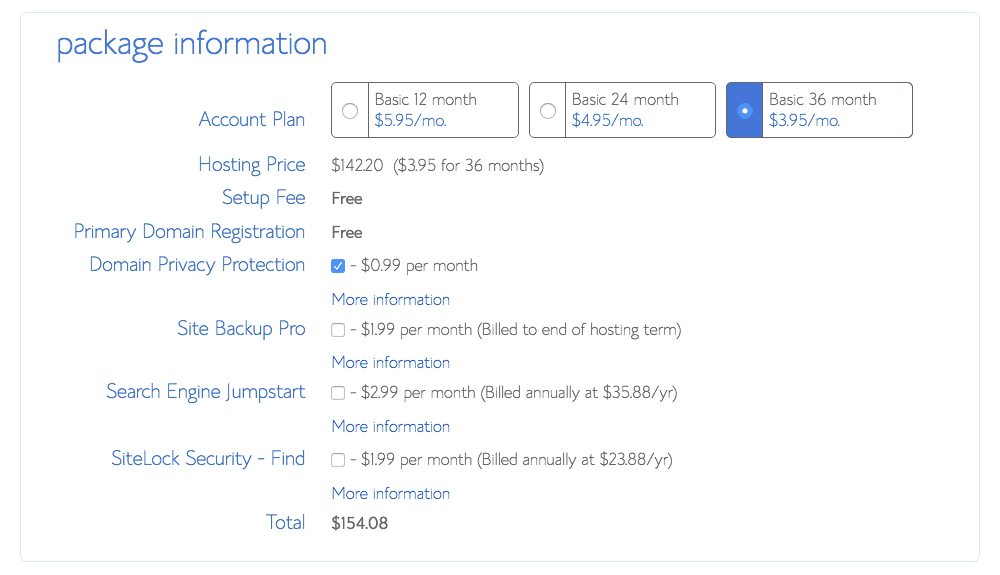 Fill in Your Credit Card Information in the Billing Section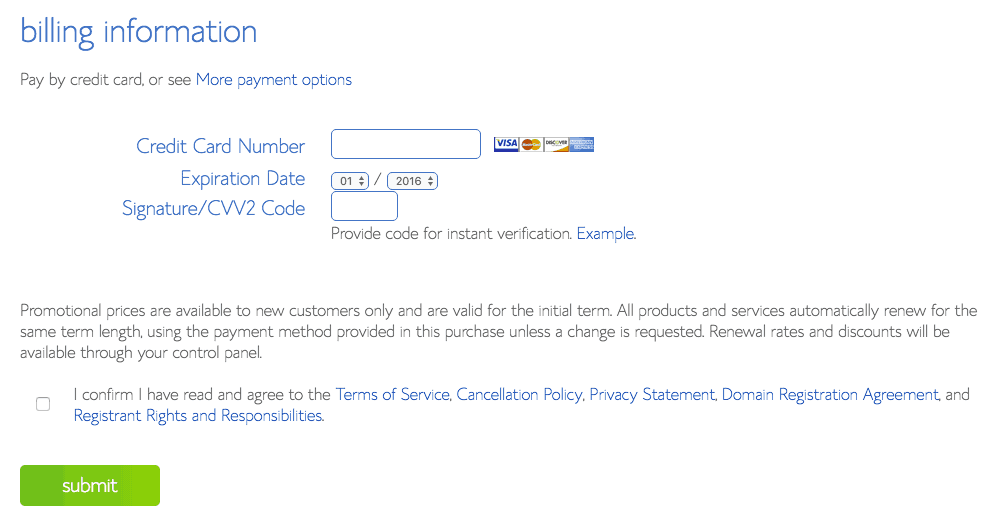 Action #5 – Submit Your Information
Make sure this page is complete and read the box at the bottom to make sure yo agree with the terms and conditions, once you read all of that information you are ready to click on "Submit.
Action #6 – Set Up Your Passwords
Once you have clicked on the Submit button you will get the following screen. Click on the Create your password button. You will get a confirmation email sent to the address in the previous screen. Click on Create your password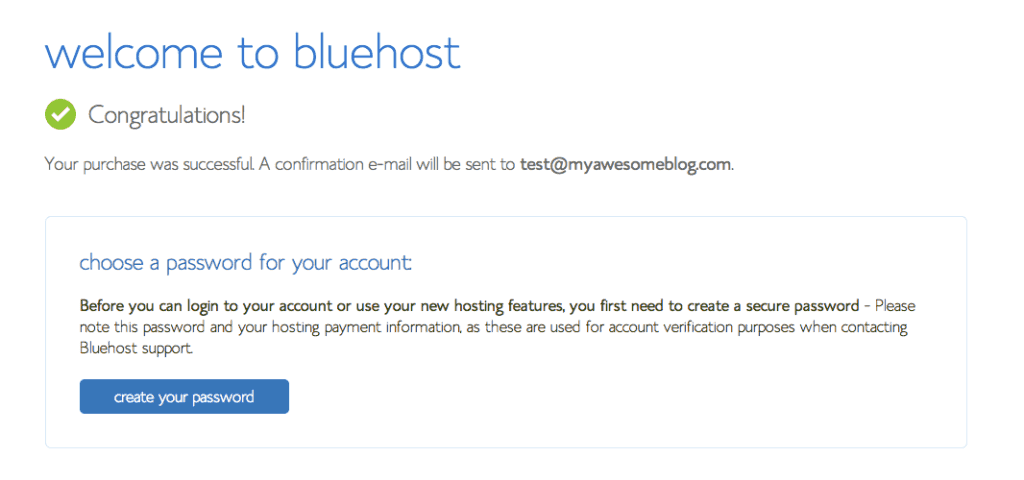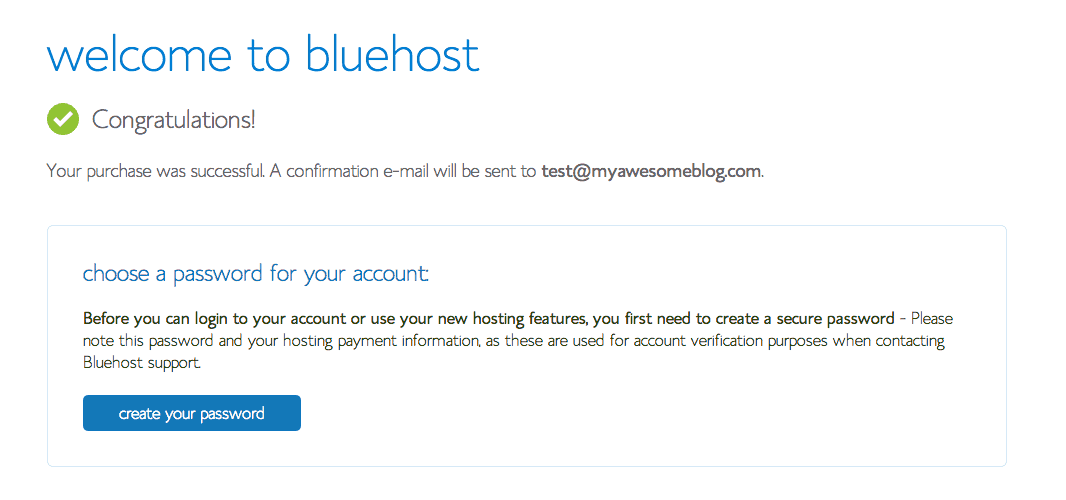 In the next step will be creating a password for your site. Make sure to enter something you will remember as you will be using this to get into Bluehost.

Once you have created your password click on Create. You will be taken to the following screen.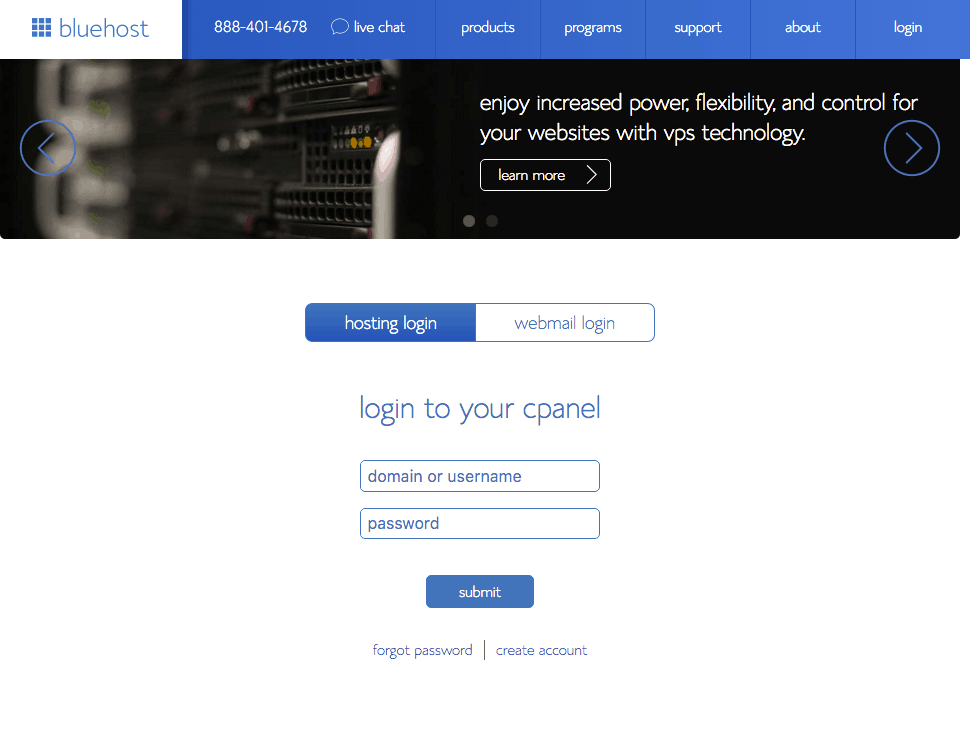 This is your Bluehost login screen. So far we have our domain and our hosting. Well done!
Now we need to get WordPress installed on our site. WordPress is the program you will be using to create your site and publish your posts.
Enter in your domain or user name and the password you just created.
Then click on the Submit button. (In the future you will be able to get to it by going to the main screen on blue host and clicking on the login at the top left hand.)
This will take  you to the cPanel in Bluehost. This is your behind the scenes website. In here you will be able to do a lot of behind the scenes website stuff.
The BlueHost cPanel: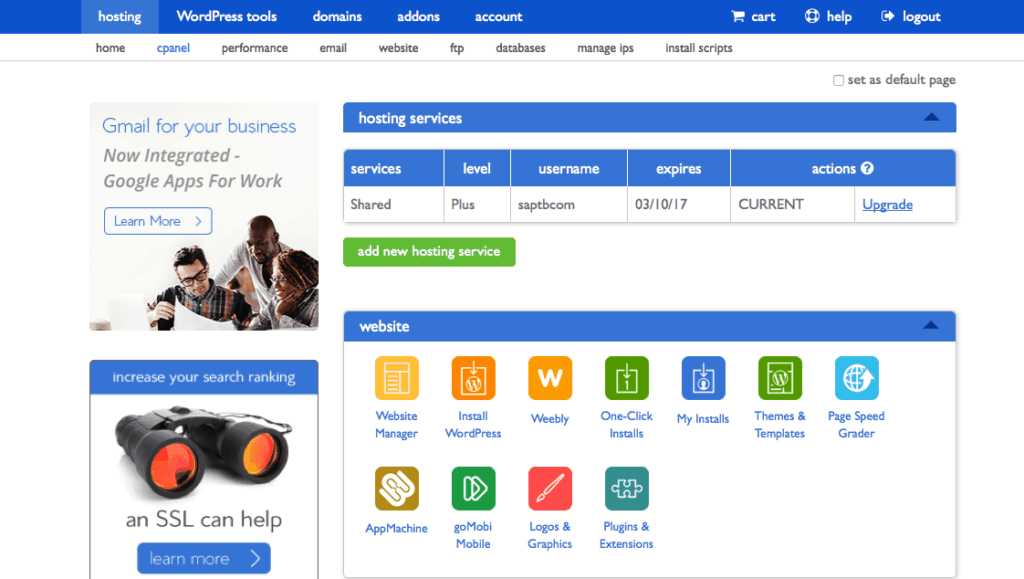 Action #7 – Install WordPress.
Scroll down to the website area and click on the "Install WordPress" Button.  This will set up WordPress on your site so that you can start blogging.
You will get this screen: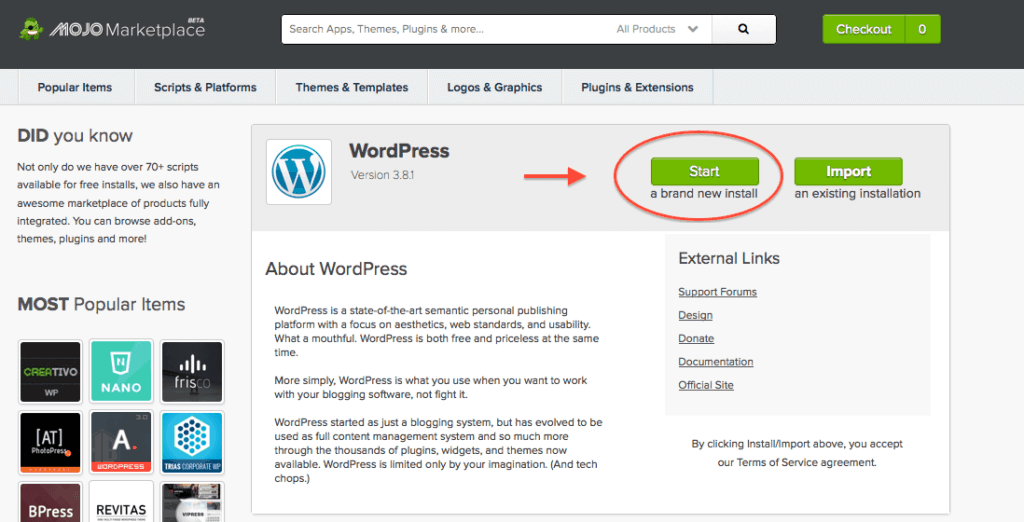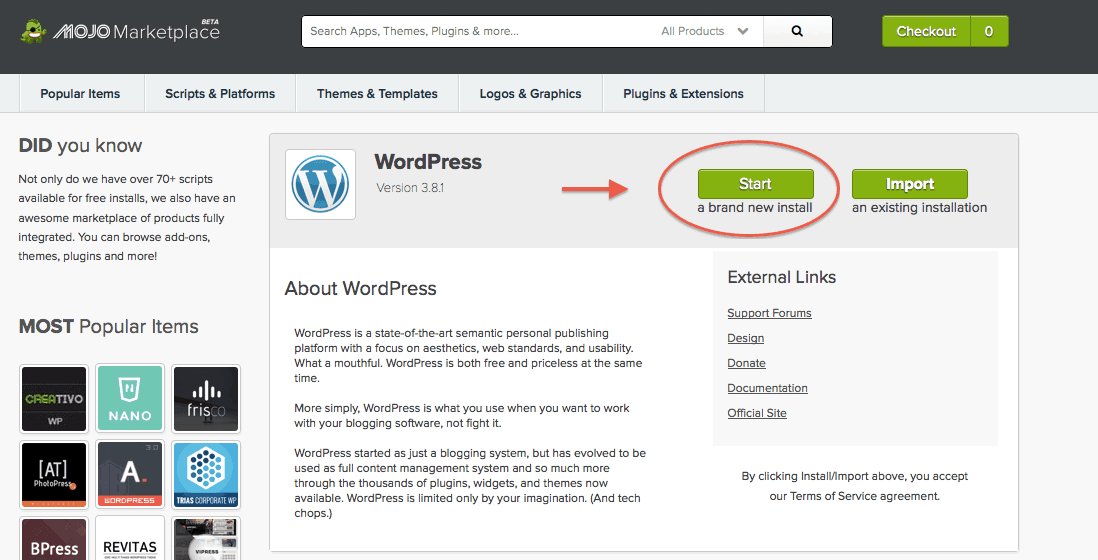 Click on Start

Your domain should appear here and you can click on "Check Domain".
This will take you to the next screen.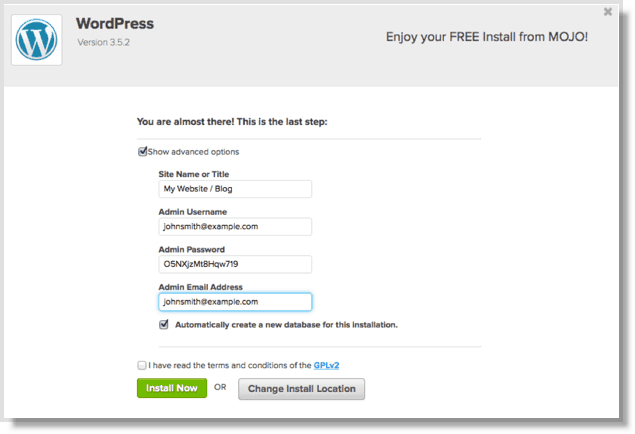 Make sure to fill out your information. Your email will be the Admin Username for your site. Create a new password.
You will be using this to log into your site to start creating your new domain.
You will want to change the name of your website and make sure"Automatically create a new database for this installation" is checked off. Read the terms and click no the check box and click on "Install Now"
The install process will begin and you should see this screen.

Once the installation is complete you will see the following: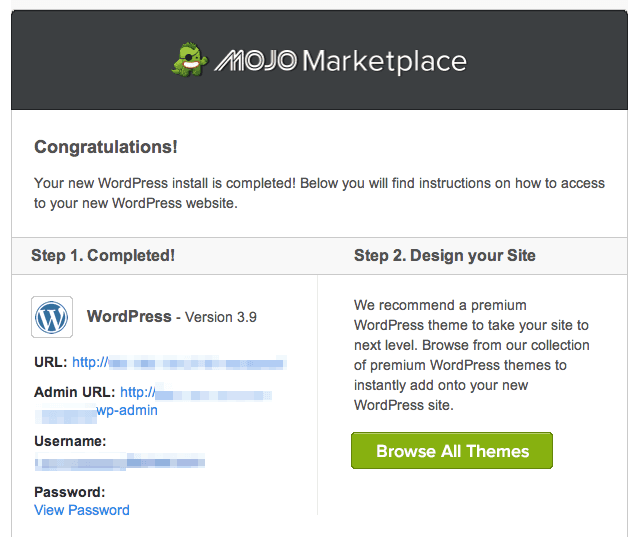 This will show you your login site link http://yoursitename.com/wp-admin
This is where you will go to put in the above username and password to get started on your site. There will be a login screen that looks like this. Enter your username and password and click on Log in.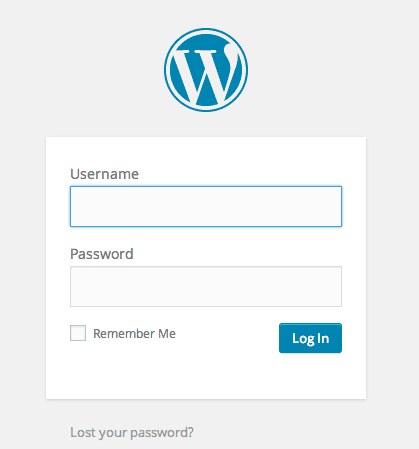 Next, you will need to log in and select a theme. Your theme is the overall look of your site. At the time of writing this, the default template theme is 2016 but you can browse to pick any theme you like.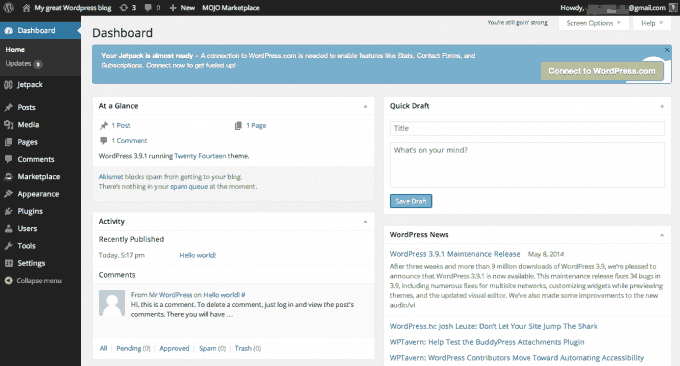 Congratulations you have now set up your website! Let me know if you had any problems and your web address I'm curious to see what kind of site you will come up with. 
FREE Ultimate Guide: How To Get Out Of Debt
Sign up for our weekly emails and we will send you our guide to becoming debt free and other useful resources to help you with your money.