Whether you're on the hunt for a new side hustle, or want some extra money, it's a good idea to have a list of ways you can start from home without any investment
. When I first started to make money online, I didn't want to put any money out. I

quickly

found that there were tons of ways to earn money online without investing any of your own money.
We are fortunate that there are plenty of ways to make money from the comfort of your own home. Many of which weren't a possibility 10 years ago.
How To Make Money Online From Home For Beginners – No Investment Required
When I started looking for ways to earn money online, I wasn't sure if it was possible to earn anything. So I didn't want to risk putting out any money.
If you too are beginning to think about earning money online, then these are some great ways to get your feet wet. Most of these won't give you a lot of money but it's a great start to earning money online.
Get Paid To Watch Videos Online
Swagbucks is one of the simplest ways to make money for things you already do online (a.k.a. watch videos).
Simply sign up for your account (they give you a $5 bonus for joining) and then you can download their video app and you earn points that can be cashed out for gift cards.
Best of all they offer a $5 incentive to get started!
✔️ Sign up for Swagbucks and get a $5 bonus just for starting.


Do Online Surveys
Like in #3 Swagbucks also offers the ability to make extra money doing surveys online. If the idea of surveys is something you want to look into here are some of the better ones. All of them are free to join and use:

Get Paid for Using the Internet
Do you know the Nielsen Family? They are the group that monitors our TV viewing habits.
So when you hear the Super Bowl had 20 million people watching, that's Nielsens who does the monitoring.
But did you know they do something similar for internet usage?
It's true! It's pretty straight-forward to get started. You just sign up for their service, install the app on your device and it works in the back ground for you. Then you get to start earning rewards right away.
Plus they have a monthly draw for $10,000.
They never collect passwords or user ID or other information and the app doesn't slow down your devices. If you are looking to get paid for something you already do, this one is a sure win.
Earn Extra Money Online By Getting Cash Back for Shopping Online
Eventually we are going to be buying the majority of our purchases online. There's the easy way to do it (go tot he site and shop). Or there's the smart way to do it.
The smart way involves signing up for these programs and using them before you begin your shopping experience. Places like Ebates, and Swagbucks offer points for using the portal. As you gather points you can cash them in for gift cards at some of your favourite online shopping places. I just cashed some point in for some iTunes gift cards.
Best of all they offer incentives to get started. Ebates can offer up to $10 for getting started with them using this link. or if you are in Canada you can use this link here.
Click here to start saving with Swagbucks and get a $5 sign up bonus.


Earn Cash From Testing Websites 
Being a website tester involves going on someones site and giving feedback as to whether the site makes sense if it's navigable and user friendly.
There are several companies out there that will pay you to test websites for their functionality. They usually pay about $10 a test.
A few of them are:
Refer People For Your Favorite Services
When you love something, you naturally tell people about it. Why not get something in return. For the first ten years of owning a Mac, I told everyone about how great they were and at least a dozen bought them based on my recommendation.
Doing this is typically referred to as affiliate marketing. It's as simple as when you tell a friend about something you love, they use your link or code to sign up and you get rewarded.
Had I known how to set it up properly, I could have made some great money. I can't go back, but I did learn about affiliate marketing and it's an easy way to make money from products you already know and love.
If you want to learn more about it a good course to take is Making Sense of Affiliate Marketing. It's helped me turn this site into a legitimate income earning blog.
You can check out Michelle's course on Affiliate Marketing here.
Make Money Writing Content
The online world is constantly needing new and fresh ideas for websites. If you are a content writer you will be writing for other sites and selling your content to website owners.  The best way to get started is to create a portfolio on Medium, then once you have a few pieces you can open an  account on Upwork.com or Freelancer.com
Another way to earn products (not money) would be signing up with BzzzAgents and getting products to test out and write reviews for. It's a pretty easy gig. I've been given razors, food products and kids toys to test out. All of which you get to keep afterwards. You can check out BzzAgents here.
Freelance Work
There are a ton of jobs available to you if you have freelancing skills. If you can design websites, program code or have another skill that is in demand there are tons of opportunities waiting for you.
Editor
There are people who love to write and people who love to make their work shine. If you love words this might be a great way to get started. You can easily start by getting on fiverr.com and start your editing empire.
Or you can do what Jeremy did, he asked. He saw how terrible my grammar was and offered to fix it.
If you have a skill contact people and see what happens, you never know what will turn into a way to make more money.
Captioning
There is a good demand for people to have their spoken word transcribed or performing captioning services for their YouTube videos. Places like Rev are hiring people all the time and it's an on-demand workload.
Turn Your Pet Into a Social Media Icon
This one blew me away. Your pet could make you money by becoming a pseudo celebrity on Instagram.
We all know how much we like to look at pet pics. Your pet could be the next pet to get a brand deal.  Crazy right?!
For more on how to make money off your dog on instagram you can check out this post about how to turn your pet into a celebrity check out this post.
Social Media Manager
People always need someone to manage their social media accounts. Most business owners are too busy to do it themselves, or they just don't have the time to get started. Depending on what types of services you offer you can make $30 an hour or more.
I've done this in the past. It's super easy to get started and you are helping business do something they know they should do, but don't have time, manpower or skill set to get going with it.
Start a Blog 
This isn't a quick way to make money on line but it does have the ability to be the most profitable. Many people make their full time living online as bloggers and influencers. Best of all they do it from the comfort of their own home.
As far as earning money goes, a blog is a great way to get your feet wet and can offer huge payouts down the road. Don't expect to be earning money in your first week, but over time you can see huge benefits from it.
There are people that started blogging and now make full time careers from it. The best thing with blogging is that it gets you into so many new areas.
From building websites and social media, to graphic design and content creation, building a blog is a great way to build new skills while at the same time being able to make money. Here's the downside, this one does cost a small amount of money. If you open an account with Bluehost for $3.95 a month you can get set up blogging very quickly.
Click here for step by step instructions  to start a blog.

Service You Can Do To Make Money Once You Have Started Blogging
Build Websites for People
There are tons of businesses, professionals, and creative people who need a website to showcase their services.
If you love building websites you can turn that into profit and help out local (or globally, I mean… it is the internet) businesses get online and have a voice. I've built several websites for companies and it's a lot of fun.
Create an Online Course
Creating a course on something you know how to do can be a good money maker too. If you know how to do something well, create some material that shows others how to do it. There are multiple ways to host your course without having a website. You can use Teachable or Udemy to host your course and start sharing what you know with others.
Other Ways to Earn Money from Home Without Any Investment
List a Room (or House) with Airbnb
If you have a house and a spare room you can turn that into income as well.
From listing a shared room, to even your whole house, Airbnb has you covered.
This is the best ways to make extra money using your house. You choose the rates for what you are listing (Airbnb has an awesome tool that shows you what's best to charge), and you get to interview the people before they rent from you.
For more on Airbnb rates in your area, you can check here.
Best of all Airbnb is free to sign up and simple to get started. You can sign up in a matter of minutes for free. There is no cost to list your place and they only take a small commission once you have a guest. If you have questions on becoming an Airbnb host you can check out the most common questions here.
Plus, they handle all the money so there is no awkward collecting from the guests who stay at your house. Plus, you are paid 24 hours after the guest checks in. 
Rent out Your Stuff
List Your Property on Home Away
Have more than a room to rent out. Why not rent out your whole house! We've used Home Away and it is a great system for both the renter and the owner. Best of all you can earn some really good extra money with your house.
Check out VacationRentals.com and list you home for free or sign up with Home Away.

Want more information on Vacation Rentals? Check out this book.
Offer Indoor Storage
If you have space in your home you can start renting out an area for people to store things. I know of a few people that rent a place for their boats, or other seasonal items that they don't want to keep in their house because of space.The storage industry is a multi-billion dollar space. Maybe it's time you get in on it?
Check out this agreement for how to set up your storage rental.
Sell Your Unused Stuff
One of the simplest ways to make extra money is to sell your unused items. We all have them kicking around the house.
It used to be a pain, but now it takes a few clicks on your smart phone and you can have your items listed on multiple sites.
Sell your unused items and get some cash for the effort, otherwise they are just taking up space.
Sell Used Video Games
If you have unused games (I'm looking at you Sonic on PS1), but don't have anywhere to sell them, you can check out Cash for Gamers, they buy and sell old games.
Check them out and see what your games are worth.
Sell Your Unused Gift Cards
You know that gift card you got to Pottery Barn from Aunt Edna last year?
The one that made you smile sheepishly and said, "Thanks Auntie…", fully knowing there isn't a Pottery Barn within 500 miles from you?
Well good news! You can sell that gift card and get cash.
Check out Gift Card Granny and start selling your unused or unusable gift cards.
Sell your Hair
Believe it or not you can sell your hair for wigs and other reasons. There's a demand for hair, if you want to shed your locks this may be another interesting way to make some extra money.
There are two main sites: BuyandSellHair.com and OnlineHairAffair.com for more on what's involved with selling your hair you can check out this post here.
Your Plan Going Forward
There are always new and interesting ways  to Earn Money from Home Without Any Investment. While some can offer bigger rewards down the line, others you can start earning right away.
If you want to know what I would suggest it's this. Start with Swagbucks, you will get a free $5 bonus just for starting. That way you can see what it's like to earn a little extra money online. From there give BzzAgents a try and see if you like writing reviews for products.
If you find you love writing like I did. Then start up a blog and see what you can do. The blog offers the biggest rewards by far, if you want to learn more about starting a blog you can check out this post here.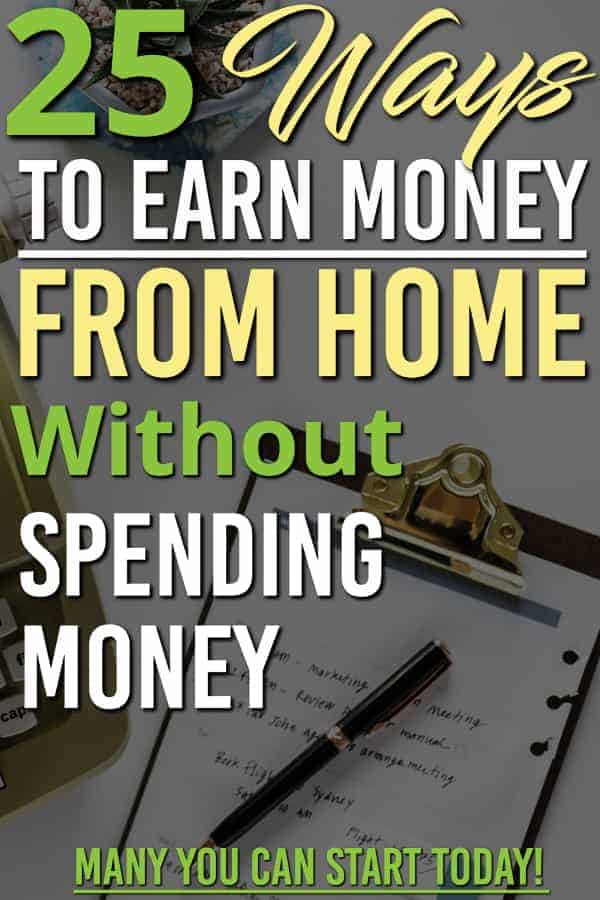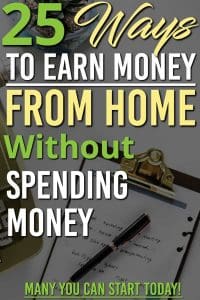 Looking for More Ways to Make Money? Here are some great resources:
Get these Apps to Help You Save Money On Your Purchases