When you want to make money and you don't know where to start there is one place you should always look first. Helping people with their problems.
Some of the best ways to earn money are to do things that other people don't want to do. Most of this type of work requires no money to get started.
If you are interested in other ways to make money, enter your email below and we will send you our ebook: Top 10 Ways to Make Extra Money as well as other great money making tips in our weekly newsletter.
Here are some excellent ways to make money with no money (provided you already have the equipment).
1. Deliver Food in Your Spare Time with Uber EATS
If you have a bike, scooter or car, you can start delivering food with Uber Eats. It's a flexible, easy way to earn money on your schedule. You get paid for bringing people the food they love from local restaurants.
You can deliver day or night, for however long you'd like. Just sign onto the app, and you can start receiving delivery requests in your area.
Here's why it's great:
Earn extra money when you need it, day or night
Drive (or bike) anytime—it's flexible and works with your schedule.
Get paid weekly
Best of all you don't need a car. If you have a bike or a scooter you can be an Uber Eats driver. 
Click here to get started right away and apply for Uber Eats.
2. Get Paid To Watch Videos Online
Swagbucks is one of the simplest ways to make money for things you already do online (a.k.a. watch videos).
Simply sign up for your account (they give you a $5 bonus for joining) and then you can download their video app and you earn points that can be cashed out for gift cards.
Best of all they offer incentives to get started!
Click on the links to start saving with Swagbucks and get a $5 Bonus
 
3. Drive People Around with Uber
If you already have a car, then you can start earning money with your car right away!
Did you know you can make money in your spare time driving people too? If you aren't doing it you are missing out!
With Uber you can sign up quickly and be earning money in your spare time driving other people around.
There's even more great news.
With Uber's instant payout option you can get paid even faster. You can find out more about becoming an Uber driver here. 


Click here to sign up quickly to become an Uber driver here.
4. Rent out Your Stuff
5. List a Room (or House) with Airbnb
If you have a house and a spare room you can turn that into income as well.
From listing a shared room, to even your whole house, Airbnb has you covered.
This is the best ways to make extra money using your house. You choose the rates for what you are listing (Airbnb has an awesome tool that shows you what's best to charge), and you get to interview the people before they rent from you.
For more on Airbnb rates in your area, you can check here.
Best of all Airbnb is free to sign up and simple to get started. You can sign up in a matter of minutes for free. There is no cost to list your place and they only take a small commission once you have a guest. If you have questions on becoming an Airbnb host you can check out the most common questions here.
Plus, they handle all the money so there is no awkward collecting from the guests who stay at your house. Plus, you are paid 24 hours after the guest checks in. 
Since Uber Eats is just arriving in many cities we strongly recommend signing up.
It's a

Great Way

to

Earn Money

 on

Your Own Schedule

.
6. Do Online Surveys
Like in #3 Swagbucks also offers the ability to make extra money doing surveys online. If the idea of making money with surveys is something you want to look into here are some of the better ones. All of them are free to join and use:
7. Clean Houses
Everyone who likes cleaning their house put up their hand!
*Glances around the room to see one person in the back with their hand up*
That person in the back could start cleaning homes for people. 
There are people out there who love to clean homes, and we want to hire them. Because let's face it cleaning your house is a necessary pain.
If you are looking to clean houses, the best thing I have seen is word of mouth.
Many cleaners will offer their first clean as a trial run and then if they like it, hire the person on regularly. Check the rates in your area to see what a reasonable price is.
8. Personal Shopper/Run Errands for People
With everyone leading a busy life, there is an increasing demand for personal shoppers, and having other people run errands while people work.
Offer your services to pick up dry cleaning, groceries or other things that people need done that they don't have time for. Their lack of time is a great way to establish a side hustle.
Check out sites like Task Rabbit to see what tasks you can run for other people
9. Offer to Participate in a Research Study
Research teams are always needing people to test their new products on. If this is something that intrigues you there are places that are willing to pay you to become a subject in their case study. 
10. Become a Dog Walker
Dog walking is another great way to earn money while getting your daily steps in (fyi I'm obsessed with getting my steps in lately).
Sites like Rover and Wag are great ways to make money with no money. All you need is the shoes on your feet and some time.
Swagbucks is a great way to
earn money

by doing surveys,

watching videos

and shopping online
Get your
$5 signup bonus

today!
11. Handyman Repairs
Do you know what I hate to do?
Fix things.
There I finally said it (wrote it) out loud.
If you are good with tools, and fixing things, there is lots of work for you.
Becoming the trusted repair person is a great way to make extra money or even turn it into a full time business.
If you have always been the go-to person for people you know when it comes to home repairs. Then becoming a handyman and offering your services could be a great way to earn extra cash.
12. Sample and Review Products
This may not get you paid, but you usually get to keep the pieces you review.
I have reviewed razors, bluetooth toothbrushes, pizza pops, kids toys, and a variety of other things. Best of all I got to keep them and it's great (I haven't paid for a razor in years!).
Check out BzzAgents here.
13. Do Yard Work
Just like the handyman service, there are always people that will pay for you to do their yardwork. Services like cutting the grass, trimming the hedge, cleaning the gutters.
There is no shortage of work that people would rather hire someone to do, instead  of doing it themselves.
14. Babysit
This is an easy way to earn extra cash in the evenings and on weekend. So often we think of making money as this grand elaborate thing we need to do but the truth is that providing a service to people who need it is the easiest way to make money.
Babysitting is a time tested service that parents need. If you can make yourself dependable and available at the last minute you can probably get more work than you will know what to do with.
Check out Care for listings in your area, or take out an add on Craigslist and see what you can find.
15. Mow Lawns
There is no shortage of people who don't want to cut their grass. Starting a side business as a grass cutter is an easy way to make some extra money.
It's even something that can grow into a full fledge business if you want to take it that far.
Check out some lawnmowers here.
15.1 Shovel Driveways
Much like cutting the grass, shovelling driveways is a great way to make money.
There are many people that aren't able to get out and shovel their driveways anymore. Offering to do it for the season and you could build a business around it.
Best of all to get started all you need is a shovel.
16. Become a Freelance Writer
If you love to write then this can be a goldmine for you. Freelancing is a great way to earn extra money on your own time. It is also one of the gigs that can turn into a full time income over time.  Check out this post for how to become a freelancer. It goes into depth about everything you need to know about freelancing.
When it comes to making money with no money creativity is key!
The list goes on and on when it comes to ways to make money with no money. Take a little bit of creativity and look around for what people are needing. Give them what they want. You will find that it's pretty easy to start making money quickly.
The biggest thing to remember is that the world rewards action. Get started on some of these ideas that you liked the most. Try them out and if you don't like them try a different one. The gig economy is huge, and it's worth checking out.
Family Money Plan Recap – How to Make Money with No Money
Looking for More Ways to Make Money? Here are some great resources:
Like what you read? We would appreciate you helping others find it by sharing.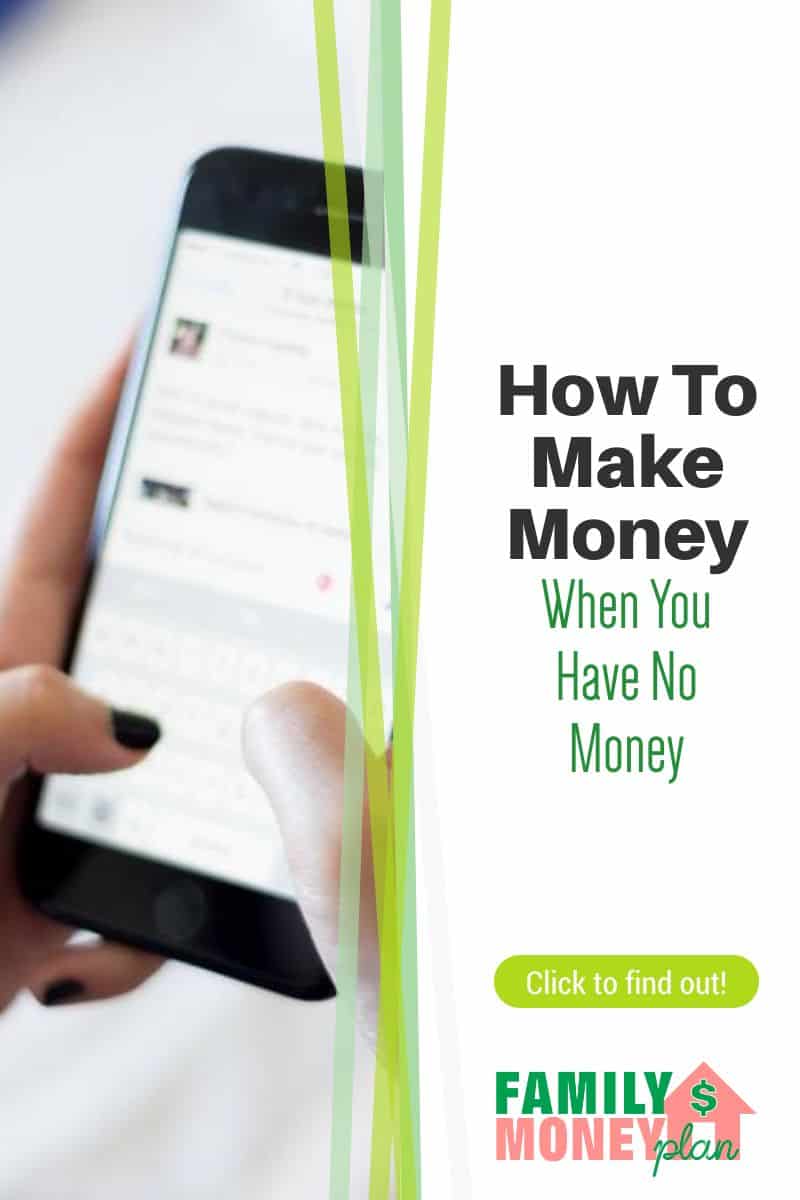 Looking For Some New Ways to Make Extra Money?
Our FREE guide will show you 10 ways you can start making extra money in your spare time!
Plus when you join our newsletter you will get access to our members only area full of great resources.