So you are looking for ways to make more money, I feel your pain.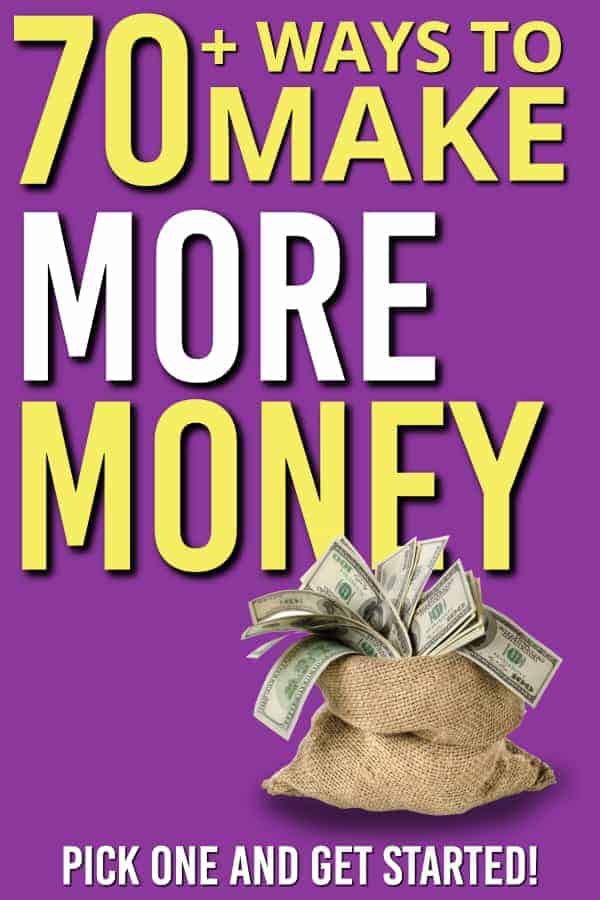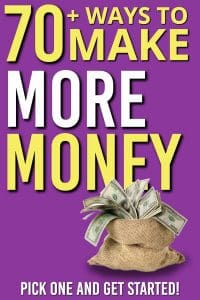 Sometimes we just need an idea to latch onto that will start earning us money. This article has a ton of ideas for you to start making extra cash. The biggest thing will be for you to take action on something once you are done reading it. With less than 50% of people having a rainy day fund getting a change to make more money so you can bulk up your finances can make all the difference.
Before we get into this, I want to share with you my two cents about making more money. If you want to do something that is quick there are ideas in here. If you are looking for something that is longer term, those ideas are in here too.
Some of these ideas have the possibility to turn into a real business and grow it into something amazing. No matter where you are on the spectrum, whether you need to start earning money today, or you want to build something big, there are ways for you to make more money in here that you can start doing today.
There are options here for everyone and you can easily find something that will fit your style.
Here's the Mammoth List of 70+ Ways to Make More Money
Start a Blog (or a website for us older folks)
As far as places to make more money goes, a blog is a great way to get your feet wet with online income and can offer huge payouts down the road. There are people that started blogging and now make full time careers from it. Some even make 6 figures a month!
Check out Scrivs from BBC course on building blogs that generate over $50,000 a month.
The best thing with blogging is that it gets you into so many new areas. From building websites and social media, to graphic design and content creation. Building a blog is a great way to build new skills while at the same time being able to make money.
When it comes to building your own site it has a lot of earning potential. Click here for how to start your own blog.
Get Cash Back for Shopping Online
Eventually, we are going to be buying the majority of our purchases online. There's an easy way to do it (go to the site and shop) or there's a smart way to do it.
A smart way involves signing up for Ebates or Swagbucks and using them before you begin your shopping experience. Ebates gives you a percentage of cash back on your shopping purchases. From Amazon to Best Buy and 100 more stores, if you shop online and aren't using Ebates you are losing money. That sucks, but you can change that right now.
Best of all, they offer incentives to get started; as of writing this Ebates offers $10 to sign up and get started.
Click on the links to start saving and get a $10 bonus just for signing up.
Watch Movie Trailers and Other videos
Swagbucks is an easy way to make some money while watching shows and trailers that you would normally watch. Seriously, I can't believe they are paying me to watch this cat video….errr… superhero trailer.
Yeah that's it, superhero trailer.
Sign up for Swagbucks and get a $5 bonus for starting.
Answer Online Surveys
Surveys are a simple way to make some extra cash while never leaving the comfort of your living room. They either pay cash or points, and the points can be redeemed through PayPal and gift cards.
Here are a few online survey sites that are the best earning money surveys.
Check out: Top 10 Survey sites that Pay Cash for a list of survey sites
Sign Up for Swagbucks and Get Paid To Watch Videos Online
Swagbucks is one of the simplest ways to make more money for things you already do online (a.k.a. watch videos).
Simply sign up for your account (they give you a $5 bonus for joining) and then you can download their video app and you earn points that can be cashed out for gift cards.
Best of all they offer incentives to get started!
Click on the links to start saving with Swagbucks and get a $5 bonus.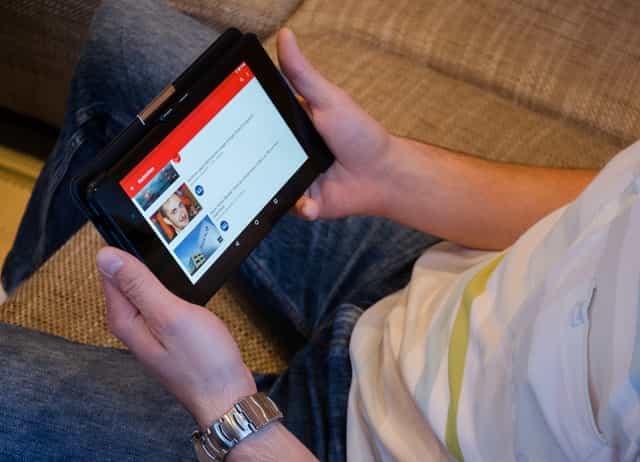 Deliver Food with Your Car or Bike
If you love biking (and hey who doesn't!) and want to make some extra money, then Uber Eats is a great option for you. Depending on your location, with Uber Eats you can deliver food on your bike and earn extra money at the same time.
Think of it like you are getting paid to exercise.
If you are lazy like me and would rather drive, you can do that too.
If you want more details check out this post about becoming an Uber Eats delivery person and Uber Eats Sign up process.
Or if you want to get started with Uber Eats right away (it's really quick to sign up) you can do that here.


Test Websites
There are so many ways to earn money. Being a tester involves going on someone's site and giving feedback as to whether the site makes sense, if it's navigable, and user friendly.
There are several companies out there that will pay you to test websites for its functionality. They usually pay about $10 a test. A few of them are:
Create YouTube Videos and Become an Influencer
Becoming a YouTube Influencer won't happen overnight. But if there is an area that you are passionate about and make videos about it, someday that could happen.
As you build up subscribers, you can start to partner with marketing brands and make extra income.
The key here is offer tremendous value and become a trusted resource for your viewers. Over time you will build an audience.
It sounds crazy but people have made thousands on just a single video.
List a Room (or House) with Airbnb
If you have a house and a spare room you can turn that into income as well.
From listing a shared room, to even your whole house, Airbnb has you covered.
This is the best ways to make extra money using your house. You choose the rates for what you are listing (Airbnb has an awesome tool that shows you what's best to charge), and you get to interview the people before they rent from you.
For more on Airbnb rates in your area, you can check here.
Best of all Airbnb is free to sign up and simple to get started. You can sign up in a matter of minutes for free. There is no cost to list your place and they only take a small commission once you have a guest. If you have questions on becoming an Airbnb host you can check out the most common questions here.
Plus, they handle all the money so there is no awkward collecting from the guests who stay at your house. Plus, you are paid 24 hours after the guest checks in.
If you are ready now, start hosting on Airbnb today!
Drive People Around with Uber
Did you know you can make money in your spare time driving people too? If you aren't doing it you are missing out!
With Uber you can sign up quickly and be earning money in your spare time driving other people around.
There's even more great news.
With Uber's instant payout option you can get paid even faster. You can find out more about becoming an Uber driver here.


Click here to sign up quickly to become an Uber driver here.
If you like the idea of making money with your car, there are plenty of opportunities.
Social Media Manager
People always need someone to manage their social media accounts. Most business owners are too busy to do it themselves, or they just don't have the time to get started. Depending on what types of services you offer you can make $30 an hour or more.
I've done this in the past. It's super easy to get started and you are helping business do something they know they should do, but don't have time, manpower or skill set to get going with it.
Build Websites for People
There are tons of businesses, professionals, and creative people who need a website to showcase their services.
If you love building websites you can turn that into profit and help out local (or globally, I mean… it is the internet) businesses get online and have a voice. I've built several websites for companies and it's a lot of fun.
Refer People For Your Favorite Services
When you love something, you naturally tell people about it. Why not get something in return. For the first ten years of owning a Mac, I told everyone about how great they were and at least a dozen bought them based on my recommendation.
Doing this is typically referred to as affiliate marketing. It's as simple as when you tell a friend about something you love, they use your link or code to sign up and you get rewarded.
Had I known how to set it up properly, I could have made some great money. I can't go back, but I did learn about affiliate marketing and it's an easy way to make money from products you already know and love.
If you want to learn more about it a good course to take is Making Sense of Affiliate Marketing. It's helped me turn this site into a legitimate 4 figure a month income earning blog.
You can check out Michelle's course on Affiliate Marketing here.
Rent out Your Stuff
Create an Online Course
There you have it 70+ Ways to Make More Money
Many of thses you can try and see how you like it and decide if it's worth pursuing. While a list like this can feel overwhelming try not to let it.
The most important takeaway is this. There are lots of ways to make money. Pick one and try it. You never know where it might lead.
Now Check Out: How to Earn Money from Home Without Any Investment
Find this list of ideas useful? Please share and help other find ways to make more money!