Our family is always on the hunt to make extra money. Having full-time jobs can put a hurt on your timelines for earning more money, so you need to be stealth when it comes to making money. Part of our plan to become financially free involves making more money in as many ways as possible. We have been looking to make extra money with surveys when we have a few spare minutes throughout the day.
There are a ton of survey companies; below are some of the most known and legit survey sites.
Swagbucks is my #1 favorite. It's a site where you earn points for your normal Internet activities. You can use these points to cash out for various reward cards. They also have surveys so it's worth checking out.
As of writing this, SwagBucks has paid out over $100,000,000 in rewards.
There are always new incentives and different ways to earn points. It's definitely worth checking out.
Click here to sign up for SwagBucks and get your $5 bonus.


Survey Junkie is a great alternative, if you are over 13 you can get started. Here's some of the benefits:
Absolutely free to join
Easy and quick to sign up
Receive points immediately after completing a survey
Rewards sent immediately at redemption – PayPal, Amazon, e-Gift cards
Low payout threshold – You can cash out when you have $10
New surveys available daily
Large survey inventory
Receive points for surveys you do not qualify for
Simple and user-friendly interface
Trustpilot Reviews – one of the highest rated survey sites with 3000+ reviews
A+ Rating with BBB
Millions of members
Different types of research activities – online surveys, in-home product testing, invites to focus groups.
Click here to get started with Survey Junkie today. You will be happy you did.


Inbox Dollars is a site where you can make money taking surveys or even watching TV (crazy right? but it's legit). They work with big name brands like Wal-Mart and Netflix to get feedback on products.
They also have an A+ rating with the Better Business Bureau, so you know they are above board.
Best of all, they offer a free $5 sign up bonus just for joining.
Click here to sign up for Inbox Dollars and get your $5 sign up bonus.


Survey Rewardz is available to people in the United States, Canada, UK and Australia, they allow for payment through PayPal (and mailed check if in the United States), and offer gift certificates as payment if that is what you would prefer.
You can earn anywhere between 50 cents to $10.00 per survey and there are a lot of surveys you can take to get you going, provided you fit the right demographics.
Honestly, I like this one because it offers one of the lowest payout thresholds and it's free to join.
The downside is that they can charge you for cashing out if you are underneath a certain amount. Plus, depending on your demographics, surveys can be hard to find. But I do like this one compared to some of the others in this list. Again, like all the others, it's free to join.
Click here to sign up with Survey Rewardz.


E-poll is another survey site that offers a point system rather than straight up cash rewards. Depending on your demographics, you can receive up to 3 surveys a week and earn points for them. There is also the opportunity to review television shows, (but they are rare) however, they do pay well.
Each survey will give you points (500-1000) and you can cash out at $10(or 7250 points). The points can be redeemed either by gifts cards at places like Amazon, iTunes Wal-Mart etc.… or you can redeem them directly though PayPal for cash.
Click here to join E-poll Surveys and get a 100 point sign up bonus.


Digital Voice
Digital Voice is part of the Nielsen group and it intrigues me the most. You sign up and download their app; after that you use their app to go online and surf like you normally do.
It only takes a minute to sign up.
Click here to sign up for Digital Voice.
I've joined Opinion Outpost and so far I've enjoyed it. There are several ways to get paid including Paypal and Amazon.
Plus there are additional draws for extra money throughout the year. After doing a couple of surveys it looks like there are lots of options to do additional surveys to keep earning money.
Click here to check out Opinion Outpost.


Pinecone Research is a great place to start if you are looking to do some surveys.
They pay $3 per survey and signing up takes less than a minute. They are one of the longest running survey companies so if you are looking for a place to get started Pinecone is a great spot to start.
Click here to check out Pinecone Research today.
VIP Voice is different from the other survey companies in that you collect points instead of cash. You can use those points to bid on sweepstakes and try to claim other rewards.
They do offer 3x the amount of points on your first survey.
i-Say is run by the Ipsos Company. You sign up for free and can take various surveys and earn points, which get redeemed for various gift cards.
When you log in you will be taken to a dashboard that will show you possible surveys you can take and the points that you will earn from the survey.
Their points system is pretty straight forward, 500 points gets you a $5 gift card at various retailers like Starbucks or Amazon. You can also get paid by PayPal if you prefer, though the threshold is $15, rather than $5.
500 points is fairly easy to earn, a 20-minute survey could earn up to 90 points.
Click here to sign up for i-Say.
FAQ: What You Need To Know To Make Money with Surveys
Surveys: Are they legit?
When I first started looking into surveys the first question that pops up is "Is this for real?"
Then I did one for a company I was using and got a $25 gift card for Amazon. That's when I realized; "Yup! This is something I can do!"
What's to Like About Making Money with Surveys
There are a lot of different survey companies out there and each of them are different as far as compensation goes.
The best part about them is that you can earn while you have nothing to do. If you have a smartphone you can pull it out and start to earn wherever you are.
How Long Do Surveys Take? Can Surveys Be Done In Your Spare Time?
Surveys can take anywhere from a few minutes to more than 20 minutes and the compensation varies for each one.
It's perfect for those times when you are waiting for an oil change, watching a boring sports game, or my favorite waiting for your kid's activity to wrap up. It won't make you rich, but it does have the opportunity to put some cash in your pocket that you wouldn't have if you just waited in the lobby for your mechanic to tell you your car is ready.
Best of all it takes seconds to sign up and get started.
How Does Earning Money With Surveys Work?
Surveys are pretty straightforward.
You sign up (always for free). Then you answer their qualifying questions. If you make it through, you are onto the online survey. When you complete the survey, you are given either a point value or cash value for completing the survey.
Those amounts or points accumulate and can be redeemed. Simple!
Here's the bottom line about earning money with surveys:
Surveys won't make you rich, but they can help you make some extra cash. When you have a full time job it's all about finding extra ways to earn money.
As a side note: I would never pay to join a survey site. None of the ones above charge you to join. They are all free to join.
Final Thoughts on Making Money for Surveys
Like I mentioned before, surveys won't make you rich, but they can put money in your pocket. I don't know where this survey road will take us, but the way I look at it is, I'm getting something that I wouldn't have before.
Best of all it's not something I need to commit to on a part time basis. I can do them whenever I have a moment. Which is perfect for our situation. The way I look at it, it's better than sitting there not earning money. Signing up for them is easy and can take less than a minute.
Looking for More Ways to Make Money? Here are some great resources:
Found this helpful? Help others make money with surveys by sharing this.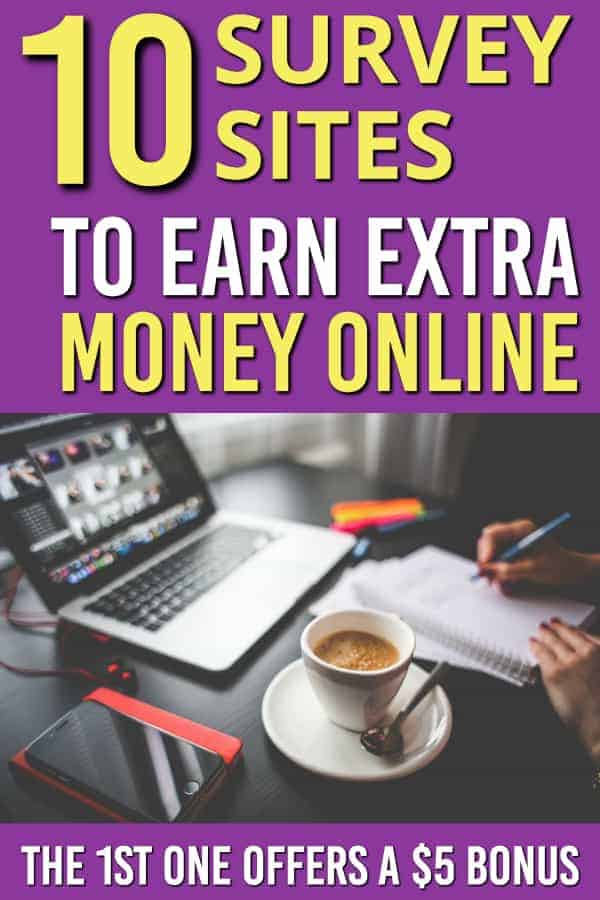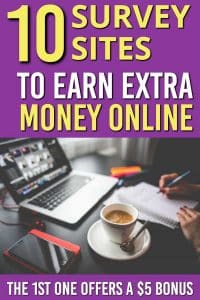 Looking For Some New Ways to Make Extra Money?
Our FREE guide will show you 10 ways you can start making extra money in your spare time!
Plus when you join our newsletter you will get access to our members only area full of great resources.