Hey guys! I have a great post by Dave Chen, owner of Millennial Personal Finance. 
How to Become an Uber Driver
If you are looking for a side gig to make some extra money, you may want to check out Uber. A lot of people are starting to join and are becoming Uber drivers because of the flexibility and convenience that it offers.
If you like to provide quality customer service, have a nice vehicle, and like to drive, you can make some serious cash. Below, we will explore how to become an Uber driver and the steps you need to take to make it happen.
Benefits of Working with Uber
Besides the flexibility of being able to set your own schedule, you will be able to use your own vehicle to transport people around. This means that you do not have to worry about trying to get acclimated to a new vehicle and you do not have to maneuver the windows around and try to find that sweet spot.
In addition, you are also paid weekly and you do not have to worry about trying to collect the money yourself, which makes transporting people a lot safer too.
Check out becoming an Uber or Uber Eats delivery person here
Requirements to Be an Uber Driver
Before you can simply slap a sign that says Uber on your car, you must meet all of their requirements and be eligible to participate in the program. Once you have been accepted, you will be referred to as a driver partner.
Some of the requirements to become an Uber driver include:
Be 21 years of age or older
Car insurance with a policy in your name (In addition, the insurance must be in the state you live in and meet your state's mandated minimum requirements)
Have a minimum of three years driving experience
Have a social security number
Perform a successful background check
The background check portion of the requirements will delve a bit into your history and search for:
Suspended license incidents
DUIs
Accidents
History of operating your vehicle without insurance
Reckless and careless driving charges
Criminal history
Typically, interested drivers who have a clean driving history and those who do not have a criminal record are offered employment as a driving partner.
While those are the basic requirements to become an Uber driver, there are also vehicle requirements that MUST be met. Even if you meet the above requirements, but not the vehicle requirements, you cannot participate.
Some of the vehicle requirements include:
A minimum of a sedan that can seat at least four passengers, not including the driver
Model 2000 or newer vehicle
NO salvage titled vehicles and no tax-related vehicles
State license plates
Uber does offer a variety of choices when it comes to vehicles and someone who chooses a luxury SUV will not be placed into a sedan and so on. Some of the luxury vehicle options offered by Uber include:
UberXL
UberSelect
UberBlack
UberLUX
UberPlus
UberSUV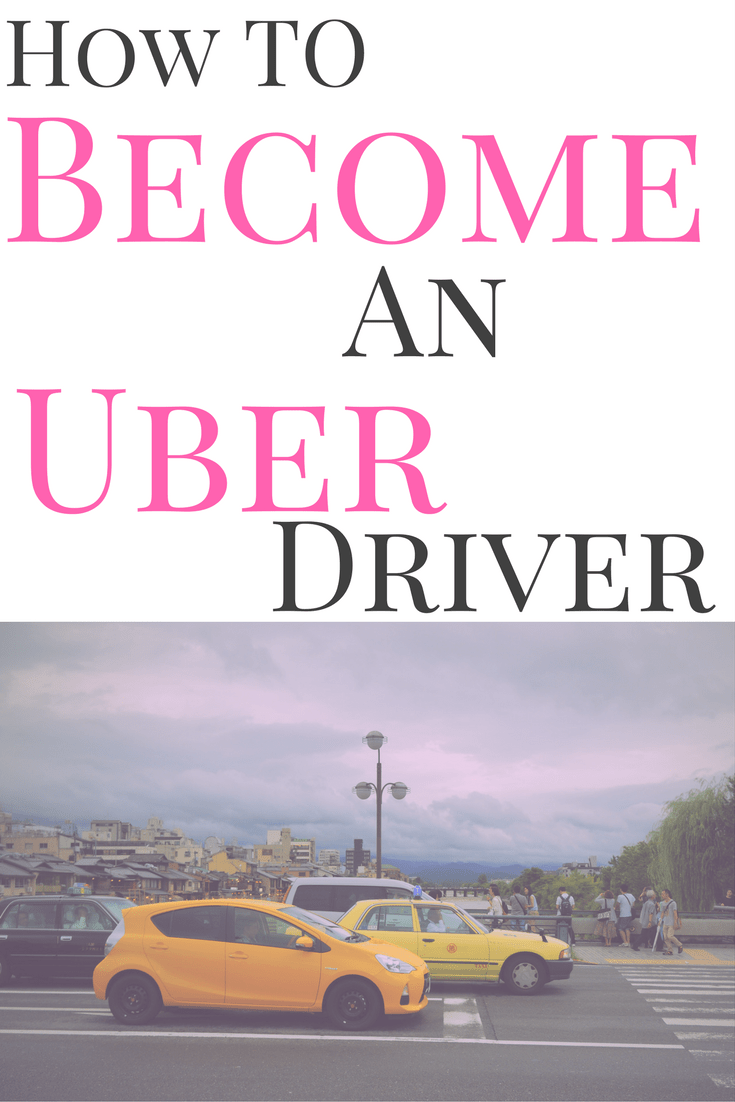 Check out becoming an Uber or Uber Eats delivery person here
Apply to Be an Uber Driver
Before you can drive your vehicle with Uber, you will need to apply and go through the application process. Not everyone will be selected to drive for the company and if you are NOT chosen, you cannot use the Uber name on or within your vehicle at all.
The first step in the application process is to fill out your application online. You should fill it out in its entirety to avoid any processing delays or problems.
Once done, you will need to have your vehicle inspected. Uber will instruct you on where to take the vehicle. The inspection is performed by a third party.
After the inspection, you will need to submit any and all paperwork for your background check to be performed. An Uber representative will let you know how to proceed with this step.
Check out becoming an Uber or Uber Eats delivery person here
I've Been Accepted – Now What?
Once you have been chosen as an Uber driving partner, you will open up the Uber app on your smartphone and enter in your credentials. From there a rider will request for an Uber and if you are the closest driver to them, you will receive the request.
Once you accept the request for a ride, you will head to the client's location and pick them up and transport them to their final destination.
The app automatically charges the rider for you and you will never have to collect any fees. Once the ride is completed, you and the rider can rate each other. It is an easy way to make money with your car.
You will then be paid via direct deposit by Uber, once per week.
(Andrew here… How sweet is that! You do the work and Uber collects the payment and remits it to you. All you have to do is focus on driving and providing a great customer experience)
Final Thoughts on Becoming an Uber Driver
If you want to become an Uber driver, go for it. It is a great way to earn some extra cash and is pretty secure. Since payments are handled through the app on the phone, you never have to worry about carrying cash on you or collecting any fees.
Check out becoming an Uber or Uber Eats delivery person here.
Huge thank you to Dave for writing this and helping our community learn another great way to earn money. Make sure to go and check out his site Millennial Personal Finance
Looking for More Ways to Make Money? Here are some great resources:
Looking For Some New Ways to Make Extra Money?
Our FREE guide will show you 10 ways you can start making extra money in your spare time!
Plus when you join our newsletter you will get access to our members only area full of great resources.