This post is going to get a little more personal but I feel like I should share it. I hope you enjoy.
I was sitting down with my family, almost in shock that another school year's end is starting to show up. I'll admit it, I was feeling a little down about my progress online. I have this achiever's syndrome where I'm always wanting to be farther along than where I am right now.
And Then My Family Ganged Up on Me…
My wife told me to stop and think, then to write out everything I've done and accomplished. She reminded me of that morning last year, on our family trip in Canmore. It was then that I decided I was going to try this "blogging thing" and see where it takes me. I remember it well, I was sitting by this stream and I thought "I need to do this.".
As a complete aside, I took a rock out of the stream and have kept it at my desk to remind me of my start. Every time I'm at my desk and take a pause I play with this rock and it reminds me of that fateful day and making the decision to start.

Writing Out Everything
After that I wrote out everything I had a pretty good list of what I had done. I thought I would share this, since come 1 year there will be more to add to this list. I hope.
I was pretty floored by what's happened in 6 months.
Blogging has changed my life and opened up new doors for me. If you are interested in starting a blog you can get my step by step tutorial here.
Launching this site was big, I had thought about it for years, talked about it with friends for even longer, and coming up with my first post "How to pay off your mortgage in 5 years" was a big thing to celebrate.
Giving Myself Permission to be Terrible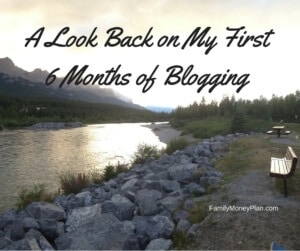 When I started this blog it was after I had enrolled in the Academy from Internet Business Mastery. I figured it was worth spending a little money instead of figuring everything out on my own.
Man was it worth it! They were able to guide me along very quickly to find the success I have found here. They encouraged me to start and I'm glad I did. If you are interested in more info you can check it out here or email me: andrew (at) familymoneyplan (dot) com I highly recommend them.
My one rule for this year was to keep writing. More importantly, I gave myself permission to be terrible in the beginning as long as I would keep at it and learn as I go. So I apologize if it's been a rocky start for you reading this, but I really have enjoyed the last 6 months. I look forward to the many years ahead.
Some Firsts Along the Way
Here were some of the other firsts along the way, I celebrated everyone, and still do:
First comment
First tweet, and retweet and like, page like, pin, Facebook Group members
First YouTube Video, View and Subscriber (currently sitting at 1, whoever you may be, Thank you!!!)
First Facebook fans – (Seriously every one that likes my page puts a big smile on my face.)
First Twitter, Instagram and Pinterest Followers (Thank you for following!)
First iTunes mention (via a podcast)
First Rockstar Article (This blew up my site and gave me a first glimpse of traffic that you can get)
First money made online. (It starts with a few pennies, but I realized you can actually make money online, neat!)
First Guest Posts, Interviews, Photo shoot, and a whole bunch of other things that I can't go into all of them
By the Numbers
Since this is a numbers based community I'll throw out some of my first 6 months stats, these probably pale in comparison to some others, but I know when I hit my 1 year I'll want to look back at how I did so far.
Facebook Likes 44
Pinterest 7
Instagram 12 (just started last week)
Twitter followers 4494
Posts 56
Comments 113 (Thank you to everyone who comments, I love the interaction)
Alexa ranking was 541,000 overall and 14,156 in Canada, it changes everyday but the stats are good motivation to keep writing daily.
Here Are Some Notables From My First 6 Months Online
I've been interview by a national magazine publication, by a writer that I have followed for 15 years. The best part is that they found me, not the other way around. Which I was way too shy to approach.
I've had the opportunity to interview a published author. Which was way cool!
I've had the ability to connect with fellow bloggers and find a community with who I belong and fit in.
My blog has been read in 88 countries, 1373 cities in the first 6 months. WOW!
I've had several people guest post on my site and vice versa which has been so cool! (I use "cool" a lot)
My writings have been featured on several prominent sites and there are several more in the works.
Most Importantly I found You! Thank you for reading and visiting my site, you have no idea how much you being here motivates me to keep writing
Thank you to those who supported me, and especially to you for reading and commenting. It puts wind in my sails, and I'm very grateful that you have been willing to read my ramblings.
I promise better things are to come.
What I've learned in the first 6 months
The list is super long here, but here goes some of the key ones I have taken so far.
Post a few times a week. This gets you up the learning curve quicker, and it gets you in the habit of writing more often. I love having the Monday and Wednesday posts as it keeps me motivated to come up with different ideas.
Comment and interact with people. Before I started, I had this idea that everything was one step removed online, it's not. The world is open and it's fun. I've had so many great interactions with others, I love it!!!
Take action everyday. It doesn't matter if it's writing for the garbage so you get in the habit of being a better writer, interacting with people, or posting on Twitter, it's all progress. Learn to look at it as daily progress, and enjoy it.
Be personal, this is your life and your story. Embrace it.
Love the journey as you go along.
Keep a list of topics you want to write about and ideas to explore. That way the well never runs dry. Checking my list it's way over 100 post ideas.
Important people along the way
I was incredibly shy to approach anyone with any questions I had. So I feel like I should give these people a proper shout out. But there are so many people that I would feel terrible if I left anyone out. They have always been great to interact with and I'm very thankful for their advice and support.
Thank you from the bottom of my heart, I appreciate the help. I owe you all for such amazing support!
Most Importantly: Thank you to you!
Thank you! You are reading this and it's my biggest motivation. I hope I have served you well so far, and can continue to do so into the future for many, many years.
I'm not sharing any of this to brag, but to hopefully inspire you to start that project you have been thinking about. Lean into it a little and see where it goes.
You never know where it might take you. Let me know your thoughts in the comments below.
P.S. If you are wanting to start your blog, do it now! My regret is that I waited so long before I started. Bluehost is having a sale on this week and it's the cheapest time of the year to get started.
FREE Ultimate Guide: How To Get Out Of Debt
Sign up for our weekly emails and we will send you our guide to becoming debt free and other useful resources to help you with your money.