This post is sponsored by RBC InvestEase Inc. All views and opinions expressed represent my own and are based on my own research of the subject matter.
When I think back to when I first started to invest, it was a huge pain.  I had to get time off work to go see an advisor (which isn't easy to begin with).  
From there, I had to answer questions about my knowledge of investing and my finances, when it was apparent that I knew nothing (fun fact: blue chip stocks are not stock in a company that makes blue corn chips).
It made me feel embarrassed like I knew nothing about investing, and made me question being there. Only to finish up and find out that I had forgotten my checkbook and would have to go back another time (I know, I'm dating myself here). 
Back then, it felt like if you wanted to start investing there was a huge mountain to climb. 
It's no wonder so few people start investing when they are younger; the whole process is both challenging and time consuming. 
So when RBC InvestEase approached me about their new investing service,  and asked me to check it out and see what I thought, I'll admit I was a little doubtful.
Why the doubts? A lot of places make claims of being easy, only to lose their way in the process. I imagined RBC InvestEase would likely be the same.
I was wrong. 
RBC got the memo, and let me tell you…
Times. Have. Changed.
RBC InvestEase has caught on that people are busy, and need to have their investing needs met in different ways.  Quite frankly it's a breath of fresh air.
Bottom line: They want to make investing easy for you.  RBC InvestEase is exactly as promised. Easy investing. 
Woah! Back Up. What is RBC InvestEase?
RBC InvestEase is a new digital investing platform that is designed to make investing easy for you at a low cost. Think Robo Advisor.
They do this by delivering automated advice and ongoing portfolio management at a low cost (0.50%). This means that you pay that amount on your total portfolio value on an annual basis, so $1,000 investment means you pay $5.
You can open TFSAs, RRSPs or non-registered accounts with them all from your computer or smartphone.
How Easy is it to Get Started with RBC InvestEase?
Those days of driving to the bank to get started investing are over friends. 
Now you can open up your browser on your smartphone and answer a few questions any time you want.
RBC InvestEase is designed to make it easy for Canadians to start investing. 
Simply head over to RBC InvestEase and you can be up and investing quickly.
Once you get to the site, you are quickly guided through a series of questions. This is to help their group of experts figure out what type of investment suits you best. 
I whipped through the online questions in a matter of minutes. 
It's fast and straightforward.
If you know your investment style, you can go through these questions fairly quick. 
In case you were wondering about these initial questions, here's the deal.
When you are signing up for any type of investment, they need to know about your situation. It's mandatory by law and done to protect you and make sure that your investments are suited to your needs. 
More importantly, it's to ensure that the investments you are buying are properly suited for your risk profile. 
Realistic risk profile
The world is going visual. 
When I tell you that if you invest $1000, you can make upwards of $1182 with a medium risk profile, or have your investment go down to $929, that doesn't mean very much. 
But if you see a graph like this: 

You get a different feel for your investments.
These visuals were highly useful. Like they say, "When you see it, then you get it". 
RBC knows this, that's why they are showing you. 
They know that by showing you what your investment could possibly do over a 1 year period, you get better idea if you can handle these results, both good and bad.  
One More Thing about the Risk Profile
There is just something I really enjoyed about this graph. It shows both the gain and loss on the same page. So you see both at the same time.  
For one of the first times in my life, I had to consider the downside of an investment right away, because it was staring me in the face. 
Could I really accept losing $71 of my $1000 investment over a year?
We all know that risk is a part of investing, but this graph really hit home for me.
I noticed myself playing around with the different risk profiles and checking out what I could take as a loss while accepting the gain.  
(Total money nerd confession, I loved this part, more than I thought I would, and spent more time with it than a normal human probably should have.) 
Anyway, the other questions are really straightforward and it's easy to get through.
What happens when you're done with all the questions?
The end is the best part. When you're finished with the questions, you are presented with a portfolio recommendation  and you can see how things stack up over time. 
As you can see, I opted for a more conservative approach with my numbers: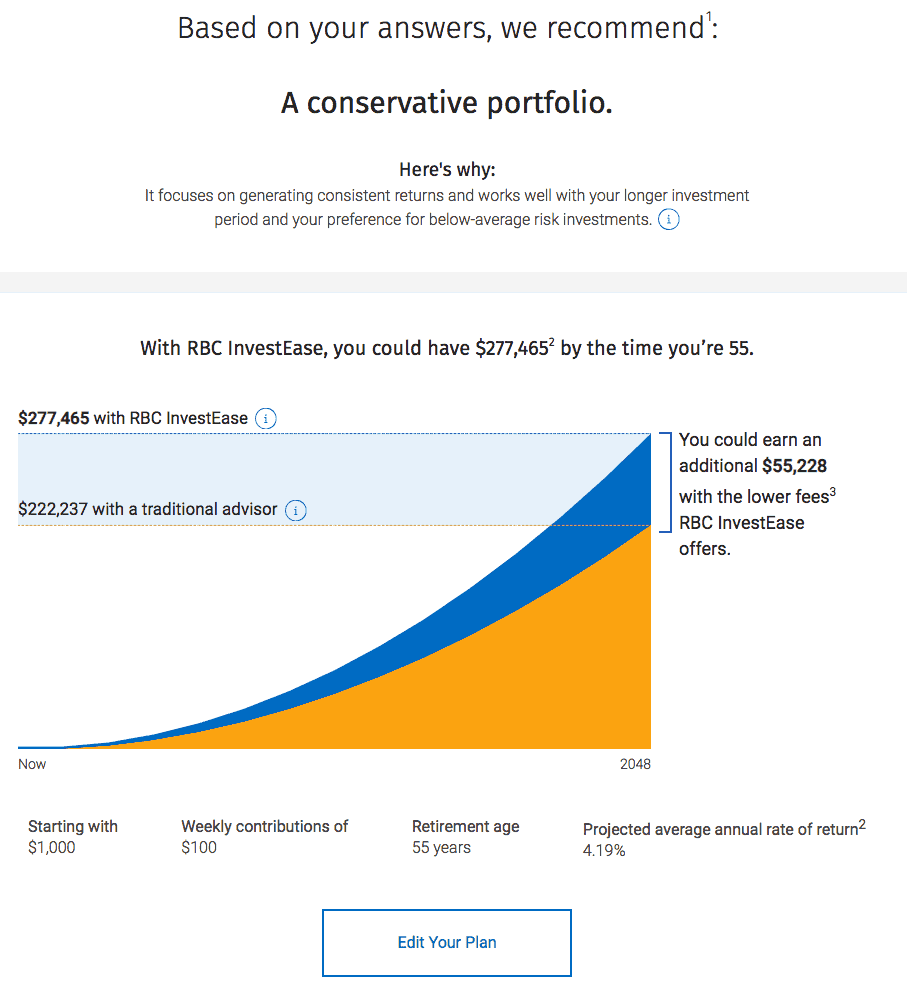 I like that they show you what you will be saving with their lower fees. 
One of the biggest things I've heard from readers over the years is the cost of investing.. With this offering RBC InvestEase is  offering a lower management fee of 0.50%. As you can see from the image above, this small amount adds up to big savings over time.
Here is where you get to play around with your investment amounts and see what you will save and could potentially earn with your contributions. 
If you don't like what you see, you can edit things and see what suits you best.
What investments is my money going into?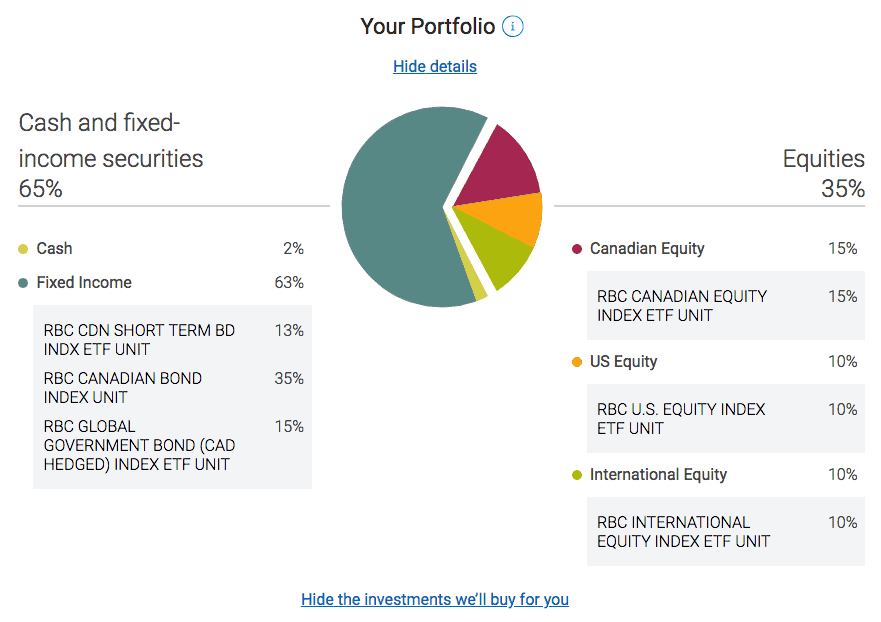 Before you invest you definitely want to see where RBC InvestEase team will be investing your money. Just below your portfolio it shows you the mix of assets for your specific risk. 
 You can see what they are for the information I entered that it's a mix of cash and different fixed income and equity investments.
After you find a plan you are happy with, you can get started on your investment portfolio and keep tabs on it from your smartphone anywhere you go.
Likely you have a couple of questions. I know I did.
First: Who is looking after my investment portfolio?
Once you confirm  the recommended  portfolio is suitable for you, RBC InvestEase's team of experts take care of all the details behind the scenes.
You don't have to research stocks, or worry about things like portfolio rebalancing. The RBC InvestEase team handles it all.
Which means, you can get back to doing what you do best, and leave the investing to their group of experts.
Second: Is there personal contact if I need it?
Yes, the team's portfolio advisors are available to answer any questions you may have. Which is nice; automation is great, but sometimes you want to talk with someone and you have that option with RBC InvestEase.
Third: What if I decide I want to change the portfolio I'm investing in.
As you get older, your risk tolerance will change. It's perfectly normal. You can speak with the Portfolio Advisor who will ask you a few questions about your situation and help you update your plan.
Drawbacks of RBC InvestEase
The one drawback of investing with RBC InvestEase is that you need to have a minimum of $1000 to start. This isn't a huge hurdle to some. But if this is your first investment, and you are nervous, this can feel like a big sum to start. 
Another drawback, albeit a short lived one, is that you currently need to be 18 or older and a resident of Alberta, Saskatchewan or Ontario. Which leaves this Manitoban out of the mix right now. But I'm told that they are planning a national launch shortly.
So is RBC InvestEase Truly Easy to Use?
If you like the idea of investing with one of Canada's largest financial institutions but are new to the whole idea of investing, then #RBCInvestEase can be a great way to get your portfolio started. Check them out and see for yourself.