Congratulations! Your family is growing by one (or is it twins?!), and you are in full nesting mode. If you've done even the slightest bit of research, there's a good chance that you are one overwhelmed new mom-to-be. There are limitless registry suggestions put out by baby stores, and there are glossy catalogues with two-page spreads showcasing picture perfect nurseries.
From one mom who has been there and done that, there are two things you should know.
You don't need all those items, and no nursery ever stays that tidy. Instead of spending countless time and energy sorting through all of the best baby item suggestions, here is the only list you'll want. We've kept it short and sweet to focus on what you'll really need.
I know what you're thinking. This is about nesting, not traveling. I hear you, but I promise that you will adore your Pack 'N Play.
This model comes with a napper and changing table to give you more bang for your buck. When your baby is a newborn, you'll want to keep her close by. You can set this up in your family room during the day, and it can even double as a bassinet by your bedside in the evenings.
As an added bonus, you can convert the napper into a changing table. This feature is especially wonderful when you are recovering from delivering your baby. You won't want to be all pretzeled on the floor. Instead, this changer keeps Baby at the perfect height.
As your baby grows, you'll love the flexibility to travel to Grandma's house or road trip with a crib that folds up with the push of a button. Plus, the fabric is designed for spit-ups and any other mess your baby might make. There's not much in terms of naptime and playtime that they don't have covered with this Pack 'N Play.
If you choose to use disposable diapers, you will want to get your hands on a Diaper Genie. While it's true that any diaper pail will hold garbage, what you're getting with this is something that holds in the smell. The Diaper Genie comes with carbon filters to keep the air purified. The system is so secure that it can actually hold hundreds of diapers and still comes with a satisfaction guarantee.
We actually decided to forgo this pick for Baby #1, and let me tell you something. The line between "A-OK" and "we might have to move" is a fine one. After having to scrub out our regular diaper pail and air out our son's room one too many times, a Diaper Genies is definitely moving to the top of my list should our family ever expand again.
Car seats seem expensive. But if you choose the right one, you can save yourself a small fortune.
How? Pick a car seat that grows with your child.
This 3-in-1 seat keeps your most valuable cargo safe from 5 pounds all the way to 100. That's right. A single seat goes from rear-facing car seat all the way to the biggest-size booster seat. The added bonus is that this car seat boasts a truly slim design. There's less bulk with tons of comfort and support.  
Buy the 3-1 Slimfit Car Seat Now
I know that exact face you're making because I made it too. I honestly could not fathom using this contraption, no matter how many Mom Friends raved about it. I was convinced that the bulb aspirator from the hospital would be just fine.
And then one day it wasn't. My baby came down with a wicked cold and that little blue bulb was useless. It was the Snot Sucker to the rescue.
This aspirator is actually pediatrician-approved, which means it's totally safe. It's also completely hygienic. It comes with a filter that keeps all the ick and all the germs far away from Mom, Dad, or whoever the lucky sucker is. The best feature is the fact that it stays outside the baby's nose, so it's much more comfortable for him. He will be breathing easy in no time.
We've all heard the horror stories of babies who won't sleep. They wake at the slightest sound. Their days and nights are confused. The list goes on.
While there will always be at least a bit of an adjustment when it comes to getting your baby on a sleep schedule, making sure they are cozy and safe is going to make the process a lot smoother. We started with a Halo Sleep Sack based on our hospital's suggestions. Once our little Houdini figured his way out, we switched over to the Love to Dream sleep sack. The added benefit of this brand is that there is no velcro origami required.
Whether you plan to use cloth diapers or disposable diapers (or a combination of both!), you must put prefolds on your to-buy list. The reason might surprise you. I'll give you a hint: it has nothing to do with diaper messes.
Nope, these prefolds are the best burp cloths ever. Of course, you can buy really cute burp cloths that match your baby's outfits or nursery decor.
But the truth is burp cloths have exactly one real purpose, and you want the best one for the job. By design, these prefolds are extra absorbent, which means spit up has finally met its match. These are also great for spills and messes. I've even used them as impromptu changing pads. They are life–and laundry–savers.
Everyone knows books are important. But the truth is you aren't going to be able to sit down and read your favorite classic to your little peanut right away. Not only are their attention spans much too short, they actually won't likely be able to see much to enjoy it!
While our eyes can pick out the difference between aqua and seafoam, a baby's vision can really only detect contrast, as opposed to shades of closely-related colors. For that reason, high-contrast board books are a fantastic option to promote early literacy and really hold your baby's interest. Because these books are durable, they'll stand the test of time even once Baby starts to use them for a teether.
As an added bonus, many high-contrast board books come with few or no words. This will allow for hours of future fun when you can create your own story, make up guessing games, or even have older siblings "read" to them.
Buy Black and White Board Books Now
As tempting as it will be to hold your sweet bundle of joy morning, noon, and night, the simple fact of the matter is that you will, at some point, have to put your baby down.
You need rest, Mama! Even if it is only a matter of minutes to put up your feet, having a baby seat is a fantastic investment.
This Infant-to-Toddler Rocker serves multiple functions and grows with your baby. You can use it first as a baby seat or rocker. There is even a toy bar to keep them entertained. Once Baby is finally able to reach the toys, it's a tough call who will be more amused: you or Baby!
The seat also reclines to let them nap. Later, you can convert the seat into a toddler rocker. It transforms into the perfect seat for playing in their bedroom or the family room.
If you haven't noticed the pattern let, let me point it out. Buying single items that convert during different stages is a game changer. Not only will you save some money, but you save space and your sanity as well.
This 4-in-1 Sling Tub will take your baby from first bath to hundreds of others. It converts from mesh sling to toddler tub with a capacity for babies up to 25 pounds. Plus, it comes with a rinser cup and squirt bottle which are equal parts practical and fun.
A five-pound baby seems so small. And she is…until you spend virtually all day holding her in your arms. Whether you breastfeed, bottle feed, or do a combination of both, this Boppy Pillow provides the perfect relief for Mom's (and Dad's!) tired arms and aching back.
You can purchase a Boppy Pillow that comes with a cover, and you'll likely want to purchase at least one other backup cover. Because spit up happens. And it happens a lot. The covers are easy on and easy off, and they're machine washable.
The Boppy Pillow will also grow with your little one. You can use it for everything from tummy time to sitting practice. This cozy and comfy pillow will be a fast favorite.
Final Thoughts on Best Baby Registry Items
It's easy to go from overjoyed to overwhelmed when you're a new mom-to-be. From advertisers to well-meaning friends, you will hear never-ending recommendations for all sorts of items. While every baby is different, these ten items will keep your baby comfy and cozy while helping you save some money and cut back on some stress.
Find this helpful Share it so other new moms can benefit from it!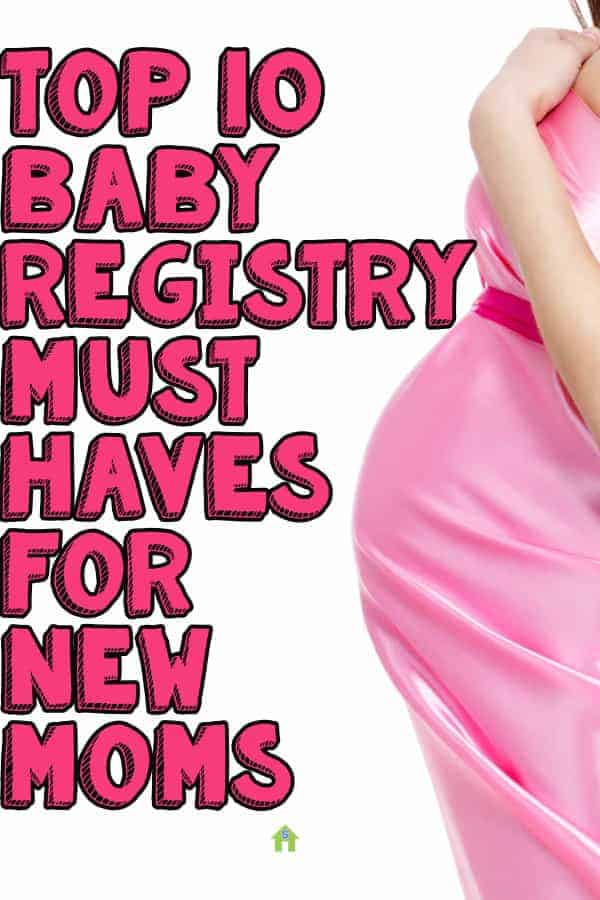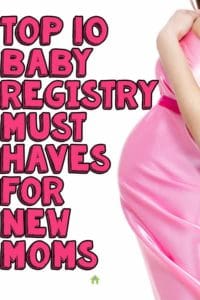 Related post: How to Tell If You Are a Good Parent