Who doesn't love the chance to get outside and go camping with the family?! Camping is a great budget friend and frugal family outing everyone enjoys. The hardest part with camping was that we always felt we were forgetting something. Enter our ultimate family camping checklist. When you have all your camping gear ready to go, camping is the perfect frugal holiday!
When we were getting out of debt, we didn't have any extra money to travel. So we decided to try camping. We both enjoy it, but the getting ready part was a big thing that held me back from doing it more. That's where this list comes from. My wife is a champ at making sure we have everything and keeps a packing list of what we need. This way, when it's time to go, packing takes an hour and not days of planning.
Here's the thing, the difference between an awesome camping trip, and one that is forgettable is making sure you have all your camping essentials. You want to have it so that you can get where you are going. Set up camp. Then start to enjoy this time with your family. This camping packing list is the first step.
You can download and print a copy of this camping trip checklist here too.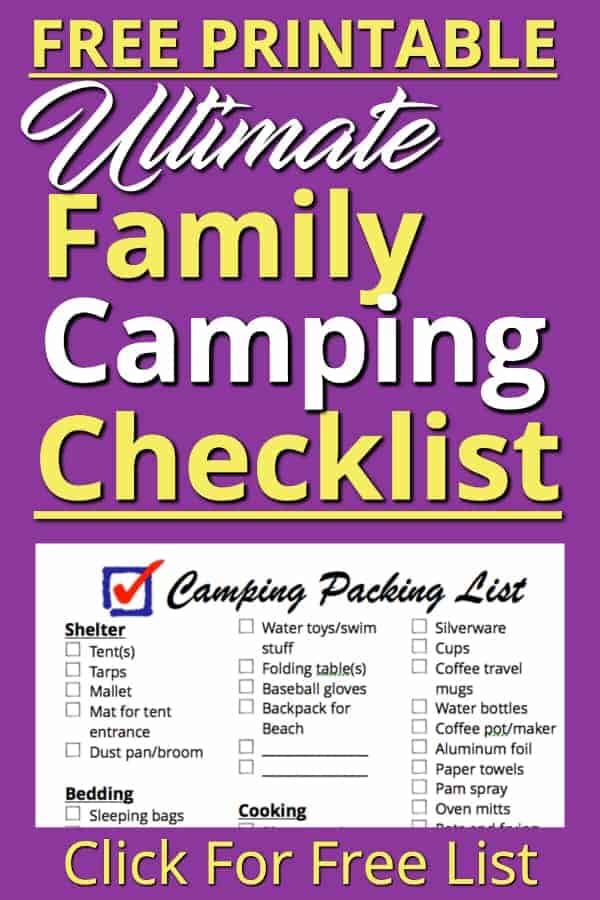 Shelter
Tent(s) When you are picking a tent a few things you will want to consider is the fly (the part that covers the tent so rain can't get in), the number of people it will sleep, and height. Changing in a tent in a rainstorm, or spending the day inside in a storm should be a few things you think of when you are buying a tent.
Tarps if you don't have a fly on your ten, then you will want to have some tarps to add extra coverage when it rains, or for extra shade.
Mallet You will need this to hammer the tent pegs in.
Mat for tent entrance, our tent has an entrance when the fly is up, we have an old mat to stand on and remove sand or dirt
Dust pan/broom this seemed funny until you realize that sand gets everywhere and it's nice to have it in the tent for clean up.
Bedding
Sleeping bags depending on your sleep situation you will need a few, we got layered ones that you can use in different temperatures.
Sheets

Pillows
Blankies/Stuffies
Extra Blankets
Air mattresses the difference between a good night's sleep and a bad one is the mattress. We invested in one and it changed our lives when we camp. Try to get a self-inflating one for quick setup.
Outside Gear
Sunblock a must wherever you go
Cooling Towels we first got these for our trip to Orlando, add some water and tip them around for a few seconds and they cool you off. So cool!
Bug Spray/Raid We need a lot of sprays where we live
Aloe vera,

Sunburns happen from time to time, this is a miracle worker

Lantern/propane
Flashlights
Kids lanterns
Hanging Lantern
Batteries
Bug lantern and refills
Umbrellas
Lawn chairs
Cooking Gear
Firewood (dry)
Kindling
Axe – Gotta split some wood at some point!
Collapsible Buckets
Newspaper
Tablecloth/clips
Plates & bowls/paper plates

Silverware
Cups
Coffee travel mugs
Water bottles
Coffee pot/maker
Aluminum foil
Paper towels
Pam spray
Oven mitts
Pots and frying pans with lids
Spoons
Tongs/ Knife/ Spatula
Potato Peeler
BBQ utensils
BBQ scraper
Roasting sticks
Bottle opener
Mixing bowl
Cutting board
Ziplock bags
Grocery bags
Garbage Bags
Seasonings
Sugar
Condiments
Clothes for X number of days
Socks
Underwear
Shorts
T-shirts
Sweatshirts
Pants
PJs
Swimsuits, swim shirts, cover-up

Beach Towels (6)
Hats
Sunglasses
Beach bag
Mini cooler
Rain gear/Jackets
Shoes/Sandals
Laundry bag
Personal Care
Towel/washcloth
Wash Bin (blue)
Mirror
Shampoo
Conditioner
Soap/face soap
Toothbrush/toothpaste
Deodorant
Comb/brush/Blow dryer
Hair stuff
Make-up
Feminine products
Toilet paper
Kids medicine bag/ creams
EpiPens/ inhaler
Emergency Info
First Aid Kit
Band-Aids
Other Items for Camping
You can download this camping packing list for free.