What does financial health mean to me?
When I think of what financial health means to me there are two things that come to mind:
Taking Action
and
Confidence
Being financially healthy means to be taking the active steps in your life towards being financially fit. Just like physical health requires some effort everyday (like getting in 10,000 steps, eating rightt and getting a good nights sleep).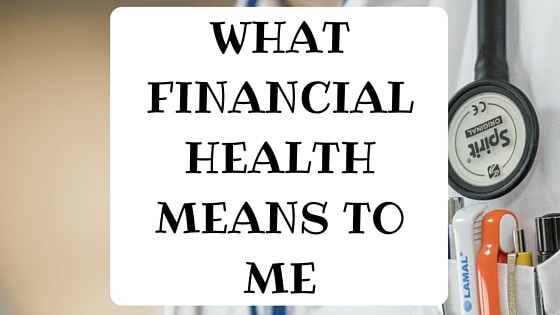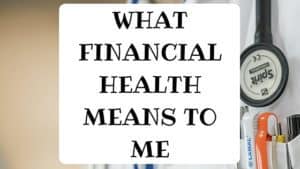 Financial health has similar steps that need to be taken. Whether that is eliminating debt. Saving for your retirement. Clipping coupons to make sure you aren't paying more than you have to. Financially healthy means being informed and taking action on that information.
Taking Action
When you are taking action to be financially fit you are moving in the direction of your goals. Just like putting more money into savings, means creating a better future.
Taking action reduces your fears. There are so many of us that worry about things around money. Instead of informing ourselves and taking action, we bury our heads in the sand like an ostrich. Thinking this will solve our problems.
It won't.
Ignorance may be bliss, but it doesn't solve the problem. Sure you can ignore your financial health. That doesn't mean it is going away.
If there's one thing I believe in is that if you aren't growing you are dying. It's a law of nature. When it comes to your financial health make sure you are growing. It can be as simple as opening up a savings account. Or paying yourself first. What matters is the action. Start taking action and never stop.
With taking action, you become stronger. When you become stronger, your fear disappears.
Confidence
Being responsible for your financial health is a huge step in your confidence. We all start from the same knowledge about money. AKA we don't start with any of it. So there is no need to feel intimidated.
Our lives mold and shape us. Eventually we think who we are is who we have to stay. We don't .
Taking action towards your financial health is a huge boost of confidence. It tells your mind that you aren't going to sit by and be idle with your money.
It tells those around you and the universe that you are in control of your destiny. With control comes power. POWER = CONFIDENCE.
There is a huge shift in mentality when you are taking that step.
How do I get started?
Getting started is easy. Declare here and now that YOU, yes YOU will dedicate your life to being financially healthy. To taking those little actions that will make a big difference down the road.
Take it one step at a time. The same way you would if you were a baby. There are steps you can take to become more informed. You can start tracking your money, create a budget, monitor you net worth, start saving for retirement, make sure you are spending less than you earn. All of these things are good for your financial health.
Pick one, learn about it and feel your confidence grow. Years from now you will be grateful that you took your first step today.