If there is something we can all use after the holidays it's a financial check-up. If you feel like your credit card bill is so big it needs it's own mailbox, you aren't alone. It seems to come every year… family gatherings, work outings, shopping, christmas parties, the list goes on and on…Everything seems to come at us all at once and then we are left with the holiday cheer hangover in the form of a credit card bill that barely fits in our maillot. Don't worry you aren't alone. Here are a few things you can do to get financially smart in the year ahead.
Here is how we start our year to get financially smart
#1 Financial Review of the Past Year
We track all of our spending throughout the year with some software (if you currently don't track your finances, I highly recommend it, you can't fix what you don't know isn't working). If you are looking to get started there is Mint and Personal Capital both are FREE, and provide useful tools for tracking and managing your money.
Evaluate Everything
Then starting in January we go back and look at where our money went over the past year. We go over all the different types (Gas, Groceries, Gifts, Shopping, Mortgage etc…) see where it went and decide what can be done and where we can start to cut corners.
Cut something down or out completely
For instance, last year say we spent just over $3,000 in restaurants. While we both agree that we enjoy dining out. A lot of the time we dine out it's more because of convenience and lack of planning. So we are cutting back to one nice meal a month out, even if the meal comes to $100, we will be saving nearly $2000 a year. Something worth doing.
#2 Sets Some Great Financial Goals
Goals can include, contributing to your IRA, Roth IRAs ,TFSAs, RRSP, or any other investment vehicles or something a little more personal like saving for a new car, vacation or whatever gets you excited.
Make A Goal That Stretches Yourself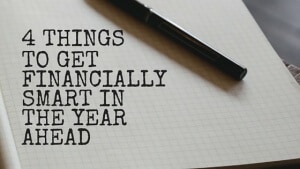 I won't get into goal setting and the strategies you can use. That's in an upcoming post. This year our goal is to get Debt Free and Mortgage Free. It's a goal we have been working on since we bought our first house, but have been extremely focused on for over 5 years and we are excited to see it happen this year.
With interest rates so low we are keen on becoming mortgage free. It's become so common place for me to call the bank to do a match payment that I don't even need to say it, the clerk sees my number, answers and says (sometimes before I can speak) "Match-a-payment for this weeks mortgage payment Andrew?" For us it's a big, big goal, one that has kept many of our other decisions in sync with this one.
Once the house we are in is paid for it will free up a lot of our money cash flow allowing us to do other things, that is what we use for our guiding light.
If you are interested in the goals we are setting for this and the next 10 years they will be in an upcoming post. Sign up for our newsletter so you don't miss it!
#3 Go on a Cash Diet
This is something we do at the start of every year. I love and hate the cash diet simultaneously. What we do is look at our spending (See #1) and take a look at expenses we can control and change (Gas, Groceries, Dining out, Entertainment etc…).
Then, we decide what we should try to live off of on a weekly basis. We have tried a monthly amount but we find that it's easier, at least for us, to go week by week. Basically we decide on a weekly amount that we need for living and take it out in cash. This year it's $350 with a goal of being closer to $300. I would like to make it less but we have made it a hard number so we can't go over it and any left over goes into the petty cash incase we need it the following week.
The Cash Diet is Best
Doing this has had a great impact on us. Over time, with credit cards we tend to not think about the amount. Both my wife and I have been guilty of coming home (especially during the holiday season) and telling each other what we bought and not being able to tell what the total bill was for anything.
Cash forces you to think about everything you buy, every item you put in your cart. In this paperless society, money and credit can be less tangible. But when all you have is cash on you, your shopping tendencies change. Once I went over on our budget while I was at the grocery store. Rather than pulling my credit card out, I started taking stuff out of our cart at the checkout. It was a little embarrassing but I'll take that as part of the financial wake up call. Hey if it was easy, I wouldn't have to do it!
#4 Start Calculating Your Net Worth Every Month
If you truly want to know if you are doing well financially through out the year the best way to keep an eye on your finances is knowing and tracking your Net Worth. Tracking this key amount every month will give you a better idea of how you are doing financially. Since we started tracking our net worth we have watched grow and it lets us know how we are doing throughout the year. If you are interested in learning about net worth you can use mint or personal capital, or if you prefer to use a spreadsheet you can use the one we use. To get it all you have to do is sign up for our newsletter and we will walk you through everything. Sign up below so you don't miss out!
What are the ways you go about getting your financial house in order?
FREE Ultimate Guide: How To Get Out Of Debt
Sign up for our weekly emails and we will send you our guide to becoming debt free and other useful resources to help you with your money.