When it comes to saving money, obviously I'm a big fan. But I have a blind spot. Electronics. Spending money on electronics is my financial kryptonitie. So when I went to my friends house who had just decked out his man cave I had to pick his brain about how much it cost. Little did I know that it would open the doors to some pretty cool savings. Sometimes you hear a word that will save ou more money than you realized.
For me it was when my friend said: "I just got all the cables and accessories from Monoprice."
"What's that?" I asked.
"You don't know about Monoprice? Dude you are paying to much for your electronic accessories."
I quickly pulled out my phone to see he was right. Monoprice was cheaper by a landslide for a lot of the items we were looking for.
If you want to save money on electronic accessories, then Monoprice should be your first stop.
.
Cables are a Fraction of the Price
When my neighbour told me about what it cost to buy a good HDMI cable from Monoprice I thought he was pulling my leg. Then I had a pit in my stomach when I realized how badly I have been overpaying.
Check some of their prices out. A 3 foot HDMI cable starts at $1.97, when you compare them at Best Buy $5.99 that's more than double the price.
When you consider that the average TV has 3 HDMI cables and every house has at least a couple of TVs that's $10+ in savings right there on each TV.
A store clerk once confessed to me that "Dollar for dollar, we make as much profit on the printer cable that we do on the printer."
That's insane.
Until you see that some of these cables that cost less than a dollar to make are selling for $19.99 or more in stores. Monoprice has these cables for under $10 in most cases.
The Savings Kept Stacking Up
When I discovered Monoprice, we were in the middle of making a workout area. We found cables, and nice glass wall mount for less than $20.
Price checking at some other places I found it was half the price.
I felt like I had discovered a secret site, and it felt amazing.
Here's the Best Part
It gets even crazier with savings. I bought a $199 wall mount (via Best Buy) for $60 at Monoprice (check this one out here). I remained skeptical until I got it.
But I was even more impressed. The hardware was solid. The mount was heavy duty and I was decidedly impressed. This is the one I got.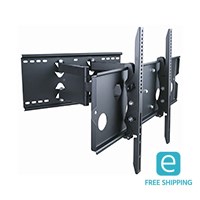 There is a ton of savings you can find on this site. Do yourself a favour and look around.
Now Monoprice is my go to site when I need electronic accessories. They are even getting into the whole home automation with door bells and light bulbs, plus they have 3D printers. It's tech geek savings heaven.

Free Shipping in the US
Of course if you are buying things online (like a 30 lb. wall mount) then it's important to have free shipping that way you aren't paying through the nose for the weight of some of these goods.
Monoprice has free shipping through out the US. So you can rest safe knowing you are are covered. As a Canadian, we just pick it up when we make one of our trips to the States.
Nothing but Love for Monoprice
I know this sounds like a love in for Monoprice, but after years of over paying at local retail stores it's great to find a place where you aren't paying through the nose. When I was told about Monoprice I felt like I was in a secret club. Seriously finding out about this site was almost as good as getting my Costco membership. Now you know about it too!
Next up: Do you have an emergency binder? Here's everything you need to know