This past week I've had a cooking class with Gordon Ramsey, learned how to do slight of hand with Penn and Teller, and learned how to negotiate a better deal with FBI hostage negotiator Chris Voss (author of Never Split the Difference). Lastly I watched Bob Iger explain how he managed to get Steve Jobs to sell him Pixar. Am I a millionaire with tons of free time? No. I just have a Masterclass membership. In this Materclass review I'll go over everything I've experienced with Masterclass so far, the price, the pros, the cons and whether or not I think it's worth buying.

What is Masterclass?
Masterclass is a unique online learning platform that allows you to learn from people at the top of their game. We're talking about learning cooking from the likes of Gordon Ramsey (2 cooking classes), Thomas Keller, Wolfgang Puck, Aaron Franklin (love me some Texas BBQ).
See the processes of acting and directing from the likes of Ron Howard, Martin Scorsese, Natalie Portman, Samuel L. Jackson, Helen Mirren and other A list celebs.
Music from the likes of Christina Aguilera (singing), Carlos Santana (guitar), Usher (performance) are just a few. Penn and Teller teach magic (my son and I mastered the French Drop in an hour and it's impressive how quickly you can pick these things up) which made me realize, for the first time, that magic is a lot more than just doing a trick. The psychology of it is amazing!
You can learn comedy from Steve Martin (his insights are amazing), and Judd Apatow. Screenwriting with Aaron Sorkin and Shonda Rhimes and more.
Sports and games from Stephen Curry (basketball), Serena Williams (tennis), Garry Kasparov (chess), Daniel Negreanu (poker) and more.
Lastly is my favorite, writing from Margaret Atwood, R.L. Stine, Malcolm Gladwell, Judy Blume, Dan Brown and more.
In all there are over 75+ classes from the masters of their craft.
See all the Masterclasses here!
What do you get with Masterclass?
There are two options with Masterclass, you can buy an individual pass for one course, or you can go all in and get access to every class. The way it is priced is if you are going to do more than one class it pays for itself to have the full access to all courses.
Personally I opted for every class because I just want to learn so much. Over time I'll dive deeper into each one as I go through it. One of my goals for this year is to improve my writing and learn to cook better. Masterclass checked both of those boxes (Plus I want to be able to do that cool knife cutting I see every week on Master Chef, which I now know how to do thanks to the lesson from Gordon (were on a first name basis)).
I'm also wanting to learn more about business and I can do so from the likesof Bob Iger (Disney), Howard Shultz (Starbucks) and so many other things. I can even learn entrepreneurship with Sara Blakely (the creator of Spanx and television Shark Tank shark).
Each Masterclass has an average of 24 lessons, and are around 12 minutes each. Long enough to give you what you need so you can practice and improve.
What is The Price of a Masterclass Membership?
There are two memberships for Masterclass the first is the single course for $90. This an outright purchase for one year.
The other is an all access pass to all 75+ courses (they've added a few since, the Chris Voss negotiation one is incredible). It's $15 a month or $180 a year billed annually and in my mind it's completely worth it.
Click here to buy Masterclasses!
How does Masterclass work?
After you sign up you can beginning watching your Masterclass. You are free to skip around and sample stuff (provided you did the all in package). It's great to get a taste of different educators and
When I started I was a kid in a candy shop. I started with Gordon Ramsey and learned his secret to poached eggs with wild mushroom and bacon on brioche. Something that looked incredibly difficult I was able to do in about 15 minutes. Mind. Blown.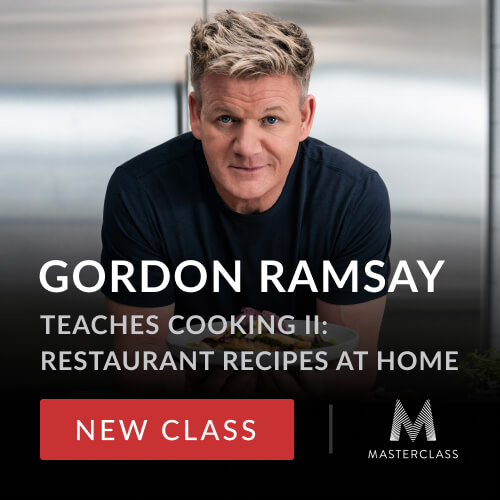 Where Can I Watch Masterclass?
There is an app for Masterclass that you can download once you purchase, but you aren't just limited to your smart phone or tablet.
They have an app for Fire TV, Google Play and Apple TV (they currently don't have one for the old style Apple TV, you know the one without the track pad). Watching Masterclass is incredible easy.
Can I Stream Masterclass in the Car?
Yes! There is an audio setting so that you can stop the video and just listen to the audio as you drive. This is perfect for your commute. I find this to be very useful as there isn't a lot of time to watch TV. But many of the classes are good in audio only format.


Click here to buy Masterclasses!
The True Benefit of Masterclass
For me the benefit is being able to learn from one of these masters on my own time.
Look, I'm never going to be able to fly to L.A. and learn from Gordon Ramsey. Even if I could get into the class, taking time off from work, flying and staying in a hotel is just not feasible. This is my way into that world for a very low price
The same goes for learning guitar from Carlos Santana (for the record he doesn't return your phone calls and if you camp out in front of his house you are labelled "a stalker" 😉 geez can't a guy just show up and jam at a fellow guitarist house. What's that? They can't. Oh… now looking back on that I can see how it was maybe a little off-putting.)
To me this is what the internet was meant for, being able to have these leading people create a course on their craft and share it with the world at an incredibly low price.
Who is Masterclass for?
To say Masterclass is for everyone is inaccurate. It's for those who want to improve in one or many aspects of their lives at a very low cost.
I would love to say it's for everyone, but many of the people I told about Masterclass before writing this Masterclass review just shrugged. So clearly it's not for everyone.
That said as an avid learner who is always looking to improve, this is a golden nugget that I'm happy to have found. If you are reading this, I'm guessing you are an avid learner too.
The best part is that you can elevate your game quickly, whether it's cooking or comedy, magic or mystery writing, these skill are easily digestible and quick to implement.
Click here to buy Masterclasses!
What is Masterclass like?
When I thought about what I need to include in this Masterclass review I knew there would be a lot that I could say. There is a lot to cover in these courses. The best part is that you get to pick and choose, I love it because you get to peak in on the greats of our time and see what golden nuggets of wisdom that they can offer.
I would say Masterclass is for anyone who is looking to improve an existing skill, or learn a new one. One of the things I've always wanted to do is cut food really fast. They just make it look so cool on cooking shows that I can't help but stare in awe.
With one 12 minute lesson I now know how to do it and can keep at it until I get a good speed down.
That's just one example of course but there are tons of the micro skills that you can learn that make the whole of these classes amazing.
Click here to buy Masterclasses!
Is Masterclass for kids?
There are some classes that your child can take others likely they should avoid. A drawback from Masterclass is that they aren't rated. There are several classes that have strong language. Think of watching Hells Kitchen with Gordon Ramsey, now turn off the censors… yeah… lots of f bombs. While this isn't great for kids, it does show the authenticity of these educators.
I wouldn't just let my kids watch something without watching it first, but there are a lot of courses that don't have bad language and your kids could watch them. Just preview them first and use your discretion.
What I like about Masterclass
This Masterclass review wouldn't be complete with the two things that I like the most. The price and the access to amazing teachers. I can watch it on my phone, tablet, or streaming device and can even listen to some of them in the car (obliviously some don't make sense to do that, but they tell you before you start if you should be watching not just listening, how cool is that?)
Click here to buy Masterclasses!
What I disliked about Masterclass
The inability to ask questions. Though there is a community and I just haven't made time for it yet. So there is likely some feedback mechanisms in there. Some of the lectures don't apply to me, for example I have a few food allergies so learning to cook with some ingredients doesn't help me.
Other than giving me Gordon Ramseys direct line so he can provide me feedback (Gordon if you are reading this, you can come and visit me whenever you want, you too Steve).
The Community
I haven't had a chance to dive into the community. But if it is anything like Masterclass core product I imagine it would be very useful.
There community is called the Hub, and there you are able to ask questions and there are times when the instructors give their replies. It's pretty cool!
Click here to buy Masterclasses!
Masterclass vs Udemy
This Masterclass review should address other learning platforms like Udemy.
Here's the thing, Udemy, another course provider, may have the same topics. But the people that are offering them aren't the people we see on television and those whose names are renown around the world. That doesn't mean you can't learn from them.
It's just that it's not learning from people at the top. I've taken a lot of Udemy classes. Some of them are amazing, but the Masterclass ones are next level. Another thing I should mention is that anyone can create a Udemy course, you have to be selected for Masterclass.
A few last notes on Masterclass Review
Like any learning product you will get more out of it the more you put into it. In the month I have been using it. I've seen my confidence grow in areas that I was sorely lacking. But I have found these to help me improve on a lot of things that I couldn't find elsewhere.
Lastly, if you ever do see one of your Masterclass teachers in public, it's ok to approach them, just don't lead with "I've been watching you all week." (I'm just guessing, this happened to a friend, err… yeah that's it…. a friend). As for being friends with Gordon Ramsey, it hasn't happened yet. But I'm sure he's just to busy to return my calls. 🙂
I hope this Masterclass review has helped you make a decision one way or another. Personally it's one the better purchases I've made in a long time.
Enjoy Masterclass. I sure do.