I'm a huge fan of keeping it simple. When I find something that works, I stick with it. For instance, I'm still driving a 2004 van because it works fine. It's simple; find something that works and stay with it until it doesn't work anymore. Doesn't that make sense? If something is working well for you why mess with it?! So when I say that I abandoned Mint for Tiller Money for tracking my budgeting and spending, it's saying something BIG!
Why I Quit Mint
I loved Mint when I first started using it. Because it was free and my family was doing everything we could to get out of debt, fast! Sure, it had some limitations, but the price tag made it worth it.
I'm not going to bash Mint, taking shots at a free service isn't cool. But they started duplicating many of my transactions. That was followed by a lack of support for some of my bank accounts (things weren't being uploaded easily). So I decided a change was needed.
Going it Alone – The No Budget Experiment
Since we are living debt free, I figured I didn't need to track our spending. I thought that the habits I developed over the 6 years of paying off our mortgage
would be enough to keep us going.
I was so wrong!
We didn't blow up, but I didn't like not knowing how much we were spending on groceries. That's what I like about budgeting. Once you know how much you spend on certain things, you want to keep knowing how much you spend.
It's like a nerd version of a video game, I guess.
Looking for New Options
You know when you need something and you start to see it everywhere you go?
That's how I stumbled onto Tiller. First, one person mentioned they were using it and liked it a lot. Then another person said they used it and another. Finally, when I was at Fincon (it's a conference for the personal finance industry) last year I saw Tiller, and met the staff. They were all nice and friendly.
That's one of the nicest things I have found with using Tiller; its customer support is top notch (something I found was starting to lack with Mint).
So I took the plunge and took them up on their free 30 day trial and decided to see what they were like.
Turns out they were exactly what I was looking for!
Here you can see how Tiller compares to the other budgeting software out there.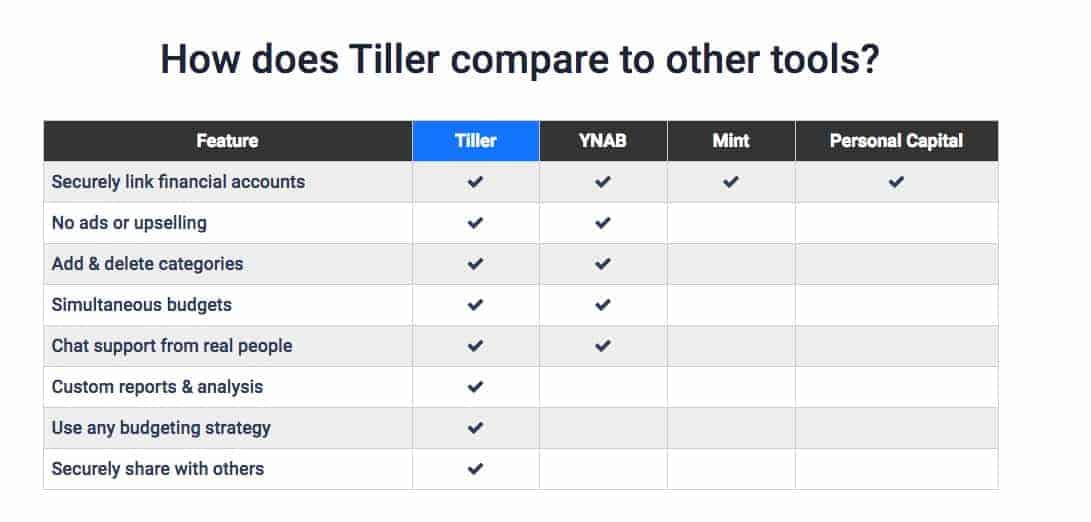 What is Tiller Money?
Tiller is a software service that automatically updates a Google spreadsheet for you every day. It keeps your financial transactions up to date. Tiller is the only budgeting software that automatically pulls your latest financial transactions into a spreadsheet for you.
How Does Tiller Money Work?
Tiller takes your financial information and pulls it into a Google spreadsheet on a daily basis. To get set up is a super simple 3-step process:
Link your financial accounts
Select a template (I like the Lauren Greutman one)
Start tracking
From there, Tiller pulls in your transactions on a daily basis and all you have to do is put them into the right categories for your budgeting needs. By pulling all your transactions in and sending you a daily update you can see how your money is doing and what transactions have been posted to your accounts.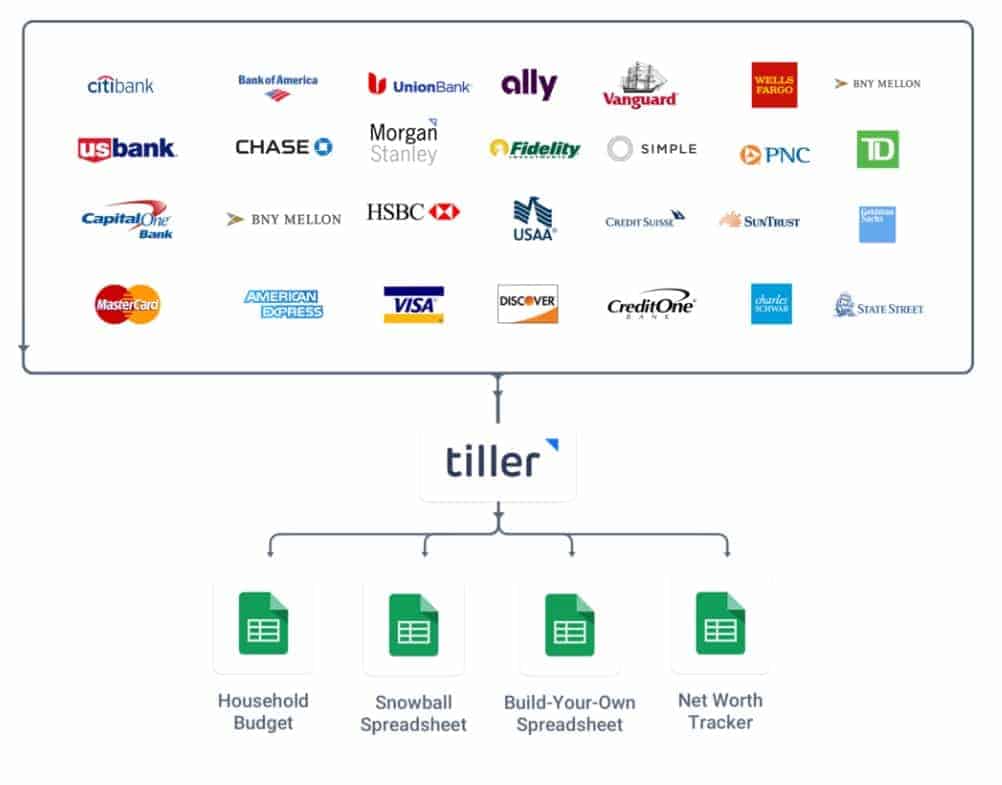 Getting Started with Tiller
Getting started with Tiller is easy. They use your Gmail account (if you don't have one, it takes all of a minute to get one) to sign up. So it takes seconds to get started.
After that you will need to enter in your accounts. (They use 256-bit AES encryption along with Google's 2 step authentication, which means it's as good as it can get in the industry. Tiller takes security very seriously and it shows. One more reason to love them I guess).
Then, you connect your accounts and pick from their different spreadsheet templates.
From there you can see which one of the templates works best for you. After that, you start to categorize your spending. Once you have done that, you will see your information get pulled into a report and you can watch it over time.
Is Tiller Money Safe To Use?
Tiller uses 256-bit AES encryption along with Google's 2 step authentication. The information is pulled and placed directly into your private spreadsheet so no one at Tiller ever sees your financial data. Your data is only ever seen by you and you control who sees it.
How Does Tiller Make Money?
Tiller makes its money by charging a monthly fee. It only cost a small yearly amount of $79, which works out to $6.59 a month.
Best of all, Tiller doesn't share your data with others (which is how many free services work), they make their money from the monthly service fee and that is it.
Personally, for what you get and the time it would take me to pull in all of this financial data it is a no brainer to use this.
Note: If you are a student they offer a student discount as well. Tiller is free for students for one year.
First Impressions of Tiller
I was hooked in the first 5 minutes.
It's so simple to get started with Tiller.
All my bank accounts were available (being in Canada, I find that the US ones are always perfect, but some Canadian ones aren't). It was really nice to have all my accounts be available for import into Tiller. It's something I had never seen before.
What I love About Tiller
Unlike Mint, I'm not limited to a one basic report. All of my financial data is in one giant spreadsheet and I can go back over years at a time. I exported Mint's data in a few minutes and imported it into Tiller easily. There were a few small changes to make, but if you have ever used an Excel spreadsheet, it's pretty easy to do.
Being able to have all this information gives me a better insight into my finances and shows me what to expect in the coming months.
Automatic Updates
Tiller automatically updates your accounts for you so there is none to log in and enter things as you spend. It just goes to your linked accounts and enters the transactions in so they are there the next time you log in.
.
Daily Updates Directly To Your Inbox
The thing I love the most about Tiller is my daily email update.
Every morning, I get an email from my Tiller account showing me any transactions that were posted in the last day and also shows me the balances of all my accounts (this is perfect for doing my Net Worth, which they also have an email template you can use for free).
Tiller pulls all your new transactions every day into your spreadsheet and from there you can categorize them as needed.
Auto Categorization
If you have ever tried to categorize things, you know when you start out it can be a tedious process.
Tiller has thought of that too.
They have an auto categorizing feature that allows you to quickly categorize repetitive transactions. So your Whole Foods shopping trip can get put into "Foods" category automatically. This is nice if you only go into your spreadsheets once a week or less.
Splitting Transactions
Another feature that is nice is the ability to split a transaction. So when you get back from Costco and you have groceries and a car battery, you can split the two amounts up so you can accurately know what amounts are going into which categories.
Ability to Create Your Own Categories
When we were paying off our mortgage we were really fussy about our categories for spending. Each car had their own budget line item, the kids spending was broken up into school, sports, activities and day care. All of this you can do with Tiller.
But now that we are debt free, we have trimmed the categories down to just kids, cars and food (and a few other ones).
That's the beauty of Tiller you can customize how you want to see your data in Google Spreadsheet.
Small Business Budgeting
Running a web-based business means I need to be tracking my business accounts. Tiller has a small business template and it's easy. You can create categories in your budget spreadsheet making it easy at tax time to hand things off to your bookkeeper or accountant.
Dividend Tracking
One of the things I didn't like about other software was the trouble I had with tracking my dividends and passive income. Tiller works with all my investment accounts (both US and Canadian) so it's super easy to track how my dividends are growing every month.
Plenty of Budget Spreadsheet to Pick From
One of the things I've come to realize is that there is no one spreadsheet that works for everyone. Tiller Money gets that too, so they have created plenty of spreadsheets to choose from like:
Tiller Budget
The Net Worth Tracker Spreadsheet
The Debt Snowball Spreadsheet
The Weekly Expense Tracker
The Build-Your-Own Template
Drawbacks of Tiller
I can't think of any drawbacks. My only wish is that I knew how to use Google Sheets a little bit better, that way I could make some cooler reports. But right now I'm trying to aim for more simplicity and learning how to do this stuff is just a YouTube video away.
The other thing I would think is that your information's kept in a Google Sheet. So if you don't like the idea of your information being online then this is a pass for you.
Personally, the benefits outweigh the drawbacks ten times over but you have to decide that for yourself.
I would say that they don't have it for Excel, but they are in the process of testing it as of writing this. So if you are an Excel user this will be great for you!
Another consideration is that if you don't use spreadsheets then there could be a learning curve. But if you use them on a weekly or monthly basis then there shouldn't be an issue.
Paid for Service
The other drawback would be the cost, if you are looking for free alternatives then Tiller isn't the right one for you. For me, having the functionality that I want is worth the $4.92 a month. That and I like that my information is kept private so it's not sold to credit card companies like many of the free services. It's ad free and private, so I'm happy to pay the small monthly amount.
Investment Tracking
Tiller doesn't offer investment tracking so if you are wanting to track individual investments and rate their performance there are other free services like Personal Capital. This doesn't matter to me. Because Tiller does bring in the balances of my investment accounts that is all I have a need for when I am looking at my financial picture. For individual stock or ETF performance, I log into my trading accounts.
Best Part About Tiller
I think the best part about Tiller is that you have all your information in a spreadsheet. It's like having all your transactions together and if you want to make note and mine the data for something in the past (like an old car repair) you can find it in seconds.
What if I cancel Tiller?
This was my concern. Tiller knows that my financial information belongs to me and I get to keep it if I ever decide not to use Tiller (I honestly can't see that happening). After getting all my information out of Mint and into Tiller I don't have to worry.
More Templates
Another thing I like is that they have come out with a few different templates since I signed up. It's nice to see a company growing their services and they are in tune with what their customers want.
Final Verdict on Switching to Tiller
I have been using Tiller since the end of 2017. I absolutely love it. I held off telling you about it because I wanted to make sure it was awesome.
It is.
If you are looking for a great budgeting system, that offers you a perfect balance of templates and customization then Tiller is the right one for you.
Knowing where your money is going is the first step to improving your overall finances. It's how we can see where our money is being spent and how we being to fix these problems so we can take our finances to the next level.
If you are on the fence about trying Tiller Money, do what I did. Sign up for the free 30 day free trial and see what you think. Take it for a spin and see if it's right for you. I have tried Quicken, Mint and doing it on my own. Tiller is the perfect balance of what I need and once you give it a try you will like it too!
Check out Tiller's Free 30 Day Trial here.