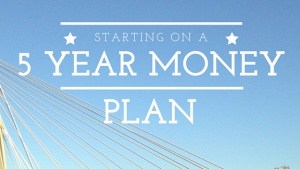 Just over 5 years ago, my wife and I decide to double down and become debt free. This wasn't just a quick decision, we new that doing this would mean sacrifice, and hard work. To keep ourselves on track we knew we needed to come up with a 5 year plan.
At that point we sat down and made a long list of the things we wanted to be, wanted to do, and wanted to have. When we started to organize our thoughts getting out of debt, all debt including mortgage once and for all made the most sense.
It didn't seem possible. At the time we just had our new mortgage and debts of over $340,000. We got a lot of objections, strange looks and questions like:
"What will you do for fun?"
"I could never do that. Why bother, just enjoy the "now" (FYI: YOLO wasn't a common term yet)"
"Just pay it off over 25 years like everyone else does. Don't worry about it"
Fast Forward to Today: We will be mortgage free by the end of the month, and soon after completely debt free.   We are completely debt free, mortgage and everything. Right now we aren't looking nearly as crazy as we did 5 years ago. Though don't get me wrong, many days it felt like we were crazy. So our crazy 5 year plan has worked. 
Now we find ourselves with a new problem. Where do we go from here?
It's time for a new plan! We love this process, and I'm thrilled to get to share it here:
It's really a fun 4 Step process in doing it (I know..I'm a nerd):
Before you start
Get set up. Schedule it and make it a priority to do with your significant other. Sit down with your key stakeholders (i.e. spouse and  other family members if necessary). Have pens and paper (or computers) ready to mark everything down.
Decide on the time frame. Usually we will do a 5 year plan, and then break everything out into yearly goals and objectives. The idea here is to think in a longer term than you usually would.
Brainstorm
Write down everything you would like to be, would like to do and would like to have over the next 5 years. Get everything you could possible think of down on paper. Nothing is too big or too small. New TV. Debt Free. Travel every country. Paint the bathroom. Go to some kind of event. Learn how to build a web-based business.
Leave nothing out.
This is going to make things so much easier when everyone puts what they are really wanting on the table. Open communication here is a must!
If you don't tell ,you don't get.
Don't assume others will read your mind here. Remember that this is going to directly impact everything around your money.
Tip: We use post it notes and write down each one on an individual post it. It's way easier to move things around that way later on.
Prioritize
Once you have all of the things you want to be, do, and have for the next 5 years, you will need to start setting priorities. Enter a conversation around the things that you have written down and why they are important to you. Then arrange all of them from most important to least important. Always keeping in mind your "Why". If you want to be debt free more than you want to travel, put that down.
Decide What is The #1 Most Important
Once you have prioritized. It's time to make the tough decision and make something the number one priority. This will be the one thing that rules above all else. For us five years ago it was paying down the mortgage. All other decisions, all of the other "Wants" we had were behind that one thing.
Doing this again we have come to a decision. Here's our issue, we like our jobs, but ultimately we want to be financially free.
When we are truly honest with ourselves, if we are financially free we would be in a position where we could enjoy our work more… or realize that we may just be lying to ourselves. We really won't know until we are there.
Ultimately we want financial freedom, and we want it from passive income sources that can be handed down. So that is what we want, the ability to be financially free, to quit our jobs if we ever choose to do so.
Figure out your Why
This part is often overlooked when deciding what you want. I think I believe it's the reason why so many people ultimately give up on their goals.
I was going through a good goal sheet I had filled out from 5 years ago and a lot of the goals no longer interest me. Looking at them it's because they were pretty superficial or someone else's idea of what a "good goal" might be.
That list also had some goals that were just as important to me today as they were then, the ones I had reached were the important ones to me and my family, they were the ones that mattered most.
When you are picking your number one goal ask each other these questions:
Why do you want this goal?
Why is this plan important to you?
Why can you not let this go and just live like a "normal" person?
Why is this goal so important to you that you have to achieve it, there is no other option?
In our case, our "Why" is that we want to be able to leave a legacy for our kids, and eventually grand kids. This is bigger than just us, it stretches beyond our personal goals and can make it easier to stick with it as we go throughout the years.
Another "Why" is that we want to feel true freedom. That freedom of being able to do whatever whenever we want to.
Please, please please, think this through and come up with a strong "Why". You will need something strong to get you through the next 5 years.
Once you are done you will need to start putting this all into a plan. I'll get more into that another time.
Make sure you don't miss out and sign up for our newsletter.
Looking For Some New Ways to Make Extra Money?
Our FREE guide will show you 10 ways you can start making extra money in your spare time