As soon as the nice weather hits our family can't wait to get outside and do things with the neighbors if you feel like your outdoor game skills are lacking here are 10 fun outdoor games for large groups. There is nothing better than getting together with a large group of people to play some games outdoors while you wait for your new BBQ to slow cook your ribs on a summer day.
This game is as fun to play as it is to watch if you thought table top Jenga was fun, wait until you have tried this! You can play as many people as you want or host a tournament of champions. All you need is a little bit of level ground with this game and you are guaranteed to have fun for hours. This has been our go-to game at the cabin for the past few years, we absolutely love it.
You can get Giant Jenga here, or if you want to go off-brand you can buy it here.
We just got into playing this with the family the past year, it's so much fun and you can play it no matter what age. Plus the net can double for a volleyball net if you want it to. This set caught my eye since the biggest complaint I have about our current set up is that it's hard to cut the grass around it and the netting gets tangled, this set up looks like it avoids that and it can be set up in seconds.
You can see the specs for yourself here.
These dice are the perfect compliment to all of your other back yard games. They are affordable and they remind me of something out of Alice in Wonderland for some reason (maybe it's just because I can't find the giant chess set). Whether you are using them in the backyard, BBQs or tailgating, these are a great game for large groups.
You can grab this set of dice here.


OMG, the hours we have spent playing ladder ball could easily add up to multiple summers. This is another game that is great for bigger groups of people, you can make teams, or just do a tournament of champions and battle it out.
It's super easy to play, just throw the tethered balls and get them to wrap around the ladder, it's so much fun and a great way to break the ice if you are playing with a large group of people who don't really know each other that well.
CROSSNET
This is a great game of Four Square meets Volleyball, it's perfect for summer afternoons with some friends and easy for everyone to play. If you have every had a gym class with volleyball you are good to go. You can se our CROSSNET review here. Or take a look at the game on their site here.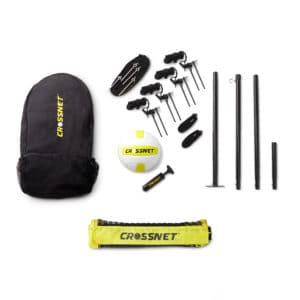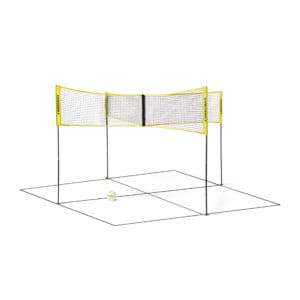 This one is new to me, it's kind of like lawnbowling ,but with a stick. You set up the 5 pins and take turns trying to topple the other teams blocks, once you have them all knocked down you can go for the king to win!
I've added this one to my wish list, it's a great price and I can't wait to try this game with a large group of friends.
You can see, and buy the Kubb game set here.

Spikeball
My kids have this on their wishlist and they want it bad, you may remember this game from Shark Tank, but it's played everywhere now. Watching people play it you can't help but want to jump in, or even better get your own kit.
You can grab a set up with all you need here.
We love, absolutely love, Connect 4! It's so easy to play and this outdoor version of it feels like you can take it to the next level.
Giant Yard Pong
Tell me this doesn't look like the most fun way to spend a Sunday afternoon with the family and friends? This giant set of Yard Pong may just be the perfect set to take beer pong to the next level. Plus you can do some fun things with the kids like filling it up with water and dumping them as you play. There are so many variations on this game that you can do that it is easily a great outdoor game for a large group of people.
I love to play Bocce, it's so simple and so much fun when you are playing with a group of friends. This set comes with 8 water resistant balls and comes with a carrying case so you can bring it with you.
As of writing this, it was on sale, so take a look at this set here.

This is another newer game that is super fun to play. you are playing with 10″ rings and trying to get them around the pegs, they can even double for a game of catch with the rings once you are done your ring toss game. Again this game comes with a carrying'storage case so you can bring it with you when you head over to your friend's place for outdoor game night!
You can buy this giant ring toss here.

Some classics are always fun, we love getting together with our friends for a Saturday afternoon horseshoe tournament. Quickly pair up and get this set up and running in seconds. This set is great because you don't need to worry about getting the stake down deep enough to hold. The base helps keep things in place and can be used indoors or outdoors, though
This game is so easy that anyone can challenge another person, I've seen grandparents play with their grandkids (and the grandkids won!)
This one is water-resistant and inspired to look like barn wood. Whether you are tailgating or just hanging out in the backyard while you barbecue with the neighbors it's a great way to spend an afternoon with a group of friends. This one comes in different sizes and styles.
Or if you are looking for something a little more portable, this collapsible set is a great one that can fold up
and comes with a travel case. It has 3 designs, including the American flag, and it's a game that is guaranteed to be evenings of fun for your group!
You can buy this portable Cornhole set here.

Mega Movie Screen
Of course, if you are wanting a few more things to do outside you can always grab this inflatable Mega Movie Screen. This one is 14′ and claims that it can be set up in 2 minutes, which makes it perfect for bringing to a friends house, or adding it to your camping checklist and taking it with you (assuming you have a powered site).
To do this you will need a projector, but they are priced pretty well on Amazon here.

Of course, there are a lot more yard games out there, you can see some more of them here.
Love games? Share this so others will benefit from playing these games.