Our family just got back from our trip to Maui. It was a perfect mix of relaxation and adventure. We learned to surf, and for my 40th birthday we went up in a helicopter (two things off my bucket list). It's all because last year we set up a travel fund for this holiday. In the next few minutes, I'll show you how to start a travel fund quickly and have it completely automated so you don't have to think about it until it's time to fly!
You are going to be happy you read this and took action.
Do I Need A Travel Fund (a.k.a. Vacation Bank Account)?
In a word "Yes". Having a separate travel fund account means you get to watch it grow all year long.
It's important to have purpose for you money. In fact it was a founding principle in the Budget That Changed Our Lives.
Having money aside for specific purpose, and automated is the smartest thing you can do when you are saving for anything.
Best Place to Put Money in a Travel Fund
When I got back from my trip I noticed that Wealthsimple now offers a Smart Savings account. This is perfect for my needs.
For 2 BIG reasons:
#1. The interest rates is double from my bank offers (Wealthsimple has a Smart Savings account that offers 1.95% in Canada and at least 1% in the US on any amount you have deposited)
#2. The account is easily accessible when I need it, but out of reach enough that I don't have immediate access (it takes 1 to 3 days to transfer to the money back to your regular bank account)
#1 makes sense, getting double the interest means when the account will see a decent amount of interest every month as it grows.
But #2 is the most important part.

The Key To Saving Money In Your Travel Fund
Here's why #2 is important, I'm pretty good at putting money away. But when something blows up the budget (like last months unexpected car repairs), the travel fund is usually the first thing that we pull money from.
Using the Wealthsimple Smart Savings account is my way of stopping that and making sure I have the money ready for when we want to travel next year.
My Secret Bad Habit
After dealing with money for over 30 years the biggest takeaway is this… you have to protect yourself from yourself when it comes to your money.
We all have bad habits, it's nothing to be ashamed of, after all we are only human.
But if you know your short comings, then finding ways to overcome your weaknesses is the key to getting better with money.
For me, it's having my savings accounts somewhere I can't access them immediately. Because if I can access it, I very likely will.
That's why I've opened this account with Wealthsimple (and I will likely add a few more).
Step 1: How to Get Your Travel Fund Started
To get started I logged into my Wealthsimple account and selected "Create New Account".
From there, I selected "Smart Savings account".
Next, I labeled my new Smart Savings account with Wealthsimple: "Travel Fund".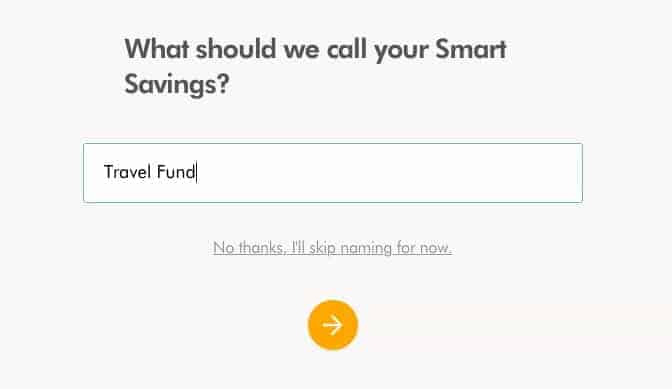 That's it
It was super simple!
Step 2: Decide How Much to Save in Your Vacation Fund
If you are new to saving for travel the way I break it down is really simple.
First, I decide on how much money I want to budget for my travel account. Then, I break up the amounts by weeks leading up to it.
So let's say you want to have $5000 in your family holiday fund by the time next year rolls around.
That gives you over 50 weeks to save up (for round numbers let's use 50).
$5000 / 50 weeks = $100 a week
Take the $5000 and that breaks up into $100 amounts for the next 50 weeks
So simple.
Step 3: Automate Your Savings to Your Travel Fund
Once you have the amount that you need to save every week, then you just have to go into Wealthsimple and set up a weekly transfer.
Mine looks like this!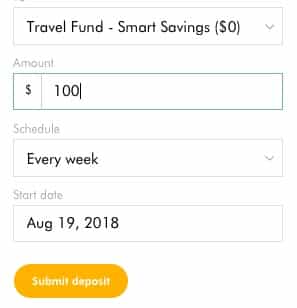 That's it! I'm done.
Every week $100 will transfer over to my travel fund and I'l be good to go when it comes time to travel.
So how long did it take for me to set up a Wealthsimple Smart Savings account?
Total time: 3 minutes.
Step 4: Sit Back and Watch the Savings in Your Travel Fund Grow
It's simple once you set everything up the first time.
Now that it's set up I can focus on other things. Fully knowing that when it comes time to travel next year the money I need will be there.

Quick Travel Fund Calculations
I thought it would be helpful to give you a break down of how much you nee to save every week if you want to save an extra $1000. $2000, $5000, $7000 or even $10,000 for your next trip over the year.
It works out like this:
$1000 = $20 for the next 50 weeks
$2000 = $40 a week for the next 50 weeks
$5000 = $100 a week for the next 50 weeks
$7000 = $140 a week for the next 50 weeks
$10000 = $200 a week for the next 50 weeks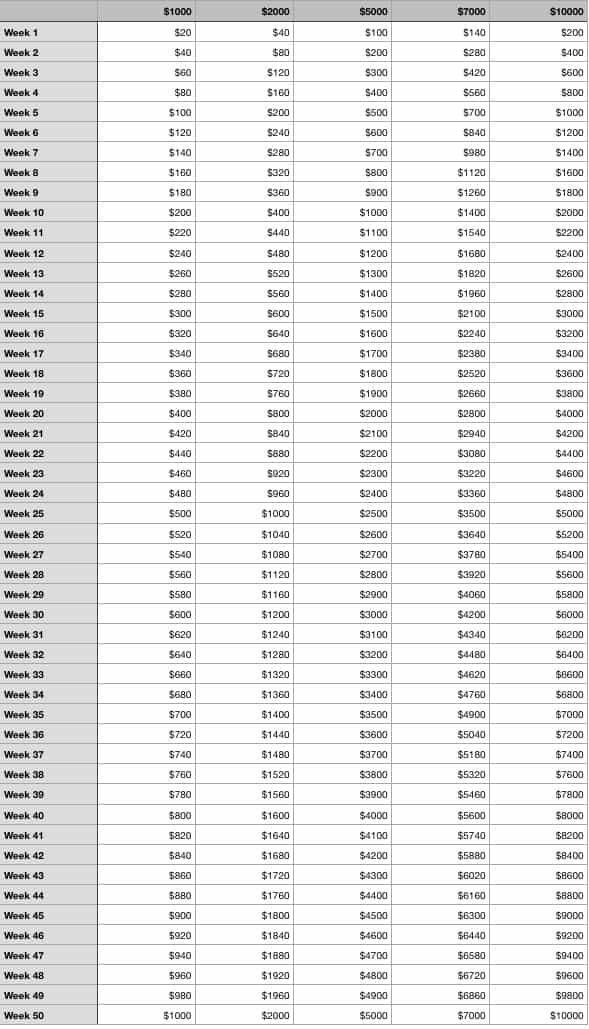 Compliment it with a Travel Fund Jar
If you are more of a visual person, I totally get it. You could always go with a travel fund jar. What we usually do is keep a travel fund jar for all of our loose change and put a little extra into it whenever we can.
There are a lot of different ideas that you can use. Grab one of these cool travel fund jars.
Either Way Get Started Today!
Saving money doesn't need to be hard. The smartest thing you can do is automate your savings and get yourself set up for success. With a transfer like this I'll see that the money is going out and be able to get on with everything else in life.
If you are ready to get started with a Smart Savings account, check out the offer at Wealthsimple.
Ready To Take Your Savings to the Next Level?
Take your saving to the next level with Wealthsimple's Smart Savings account.
If you are ready to get serious about your savings goals I would highly recommend using Wealthsimple's Smart Savings account. I use them because they offer 1.95% interest in Canada and at least 1% in the US on your deposits.
Plus with no account minimums and free transfers you can rest easy knowing your money is available when you need it. Best of all they offer $50 sign up bonus for readers of Family Money Plan when you save your first $100 with them.
We've made the switch to these savings accounts and are really pumped to be doubling our interest rate. Click here to use this link to get your $50 bonus and start saving!

Looking for Ways to Make Money For Your Travel Fund? Read these:
If you found this helpful, please share it.