It's that time of year where you're busy with kids activities, and meal making time is at a premium. You can't bear another night of take out, but you can't think of anything to make. That's where these 25 delicious and easy slow cooker recipes  come in.
Simply get them ready the night before, turn on the slow cooker (or as we call them up north crockpot) and get ready to come home to a delicious home cooked meal ready to go.
If you have never used that slow cooker (you know the one Jim and Susan got you one as a wedding gift years ago), you are in for a treat.
This device is what a lot of families call "the lifesaver". It's a great way to get your kids fed quickly when you get home
This gives you the opportunity to create delicious food, that is healthy and warm. Best of all you can prep these meals in advance and freeze them in separate ziploc bags, so the night before you just pull one out. Put it in the slow cooker and you are ready to come home to a nice warm meal.
It's a lot more affordable than ordering take out as you shuttle the family around to their evening activities.
Plus the extras make a tasty and enviable lunch the next day at work, that will make your co-workers always ask "What is that awesome smell!"
Here are 25 New and Easy Slow Cooker Recipes for you to try. Even if you don't have a slow cooker (you can get one here), take a look at these ideas and be inspired by what you can make quickly for your family.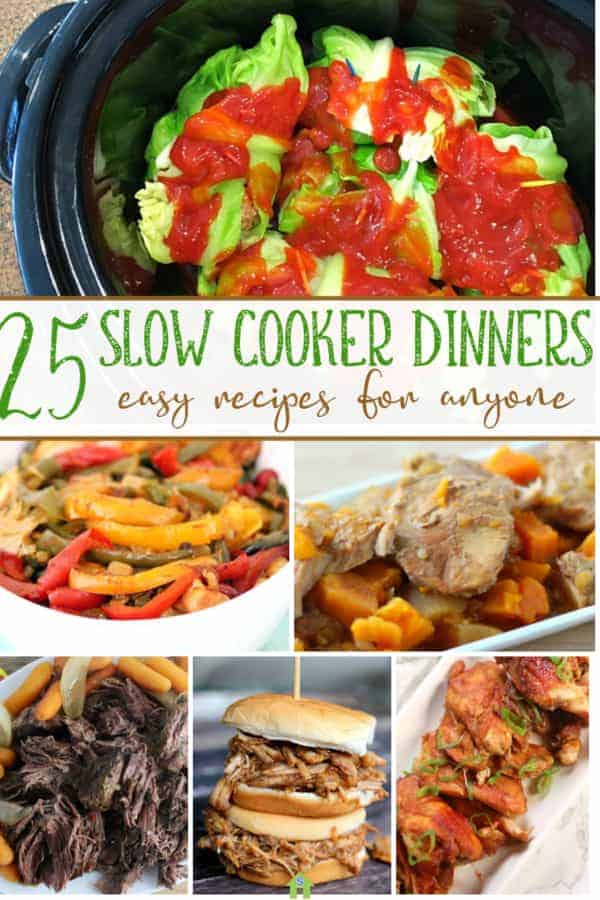 25 Easy Slow Cooker Recipes
Slow Cooker Chili

– The Slow Roasted Italian (this one is going to be an instant favorite)

3 Ingredient Crock Pot Pierogies

– It Is A Keeper (you had me at perogies)

Slow Cooker Pork Carnitas

– Mashup Mom (carnitas is my go to favorite for pork)

Slow Cooker Ribs

– The Bewitchin' Kitchen (I mean it's ribs, on a weekday, how awesome is that)

Fajita Slow Cooker Chicken

– Cutefetti (fajitas, are one of my kids faves)

Slow Cooker Meatballs

– Mami of Multiples (bring these to work the next day and awtch your friends drool over them)

Crock Pot Chicken and Dumplings

– More Than a Homeschool Mom (you had me at dumplings)

Slow Cooker Chicken Taco Soup

– SheSaved (taco soup is on my top 10 list of soups)

Simple Crock Pot Turkey Noodle Soup

– Merry About Town (perfect for leftover Thanksgiving turkey)

Slow Cooker Lasagna

– Moments with Mandi (the only person who loves lasagna more than me is Garfield)

Crock Pot Sticky Chicken

– It Is A Keeper (something new to try and it looks deliicous)

Slow Cooker Pulled Pork Sliders

– About A Mom (these are awesome)

Slow Cooker Beef Stew

– Building Our Story

Slow-Cooker Creamy Chicken and Wild Rice Soup

– The Afropolitan Mom

Beef and Rice Slow Cooker Recipe

– Surviving a Teacher's Salary

Slow Cooker Chicken Stew

– Our Family Lifestyle

Delicious Bacon Wrapped BBQ Crock Pot Chicken

– Walking on Sunshine

Slow Cooker Stuffed Cabbage

– The Typical Mom

Slow Cooker Crock Pot Sloppy Joe Tater Tot Casserole

– Tammilee Tips

Crock Pot Pork Chops with Apples and Sweet Potatoes

– Raising Whasians

Slow Cooker Luau Meatloaf

– It Is A Keeper

Boneless Country Style BBQ Ribs

– Happy Money Saver

Super Simple Crock-Pot Swedish Meatballs

– Day by Day in Our World

Slow Cooker Green Beans, Sausage and Potato Dinner

– Teaspoon of Goodness

The Best Slow Cooker Beef Roast – The Shirley Journey
Need some more recipes to spruce up your meals? Here are some more recipe collections
FREE Ultimate Guide: How To Get Out Of Debt
Sign up for our weekly emails and we will send you our guide to becoming debt free and other useful resources to help you with your money.