Net Worth Update for April 2016
This April is going to go down in the records books when it comes to memorable months. There were so many firsts, that I don't know where to start. This marks our 6 months of our site being up and I'm thrilled with how it's all gone. I can honestly say this site has changed my life. Thank you so much for reading!
Just as a background, I have been running my net worth numbers every month for over 10 years. It's been a huge factor in my financial development and success. If you are new to personal finance I would suggest you get familiar with net worth with this post.
Changes in Total Net Worth
(As I mentioned in the inaugural net worth update. When it comes to monthly reports I'm going a different route than a lot of others. Instead of going through the nitty-gritty of every detail on my net worth statement. I'm taking a macro view so we don't get bogged down by the details.)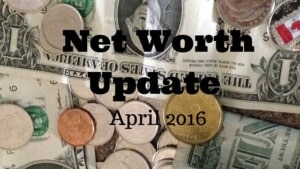 Our increase in net worth was 94% of our take home income!! This was a huge month for us. We got our tax refunds, which helped a lot. Many of our secondary accounts were emptied out when we paid off our mortgage. So this money will boost those accounts back to where they were. That's the benefit of RRSP.
Getting some of our other accounts back to where they were is a huge weight off my chest. It's starting to feel like we are back to the normal money situation we were in before we hustled to pay off the mortgage.
The bathroom reno is coming along and almost done. There's a few more bills to come on it. I'm trying to be careful not to let this reno snowball. I'm looking at a unfinished basement that I would love to see done but it just doesn't make sense to do. So I keep reminding myself that I should do it once when everything is ready to be done right. I have to remind myself to wait almost every day.
Looking at our expenses for the month, they are about $1,000 higher than I would like them to be, but there were several expenses that showed up for the bathroom reno that are one time expenses. All in all I'm happy the direction we are headed in. 🙂
Building A Base For Moving Forward
As I mentioned, we saw our 6 month blog-iversary happen this past week. Time has rushed by and I am loving this site and everyone I am getting to interact with. Thank you for your support in these first 6 months. I have a lot of new ideas that I can't wait to share with you as time goes on.
Insurance savings
Our 10 year term policies were up this month, so we went through he process of getting them renewed. Which meant going through a few tests.  Good news was that I managed to improve my health to the top tier and am considered in the top 4-7%  of people health wise for my age. Nice to know I am healthier than I was 10 years ago.
Save the Savings Challenge
This months' Save the Savings Challenge saw us bank a solid (drumroll)….
$322.46
This takes us up to over $950 of actual in the bank savings in two months. I love doing this.
If you want to join this months Save the Savings Challenge you can join the Facebook group here I would love to see you there and be able to interact with you.
A rare month
This months net worth bump is not normal but I'll take it! Most of everything stayed flat, debt nudged up with a few spending items that we incurred from putting a new bathroom in the basement, it's all on our cash back credit card. We have always paid off our credit cards and never carry a balance. To this day I have never paid a cent in credit card interest and I plan to keep it that way.
Really the big change is from our tax returns which we used to restore our secondary accounts.
Since our goal is to start saving 50% of our income by the end of this year, I'm pleased with the growth we have seen this month.

Passive Income for the month of April
Our Passive Income for the month wasn't as big as it has been in other months. Going forward, I'll only be sharing the passive income numbers with members of the Family Money Plan newsletter. We would love to have you as part of our weekly newsletter.
If you would like to see our passive income, you will need to sign up for the newsletter in the box below
A Few Other Notes
Tracking my net worth has been the biggest thing that has made a difference for my finances. There is a lot of science that shows what you focus on and measure you improve on. But doing it manually can be a pain when you are starting out.
If you would rather track your net worth with software Personal Capital or Mint.com are good choices. Both are completely free. If you are wanting to track your net worth either one are a good place to start. Personally, I absolutely love being able to see my net worth every day as it's a huge motivator to keep making smart financial decisions.

If you are needing a primer on net worth, sign up for our mailing list and get the spreadsheet I use to track my  Net Worth Statement.
Have you calculated your net worth for April? I'd love to hear how your month went, post a comment below.
FREE Ultimate Guide: How To Get Out Of Debt
Sign up for our weekly emails and we will send you our guide to becoming debt free and other useful resources to help you with your money.