Net Worth Update for March 2016
As I sit here writing this it's April fool's day. The green in my yard has been covered by another layer of snow as winter tries to stage once last comeback. I guess even Mother Nature has a sense of humour! 🙂 It's a lot easier to laugh at a snow storm when you know it will melt in the next few days. That said I hope you enjoy my Net Worth Update for March 2016!
Just as a background, I have been running my net worth numbers every month for over 10 years. It's been a huge factor in my financial development and success. If you are new to personal finance I would suggest you get familiar with net worth with this post.
Changes in Total Net Worth
(As I mentioned in the inaugural net worth update. When it comes to monthly reports I'm going a different route than a lot of others. Instead of going through the nitty-gritty of every detail on my net worth statement. I'm taking a macro view so we don't get bogged down by the details.)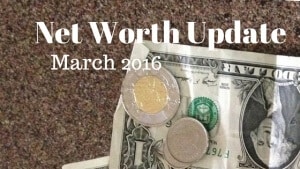 This month flew by. Our increase in net worth was 50% of our take home income. This is right where we want it to be. Debt nudged up with a few spending items that we incurred from putting a new bathroom in the basement, it's all on our cash back credit card. We have always paid off our credit cards and never carry a balance. Cash stayed flat. The biggest gain was from our stock portfolio which is the real driver of our increase in our net worth. Otherwise, it would have been another flat month.
Since our goal is to start saving 50% of our income by the end of this year, I'm pleased with the growth we have seen this month.

Passive Income for the month of March
We actually hit a record total for our passive income this month. Between our stocks, websites, side business and interest we have a new record high total!!! This is a big deal to us as it's a good indicator of things to come. Our stock dividends are going to play a large part in our financial freedom so it's nice to see them starting to flow in.
Total Income $201.42
A Few Other Notes
If you want to get started on your own net worth statement and take your first steps towards financial well being you can sign up for our mailing list here.
Software
If you would rather track your net worth with software Personal Capital or Mint.com are good choices. Both are free. If you are wanting to track your net worth either one are a good place to start. Personally, I absolutely love being able to see my net worth every day as it's a huge motivator to keep making smart financial decisions.

If you are needing a primer on net worth sign up for our mailing list and get the spreadsheet I use to track my Net Worth Statement.
Have you calculated your net worth for March? I'd love to hear how your month went, post a comment below.
FREE Ultimate Guide: How To Get Out Of Debt
Sign up for our weekly emails and we will send you our guide to becoming debt free and other useful resources to help you with your money.