Net Worth Update for September 2016
As a background, I have been running my net worth numbers every month for 10 years. It's been a huge factor in my financial development and success. If you are new to personal finance I would suggest you get familiar with all things net worth with this post, if you are looking for a quicker way to calculate your net worth you can check out Personal Capital.
(On a side note: if you are interested in tracking your own Net Worth you can do it easily with Personal Capital. It does all the tracking for you. If you are in Canada you can use Mint.com but it's not as good as Personal Capital from what everyone tells me)
Changes in Total Net Worth
(As I mentioned in the inaugural net worth update. When it comes to monthly reports I'm going a different route than a lot of others. Instead of going through the nitty-gritty of every detail on my net worth statement. I'm taking a macro view so we don't get bogged down by the details.)
71% of Earned Income
Our increase in net worth was a 71% of our take home income.  Looking at the numbers our investments were flat again. We have been aggressively paying off our debt now that summer is behind us. We took a few months off of debt crushing after our mortgage was paid, and now it's nice to be doing what we have always done. Crush debt.
My dream goal is to have it gone by the end of this month.
I won't mince words, getting here has been hard.
In some ways it's kind of broken me. Now when I look at everything I think, "Yeah… but do I really need it?"
It's a thought process I have had my whole life, but really amped up the past 6 years. Being a saver can be great, but the other side of it is you never really feel good spending money on anything.
The problem (and it's an awesome one to have don't get me wrong), is that I'm not sure what and how to invest as we go forward. I have a few ideas of what I want to do but they need to be tested more. Which I don't have the time. Anyway that's what I'm dealing with right now, admittedly it's a good problem to have.
Expenses for September
Some of the expenses I didn't account for this month were some website stuff like domain renewal and a great course I bought. I also had several unexpected children expenses, and I wasn't thinking of the fact that we have a birthday every week until the end of the year. I'm only partly kidding.
Don't get me wrong I love a party, it's just makes it a challenge when you are watching every penny like a hawk. I suppose I could always pushback this self imposed debt deadline but I'm pretty sure that's not going to happen.
Luckily the money was available thanks to our money system. Which you should totally sign up for, because it's free, and it changed my life, and others too. 
What happened this month: Cash Diet – Fail
I mentioned last month that we were going on a cash diet. It was a fail.
I cut back everything to the bare essentials. The upside is by doing this we are more aware of where our money is going and what we should do about it. This cash diet challenge was hard.
So hard.
Impossible in fact.
I picked an amount that we used to live on before kids.  I thought we could do it… and we ran out of money by the 20th. In fact we more than doubled our spending from what our strict budget was set to.
Something New: Compare September to September of Last Year
One of the great things about tracking your finances for years with Personal Capital or Mint, is that you can go back and see how you did from one year to another.
After the huge fail on the cash diet, I decided to dig a little deeper into my finances. First thing I did was go back and compare my spending last September (2015) to this September (2016).
To make the comparison legit, I took out all mortgage payments from last year. When I compared the two months it turns out that we spend $1,500 less this September over last year!
The biggest notice was food (I did the Whole30 last year so there were some initial costs to get set up), and education (I bought a course on how to build a website, which has been totally worth it, because well…. you're here 🙂  ).
Still a lot of other expenses dropped. There were decreases in cars, shopping, life insurance (we renewed at lower rates!) and a few other things. Some of this could be timing but I'm thrilled to see that it dropped so much. Some went up too but all said it was a good spending (or lack of spending) month.
The moral of the story is that sometimes when you challenge yourself you may not achieve it, but that doesn't mean you have failed. Look for the successes and you will find them.
Some Surprising Inflows
We also managed to have a few surprise cash inflows. Our annual Costco rebate came back. At this point it's still with it to keep paying for the executive card. The 2% cash back on all purchases really helps. Of course, we did get a new TV this year and a few other bigger ticket items so that helped with our rebate.
Ok. Ok, before I go into a Costco loving rant I'll move on…
We also retired our old beer fridge and got $50 for it! This is a great program that our province's hydro company has offered. They come and pick up the fridge and mail you a rebate check. It's a win-win because we weren't really using it all that much and it sucks power pretty good so I'm happy to shave some of our monthly electricity costs down and at the same time get a check. It's pretty sweet.
We also got our first Ebates check!!! This was from using Ebates to book our hotels and other online shopping. Our first check was $118.31
If you do any shopping online I strongly recommend Ebates. If you sign up using this link you will get a free $5 to start off. Remember it's about shopping smart. Every little bit counts, and you should count every little bit.
Something New: Travel Hacking
We are taking our first shot at travel hacking. We got an American Express Gold Card. This card came with 25,000 point and a waived annual fee in the first year.  This is enough points for a flight in North America. All we have to do is spend $1,500 in the next 3 months to qualify. Which should be easy to do with the Christmas season coming up.
My plan with this is to cancel before it renews next year so I don't have to pay a fee. Really it's like getting a free flight for spending I was going to do anyways.
Passive Income for the month of September
The last month of the quarter is our best month for passive income. The site had some small affiliate money and this is the best month of the quarter for our dividends.
I ended up selling one of my larger stock positions and breaking it up into a few smaller stocks. The dividend on the original stock got under 4% and I figure the money could be used elsewhere. I will go back into the stock if the price is right again.
One Last Thing
If you would rather track your net worth with software Personal Capital or Mint.com are good choices. Both are completely free.  Most people swear by Personal Capital but it's not available to us northern folk (a.k.a. Canadians).
If you are wanting to track your net worth either one are a good place to start. Personally, I absolutely love being able to see my net worth every day as it's a huge motivator to keep making smart financial decisions.

If you are needing a primer on net worth, you should sign up for our newsletter and get the Net Worth Template I have used for 10 years. It's  absolutely free, plus I'll throw in some other goodies too.
Have you calculated your net worth for September? I'd love to hear how your month went, post a comment below.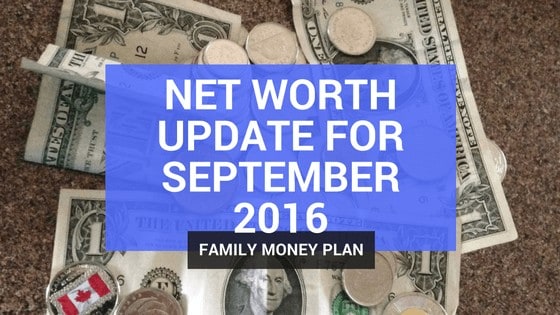 FREE Ultimate Guide: How To Get Out Of Debt
Sign up for our weekly emails and we will send you our guide to becoming debt free and other useful resources to help you with your money.