There are a lot of companies out there that want you to try out their services. From credit cards that will waive fees, or give you reward bonuses, to start ups that want to incentivize you to try out their new service.
There are always new companies that want your business.
Here are some of the companies that are currently offering sign up bonuses.
(Please note: while these companies offer bonuses, they first and foremost want you to use their service, this list will likely change over time so please double check before signing up)
Ibotta is a grocery cash back app. You can scan your receipts quickly (takes less than a minute) and get cash back from Ibotta.
There are 3 ways to earn with Ibotta. You can use the app to save in store, link your loyalty rewards card, or use the mobile app to make purchases.
Make sure to sign up so you are reaping the cash back rewards.
Get Started with Ibotta and Get a Free $10 bonus when you sign up using this link.
Swagbucks is a great way to
earn money

by doing surveys,

watching videos

and shopping online
Get your
$5 signup bonus

today!
If you haven't heard of Ebates you are definitely missing out. I have been using them for the last year whenever I buy something online and it pays me back BIG TIME.
Best of all Ebates offers you a $10 sign up bonus. All you need to do is use their portal before shopping at your favorite stores then you earn your cash back.
So simple and sweet, the way saving money should be. Here's what I have saved since signing up with Ebates.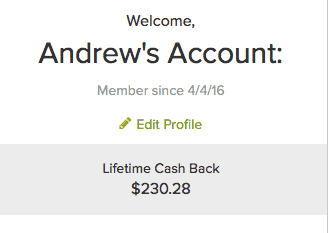 #4 Get Renting Your Stuff on Fat Lama – $25 Credit to Rent First Item
Fat Lama (love that name!) is like the Airbnb for your stuff.
Basically you can sign up for an account (you also get $25 bonus credit to rent from someone else) and start listing the items you have that you don't use that often (*cough* electric guitar *cough*), or things you have, but you don't want to part with just yet (*cough* drone *cough* ). This sign up bonus is for renting something through their portal. Depending on what you rent, your first rental could be free.
Check out Fat Lama here and get your $25 sign up bonus
#5 Sign up with Shoptracker and get $3 Cash and $3 each month
Simply down the Shoptracker app and connect it to your Amazon account and you will get $3 instantly. For every month that you keep it on your phone they will give you another $3 every month.
It's pretty simple to do. As long as you already have an Amazon account.
Click here to check out Shoptracker
Inbox Dollars is another site where you can get rewarded for signing up. You get rewarded for watching tv, taking surveys, or making purchases online.
Check out Inbox Dollars and get a $5 bonus for signing up.

Looking for More Ways to Make Money? Here are some great resources: