Hey! I have a great post from an amazing Orlando photographer. One of the things I wished I could have seen was the Disney Water Parks. They look amazing! But our time just didn't allow for it. So when Heather offered to share her best Disney Water Park Tips I couldn't wait to read all about them. I hope you enjoy her guide to Typhoon Lagoon and Blizzard Beach!
Orlando is widely known as the theme park capital of the world! When it comes to water parks, Orlando boasts some impressive options as well. Nestled peacefully among Disney World's nearly 30,000 acres of fun are Disney World's water parks – Typhoon Lagoon and Blizzard Beach.
Often overlooked, these "hidden gems" flaunt some of the most thrilling water park attractions in the world – while also catering to young children and families with well-themed play areas. Here are some great Disney water park tips to make the most of your days!
Getting ready for Disney? Get The Ultimate Disney World Packing List – Free Printable
What you should know:
The Waterparks do not utilize the Fastpass + system but we have rarely ever had to wait in line for more than 10 minutes and we go very often.

Some of the attractions do have height restrictions but there is something for everyone to enjoy

Straws are not permitted in the park

Each of the parks close down annually but at least one is always kept open

The parks hours are usually 10AM-5PM and they are open later over the summer

The parks provide safety vests in many sizes

There are changing rooms, showers and bathrooms right beside the lockers

You can purchase refillable mugs at each park

You can rent private cabanas at each park

There are gift shops as you enter each park

You can bring coolers, drinks and food into each park
Want more tips? Check out our 100+ Great Disney World Tips
What you should bring:
I would recommend bringing as little as possible, so that you don't have to rent a locker. We bring one large beach bag with essentials and keep our phones with us in a waterproof pouch
.
You can use your magic band to pay for things, so you can leave your wallet behind.
I prefer to not use the lockers for several reasons but it's completely up to you and your preferences.
Typhoon Lagoon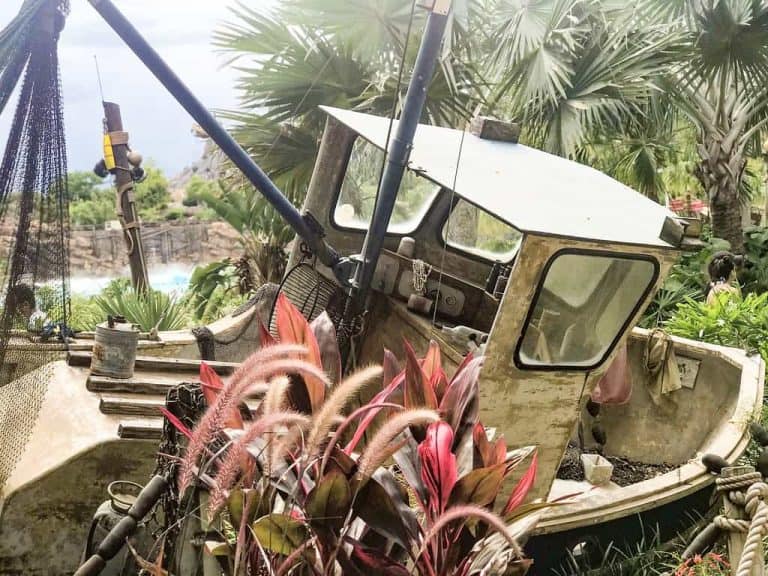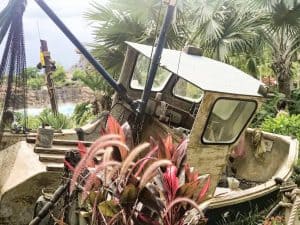 Amidst the wreckage from a powerful storm, an island oasis awaits you. As you enter the park, stop for a quick photo opportunity with Lagoona Gator, the parks mascot.
Take a peek through the viewfinder to get a closer look at Mount Mayday and the shrimp boat that sits atop known as "Miss Tilly".
What sets Disney's waterparks apart from all of the rest is of course, the theming. Growing up in Florida, any waterpark is a welcome reprieve from the hot summers. However, there is just something special about Typhoon Lagoon!
Thinking about Hollywood Studios? Here is our Hollywood Studios one Day Plan or check out the complete list of Hollywood Studios Rides
Attractions
Typhoon Lagoon has 11 exciting attractions to help you beat the heat at Disney.
Ketchakiddee Kreek welcomes small children and young kids with fun splash pads, a mini water slide and a giant sand castle ship. Among this play area, there are zero depth entry pools throughout the park. Additionally, there are Bay Slides made for kids by the wave pool.
Our almost 5 year old has a blast at this kiddie area. Kids can pretty much ride the slide again and again without waiting – which I love!
Typhoon Lagoon's Wave Pool is a favorite of many for its powering 6 foot waves that come rolling in every few minutes. People even enjoy after hours surf lessons in the wave pool!
Crush n' Gusher is by far my favorite water park attraction of all time. Choose from 1 of 3 unique water coasters as you swish up and down this abandoned fruit packing facility. There is one single rider line available but the other two lines require two riders. Sadly, little ones will have to sit this one out as the height requirement is 48 inches.
Miss Adventure Falls is a newer family raft ride and it's my personal favorite raft ride.
Other Attractions at Typhoon Lagoon: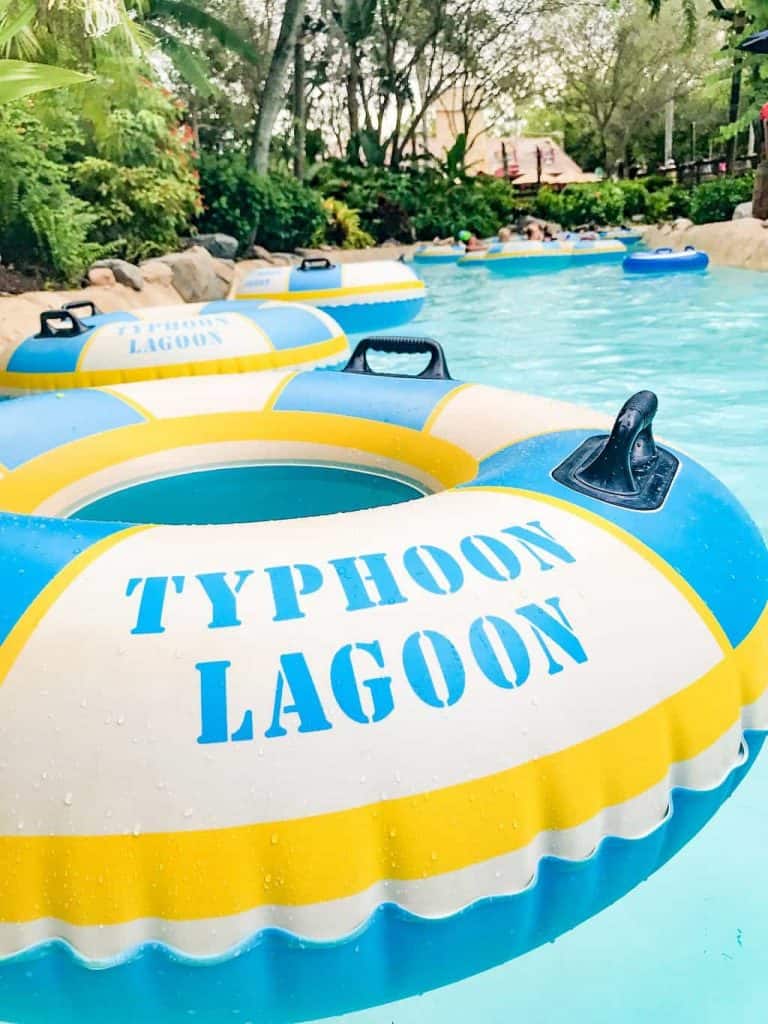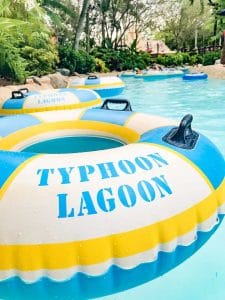 Dining at the Leaning Palm during your water park visit? I have heard raving reviews about the Island Burger.
If you are only stopping into Typhoon Lagoon for one or two visits – you can't miss the Ice Cream Pail at Happy Landings. It's a fun treat to split with the family!
Typhoon Lagoon serves adult beverages at many of the kiosks around the park in addition to coffee and pastries. You can also bring in a cooler with food and beverages. Just keep in mind that straws are not allowed in the park!
Blizzard Beach
Blizzard Beach is themed after a ski-resort that has melted and become a fun-filled water park.
Key things to mention:
The ski lift will take you to the top of Mt. Gushmore but you must walk down (height of 32" or taller)
Teamboat Springs has a minimum rider requirement of 4 riders
Cross Country Creek has certain spots with freezing cold water that drips on you (be prepared!)
Attractions
Summit Plummet is among one of the most thrilling body slides in the world! Not for the faint of heart. This attraction typically has the longest wait times in comparison to other attractions. The view of Orlando from atop is amazing!
Ski Patrol Training camp is a kid friendly zone right below Mt. Gushmore which has Teamboat Springs, Summit Plummet and Slush Gusher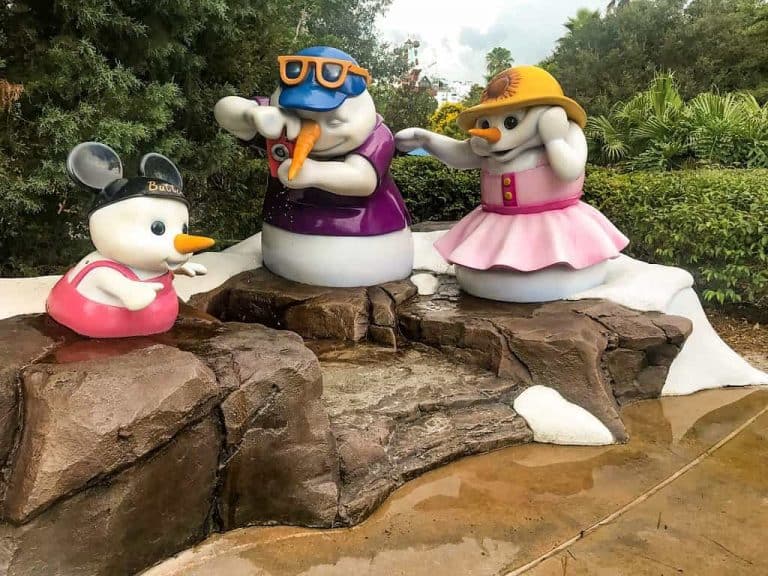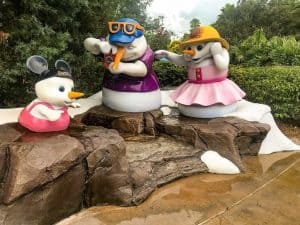 Other Attractions:
Got Epcot on your list? Check out all of the rides at Epcot and our Epcot Fastpass strategy
Dining
I highly recommend treating yourself to the mini glazed donuts at Blizzard Beach which can be purchased at a stand near Lottawatta Lodge (a quick service restaurant)
I have heard great things about the sandwiches at The Warming Hut too.
Headed to Disney? Save money by buying these 5 items before you leave home:
Enjoy the Parks
We love going to Disney's Waterparks as often as we can! The wait times are usually minimal, if at all. It is very likely that you will be able to experience everything during
You can also meet Characters such as Stitch and Christof occasionally. They make a rare appearance. Be sure to have your phone handy for these rare character meet and greets because there isn't usually a photopass photographer available.
Heather and her husband Jon are family portrait photographers based in New Smyrna Beach. They specialize in vacation portraits all along the coast and in Orlando. They are parents to a train-loving 4 year old and a cuddly chihuahua. When they aren't at Disney, they enjoy beach days, coffee breaks and kayaking.
Other Must Read Disney Articles
Help others enjoy Disney by sharing this!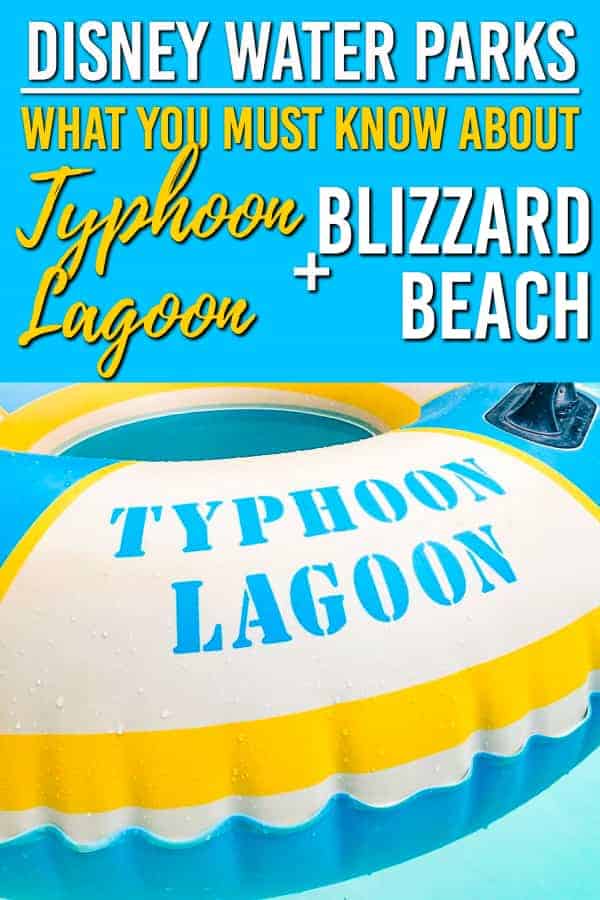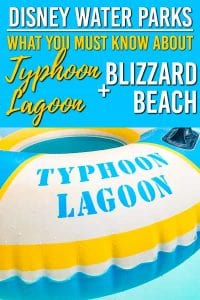 Plan Disney With Ease
Sign up for our newsletter and get our BEST DISNEY articles sent directly to your inbox so you can be best prepared!