Out of all the parks, Disney World's Hollywood Studios has the potential to see most of it in 1 day. But you will still need a plan to conquer this theme park. Here is our Disney's Hollywood Studios plan to see the best in a day.
Side note: If you are wanting a 2 day schedule you could easily balance this out to 2 days.
If you are looking for a great resource for your Disney trip pick up a copy of The Unofficial Guide To Walt Disney World. It's what we used and well worth the price to save you time and get all your questions answered.
Check out the complete list of Hollywood Studios Rides
Before We Begin: Read This First!
Deep breath. This is the key BIG takeaway before you leave for Disney World. Pay attention because it's a BIG one.
You can't see it all.
It's impossible to see everything at Walt Disney World.
Each Disney park is HUGE and there is no way you are going to manage it all. Once you accept that then you can focus on what's important.
What's important is giving your kids the best memories possible. This plan should help you with that.
Pre-game: Get Your FastPasses Booked Early in the Day
Get your FastPasses used up early so you can re-book more.
There are two mentalities to a FastPass strategy.
The first is to use your passes at a time a day when the park is at your busiest. (meh)
The other is to have your passes booked in the morning so you can continue rebooking the extra passes (you get one extra at a time after you have used your first three) and try to optimize as much as you can.
This is what we did and it worked out great in the summer.
These rides have the longest wait times so you will want to see them first thing in the morning. You may even get to go on a second time.
Here are the biggest rides you should be booking with your Fast Passes for your Hollywood Studios Plan:
Rock n Roller Coaster
The Twilight Zone Tower of Terror
Toy Story Mania
Star Tours – The Adventure Continues
Jedi Training (not a Fast Pass but you need to know about it)
All the new Rides in Toy Story World
Next Cut Down on Your Time Around the Park
Your legs might be able to handle all the walking. But your little ones may feel differently after a couple of hours in the heat. You can be more efficient with your time if you break the park up into it's sections.
The best way is to take it by the different areas. There are tons of things to do and it will feel great to have one part of the park done and know that if you have time you can always come back.
This approach is really helpful because you can focus on the area rather than zig zagging back and forth around the park.
Get On the Rides That Can Shut Down out of the Way First
We cover this in the FastPass one but I want to make special mention of it here.
The truth is that these rides need maintenance. Disney is on top of everything to make sure the rides are perfect. I've heard that if anything is off with the ride (even sound) they will close it to make sure it's top notch.
Rollercoaster and water rides are typically the ones that will have shut downs. In Hollywood Studios, the rides that we saw shut down were:
Rock n Roller Coaster
Tower of Terror
Use your Dining Pass to Maximize Character Meetings
This is a key time saver. There are a bunch of characters and your kids will want to meet them and get their autograph.
(Super Parent Note: Get your autograph books here before you leave.)
Character Meals are the sit down meals you get with some dining plans. They are great for meeting characters while you get a break from the day and eat some food.
It's really killing two birds with one stone (terrible expression btw). The characters come to your table and you can meet them and get your pictures with them rather than waiting in line for up to an hour during the rest of your day.
As a family with allergies at Disney World, we had some issues with the food in all the parks, but it was great to get to see Mickey and the gang all in one place.
The Character Meal that is most recommended is Hollywood and Vine. There you can meet the Doc McStuffins and Disney Junior casts. It's a buffet set up so you might be able to get in and out of there faster than a table service where you are ordering food.
Though not Character Meals we did the 50s Prime Time Cafe and the Sci-Fi Drive in Theater Restaurant. Both are worth checking out and we enjoyed the food at both places.
Taking a break from the parks? Here are some FREE things to do at Disney Springs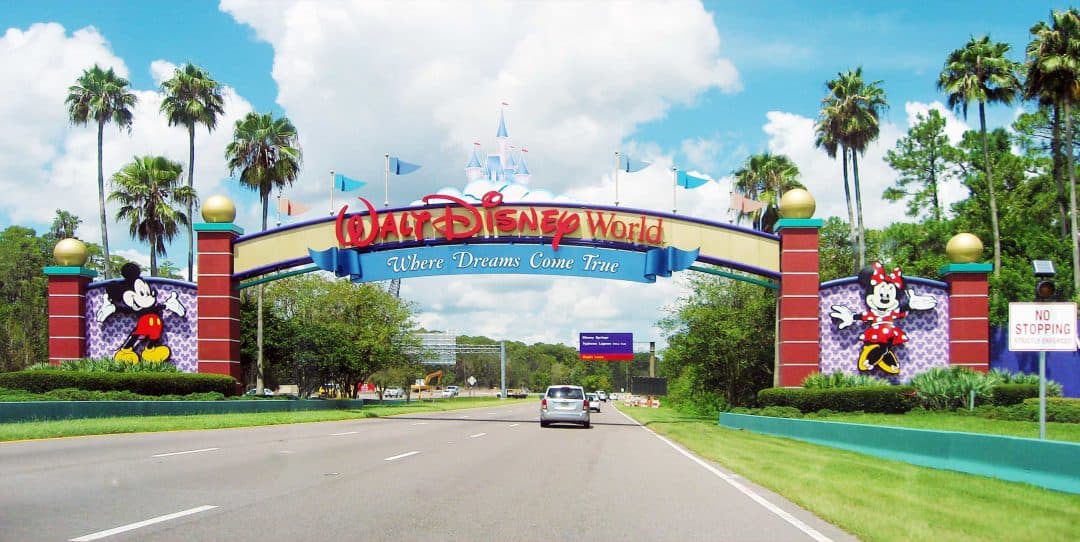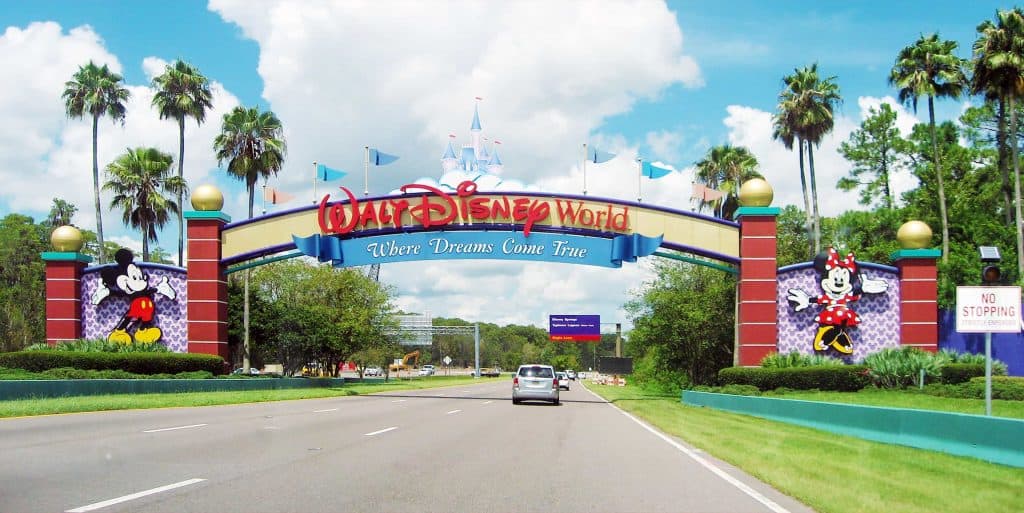 Take a Midday Break
If you're thinking, "Are you crazy?! I'm paying how much for this trip and you're telling me to leave the park?!?"
I felt the exact same way…Until about 3 o'clock on the first day.
Then we all looked at each other and realized we were spent. By then it was too late to go back to the hotel because we had an early dinner and had to find places in Disney World to keep cool.
Taking a break in the afternoon is a great way to escape the heat and relax before jumping back into the park activities.
Jump on the bus back your hotel. Take a dip in the pool, refresh and see if there are any FastPass rides you want to book. This will be key to lasting for the Fantasmic fireworks, which are a must see.
If you are going to stay the whole day, it's best to beat the midday heat with shows in the afternoon. This will give you a nice break from the heat with air conditioning to help cool you off.
Book More Rides and Be Willing to Adapt
You are going to have a great time at Disney World. But your plan needs to be flexible (and by plan I mean you). The kids may not want to wait in line for the rides. As I like to say, "Having a plan is essential. Following it is optional."
By planning and having an idea of what you want to do you will be best served when you arrive at the parks. Otherwise you can get there and just be awestruck and left wondering what to do because there is so much to take in.
Here is our 1 Day Itinerary For Disney's Hollywood Studios
Get there early
Before you go you will book your FastPasses. The best way to do them we found is like this:
If you are doing Jedi Training! Before the park opens, enter on Hollywood Boulevard.
Go get in line for Jedi training and sign up. Your kids will need to be with you to sign them up for Jedi Training. It can take a good chunk of time, which is why you want to be there before the park opens. Which is great news that they let this happen before the park officially opens so you aren't cutting into your day.
Park opens – Go to your the fast pass ride you didn't get. This for us was Rock n Roller Coaster. Which is a lot of fun. We waited about 45 minutes in the regular line up.
The Twilight Zone Tower of Terror (booked with Fast Pass)
Toy Story Mania (booked with Fast Pass)
Jim Hensons Muppet Vision 3-D
Star Tours – The Adventure Continues (booked with Fast Pass)
Lunch: 50's Prime Time Cafe
Jedi Training
March of the First Order
Back to hotel for a 2 and half hour break (or you could see shows like Indiana Jones Epic Stunt Spectacular)
Beauty and the Beast Live on Stage
Supper: Sci-fi Drive In Theater Restaurant
Fantastic (Night show)
This will change with the new Toy Story area opening up. When a new area opens in Disney it become the most popular thing to see, so if you can, organize your FastPasses to see the new rides first. If Avatar was any indication the line ups will be long for these new rides.
Looking for to cool off at Disney? Here are some great ways to keep cool in Disney World parks.
Headed to Disney? Save money by buying these 5 items before you leave home:
You're Ready For Your Day At Disney World's Hollywood Studios!
While you will never see everything in Hollywood Studios no matter how many times you go. By planning ahead and rolling with the day, you can ensure that you are getting the most out of it.
Lastly, no matter how you arrange your trip, your family is going to have an amazing time. After all it's the happiest place on earth!
Need More Plans For Disney? Check Out
Like what you read? Please help others find it by sharing! 🙂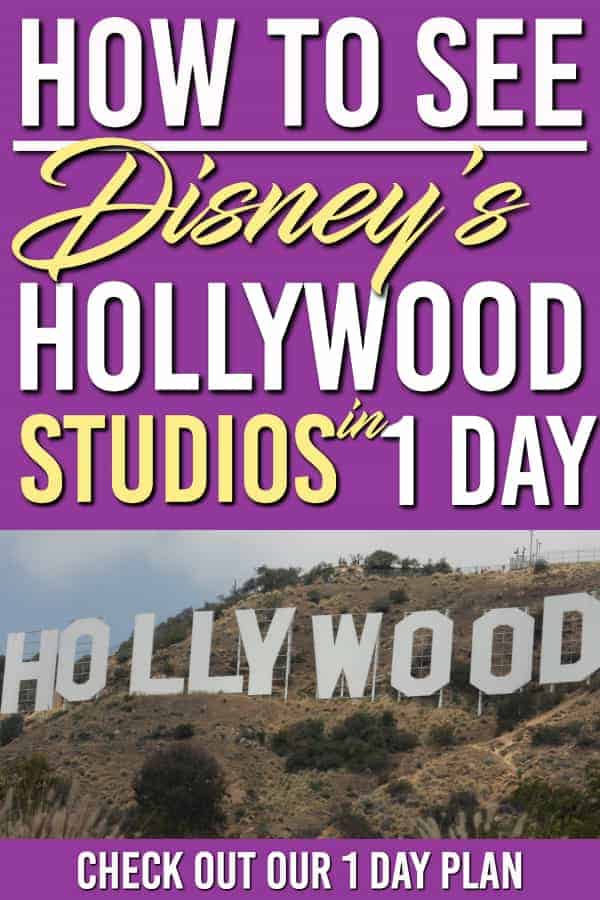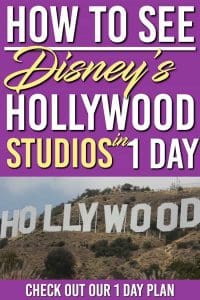 Plan Disney With Ease
Sign up for our newsletter and get our BEST DISNEY articles sent directly to your inbox so you can be best prepared!