A trip to Disney World does not have to be dominated by expensive park passes every day. Take a day off from the theme parks and spend some time at Disney Springs (formerly Downtown Disney), an outdoor shopping, dining, and entertainment complex in Disney World. Here are some free things to do in Disney Springs.
Other Disney World Related Posts:
1. Eat some chocolate.
Free and chocolate are two of the greatest words in the English language. Ghirardelli® Ice Cream & Chocolate Shop gives free samples of their luxurious chocolate. Stop in and grab a quick taste while exploring Disney Springs.
2. Get wet in the splash pad.
Cool off in the Florida heat near Goofy's Candy Co., where you'll find streaming light water fountains for your child to play in. You may even want to jump in to cool off! After drying off, stop in the candy store to get a small free sample of Goofy's Glacier drink.
3. Take a boat ride.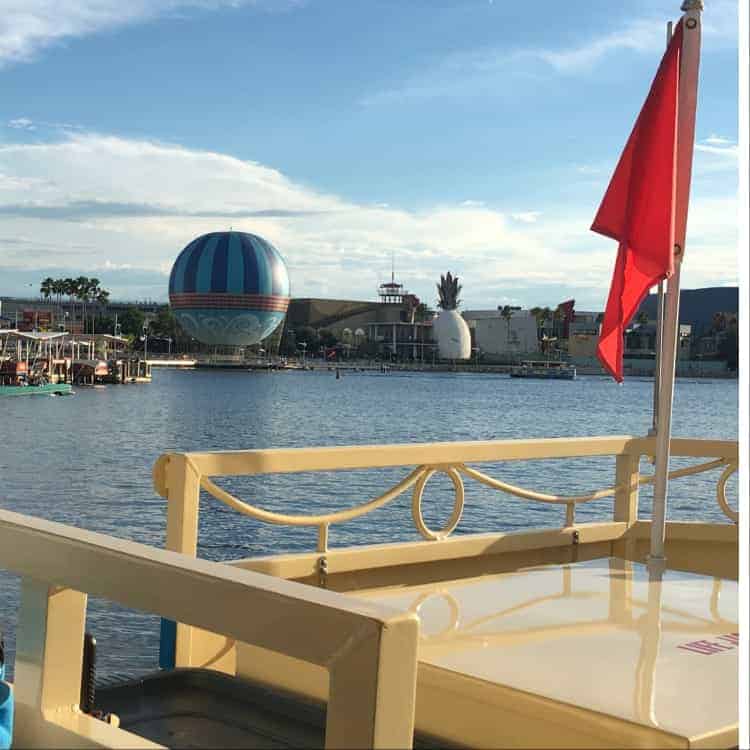 Boat rides between Disney Springs and many of the resorts provide a free, relaxing way to check out some of Disney World while putting your feet up and relaxing. Your kids will think it's an amusement park ride, and you'll have a quick break amidst the hustle and bustle of Disney with children.
Headed to Disney? Save money by buying these 5 items before you leave home:
4. Create with Legos.
The Lego Store at Disney Springs is entertaining enough just by looking at the extraordinary Disney sculptures in and around the store. However, the big win for the kids comes in when they can build their own creation inside the store. Legos unleash the imagination for the young and young at heart!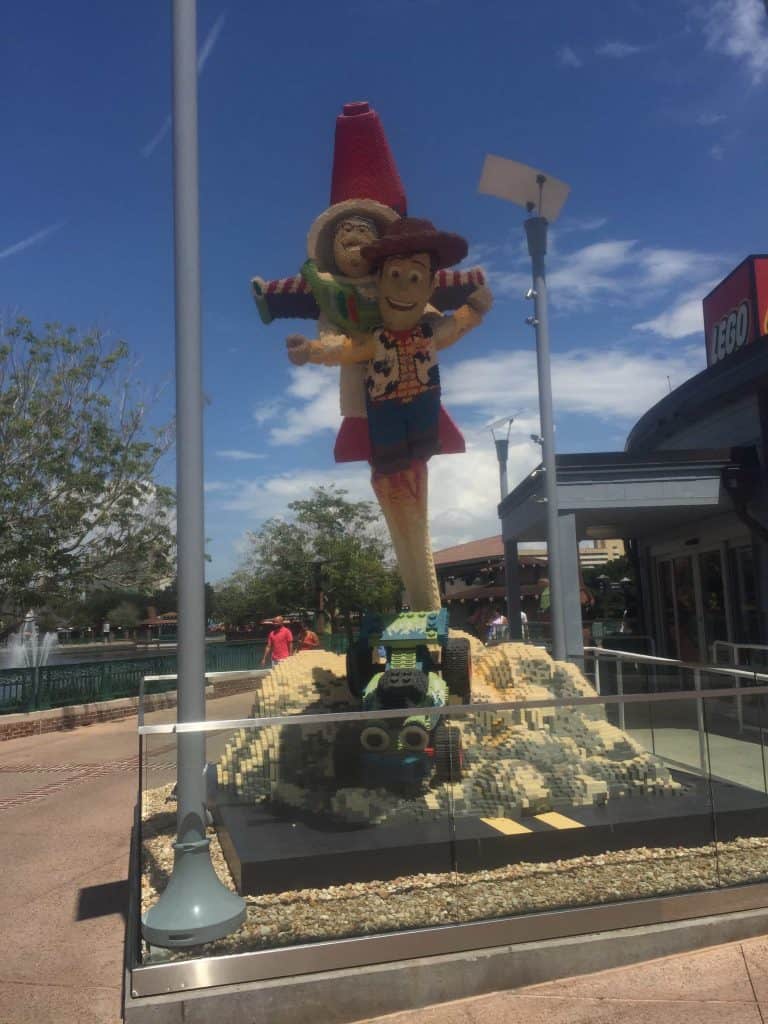 5. Watch live performers.
Musicians, singers, and street performers are always showing up on the walkways of Disney Springs. Stop and watch as they entertain you the way only Disney performers can. It's simply magical. . .and free!
6. Dig for fossils.
You may spend a little money if you plan on eating at T-REX restaurant, but right outside is a freebie that your children will love. The Paleo Zone lets them dig for fossils in a giant sandbox.
Disney Springs is one of our favorite places to visit in Disney World. Spend a little to splurge on a small meal, but enjoy all the freebie samples, entertainment, and window shopping. These are just a few free things to do in Disney Springs, but you are sure to find more hidden bargains and freebies when you explore the outdoor complex during your trip.
Looking for some other resources for your Disney trip? Some great books to check out are:
Other Disney World Posts
Like what you read? Found it useful? Share it so you can help others.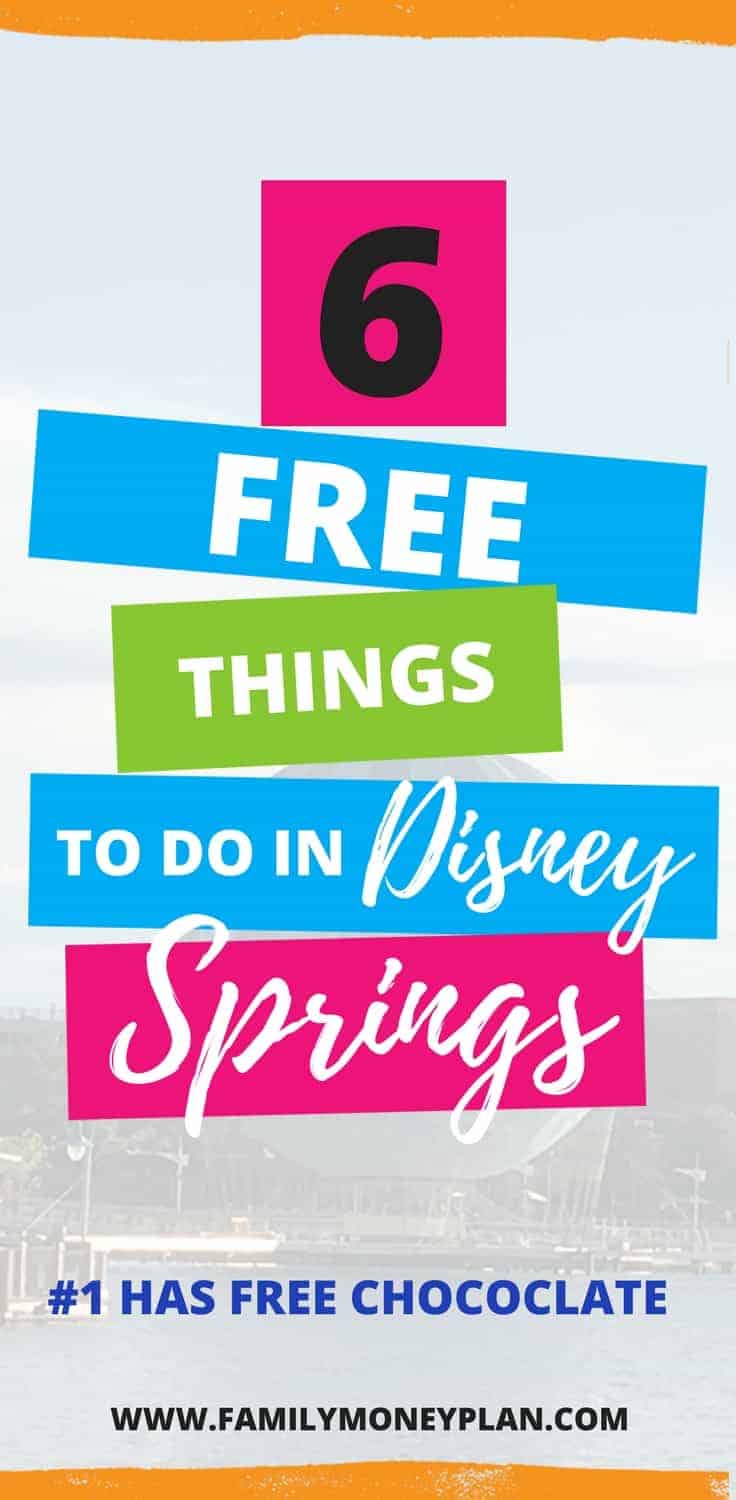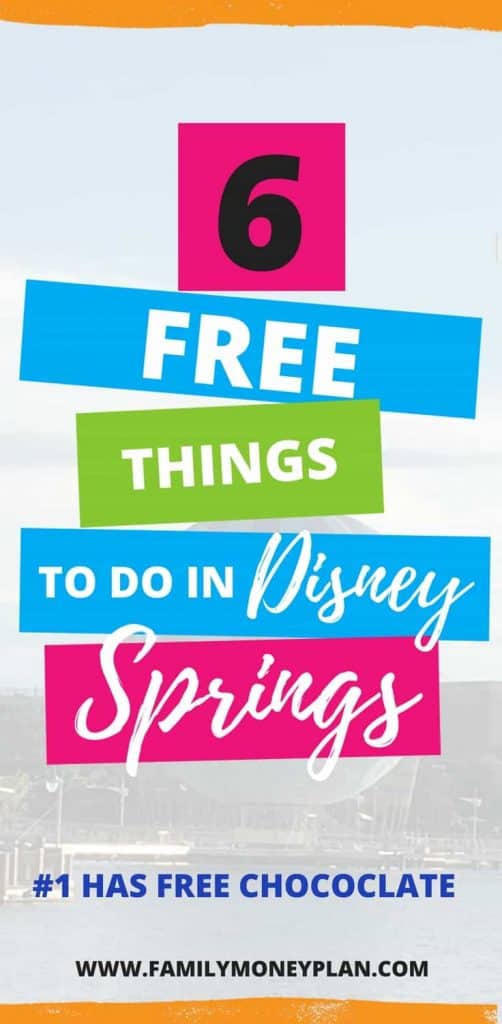 Plan Disney With Ease
Sign up for our newsletter and get our BEST DISNEY articles sent directly to your inbox so you can be best prepared!