We've talked about what you need in your Disney backpack for every day in the park, we've covered the best fast pass rides in each of Disney Worlds theme parks, but there was one thing I totally forgot to get to…. The ultimate Disney World Packing List.
So here is everything we packed for our trip to Disney World in a free printable pdf download just for you (I'll leave it up to you whether or not you should get a Disney fanny pack)!
There are a lot of things that can go in here and depending on the age of your kids there might be a few things missing here.
Couple of packing tips while we're here.
Packing tip #1 for Disney World
My wife had the brilliant idea to pack things into days. She would take the kids clothing for each day, and wrap it into a bundle using an elastic. So that when we got to the room at the end of the day, and the decision fatigue had set in, all we had to do was pick a bundle for each kid and it was done. No sorting, or fishing around for things.
It was the smartest thing I have ever seen.
At the end of every day in the Disney World parks, you are going to be beat. The days are very long (and very awesome) in the sun and when you get back to your room after the fireworks, you will just want to crash.
Packing tip #2 for Disney World
Before you leave home, make sure you have some outfits for everyone in each suitcase. Losing luggage is a reality for some travellers, and the last thing you want to find out when you land in Orlando is that one of your bags is in Los Angeles and will get to you in a few days.
Not good.
Instead pack each bag as a group effort. That ways there are some clothes for everyone in each case. We even went as far as to have one change in our carry-on bags, by the rare chance that both suitcases disappeared.
Disney is an awesome trip and the last thing you want on day 1 is to be wearing your travel clothes from yesterday.
Packing Tip #3 for Disney World
If you are staying at a Disney World Resort, you should make sure you know what you are doing before you leave for Orlando. Disney World offers free shuttle pick up and drop off from the airport, they will even collect your luggage in between certain times of day. Make sure you check your Disney World package details
Packing Tip #4 for Disney World
Flight delays, they happen, and it happened to us. Disney World is on top of this. They know that flights get delayed and that you will need a later pick up (because there are likely another 20+ other people that need a ride on your flight too), so just get to the Disney kiosk in the Orlando airport and they will look after you.
The Ultimate Disney World Packing List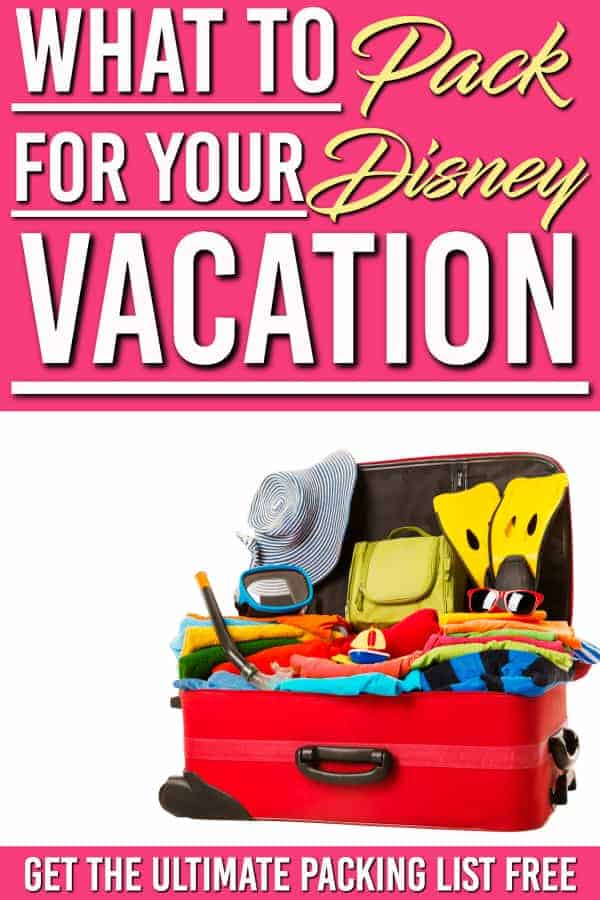 Luggage/Bags for Disney World
Checked Bags:
Carry On:
Travel: Carry On Bags for Disney World
Passports & IDs
Cash
Travel info (Printouts for: Hotel, Disney, House, Car, Plane/ CAA card/ Maps)
iPhones
iPads (with movies)
iPods
Headphones

Chargers and Cables
Power Bank Charger
Snacks
Gum
Water Bottles
Activities & Entertainment (Books, cards, etc)
Hand sanitizer
Disinfectant Wipes
Kleenex
Disney Travel Book (this book is a must!)
Advil
Gravol
Allergy medicine
Other medicines
Kids Packing List for Disney World
Your kids will differ slightly from ours, the main thing is to know your family, and look at the weather. If it's summer packing a lot of sweaters doesn't make sense, neither do shorts in January.
Packing list for __ Days:
T-shirts
Shorts
Tank tops
Pyjamas
Hair Brush
Comb
Gel (Travel size)
Toothbrush
Toothpaste

Blankets
Swimsuits
Swim Shirts
Underwear
Socks

Pants
Sweater
Fancy outfits (for Bippity Boppity Boutique)
Jewelry
Other items: ___________________
Adults Packing List for Disney World
Like we mentioned for the kids, you need to be prepared for what the weather is going to throw at you. Orlando gets hot, in the summer so you need to know how to keep cool in Disney World. Packing the right clothes is essential. There are also rainy times and cooler times so be prepared.
Packing list for __ Days:
Shirts
Shorts
Pants
Pyjamas
Swimsuits, SPF Shirts and cover-ups
Sweater
Underwear

Bras

Socks
Shampoo
Conditioner
Face soap
Body soap
Lotion (for whole family)
Hair stuff
Make-up
Toothbrush
Toothpaste
Deodorant
Perfume

Razor and shaving cream

Nail Kit
Tweezers
Feminine Products
Jewelry

Fit Bit
Other
Packing Items for Disney World
Purse/ Money/ Travel info/ Phone
Advil
Gravol
Allergy medicine
Good Bandaids
Epi-Pen
Inhalers
Sunblock
Disney Hats

Sunglasses
Walking shoes
Sandals
Swim Goggles
Disinfectant Wipes
Kleenex
Hand sanitizer
Laundry bags
Laundry detergent packs
Tide stick
Ziplocks- 3 sizes
Scissors and tape
Nightlight
Selfie Stick (but you can't bring it into the parks!)
Shoe Holder (over-the-door, for bathroom)
Breakfast foods
Snacks
Bowls and Spoons for cereal
Pen/Paper/ Envelopes
GPS (if staying off resort and renting a car)
Fanny pack or Money belt
Safety Pins
Static Guard
Clothes pins
Multi-plug charger
Umbrella
Disney Backpack
for the Day in the Theme Park
We have a post that goes into the details of what to pack in your Disney backpack here. Some of the items are mentioned earlier. Make sure to put the label with name and resort on it.
If you would like a the Essential Disney World Packing List in a free printable you can get it here.
Find this useful? Share it so others can find it!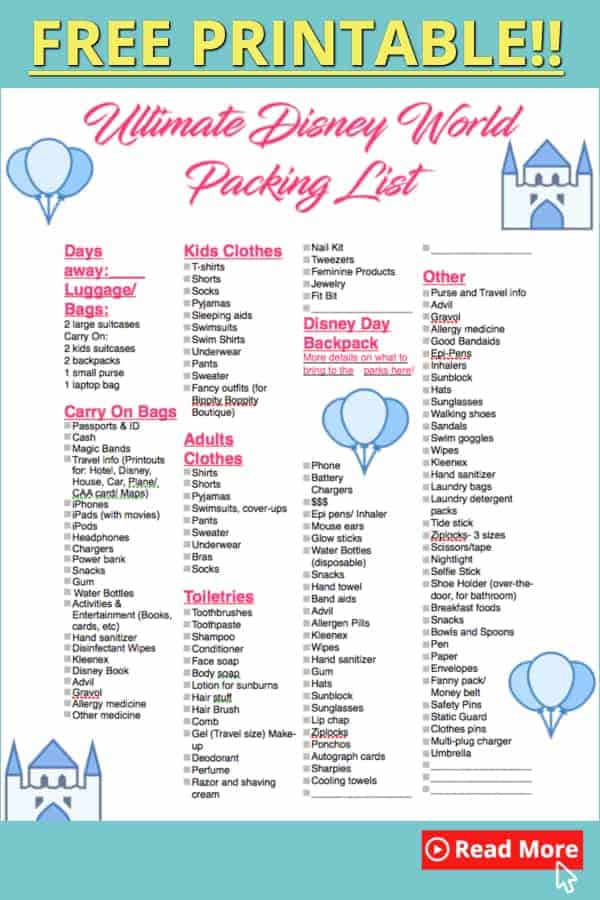 Plan Disney With Ease
Sign up for our newsletter and get our BEST DISNEY articles sent directly to your inbox so you can be best prepared!