When you are headed to Disney World you will need a plan for Animal Kingdom Rides and Attractions. Because there are a bunch of them. Here are all the rides and attractions that Animal Kingdom has to offer and what you can expect from them to see if they are worth your time in line. To help you out the attractions we list are shows that you watch whereas Animal Kingdom rides are the rides that you are actually doing something rather than sitting.
When you've never been the first question is; "What is there to do in Disney World's Animal Kingdom?"
The answer? A LOT!!!
This park wasn't really on our radar at first, but it quickly became the family's second favorite park (after Magic Kingdom), and it has so much to offer that it was worth going to more than once!
Here are all the things you can do in Animal Kingdom!
The Best Animal Kingdom Rides
Let's cut to the chase and get to the best rides. These are all of the rides you can find throughout Animal Kingdom the first one is a MUST SEE!
Avatar Flight of Passage
This ride in Animal Kingdom should be your priority. The ride blows away everything else in Disney World. The only thing that comes close to it is Soarin' in Epcot and even then it's a distant second.
On Avatar Flight of Passage you get to ride on the back of one of the Avatar dragons and it's amazing. This will be the ride you tell everyone back home about.
This ride has lineups of over 3 hours at some points in the day. It's an amazing ride and I honestly don't want to go into too much detail for you because I don't want to spoil it.
Let's just say that if this is where rides are going, you will want to go back to Disney World more than you already do.
PS: Using one of your FastPasses in Animal Kingdom for this one is key to making the most of a day at Animal Kingdom.
Na'vi River Journey
This is the magical boat ride in the world of Avatar. It's new and has a lot of long lines typically. Not a thrill ride, but for the Avatar lovers out there it's a must.
Because it's one of the newest rides in all of the parks the line ups are a little longer.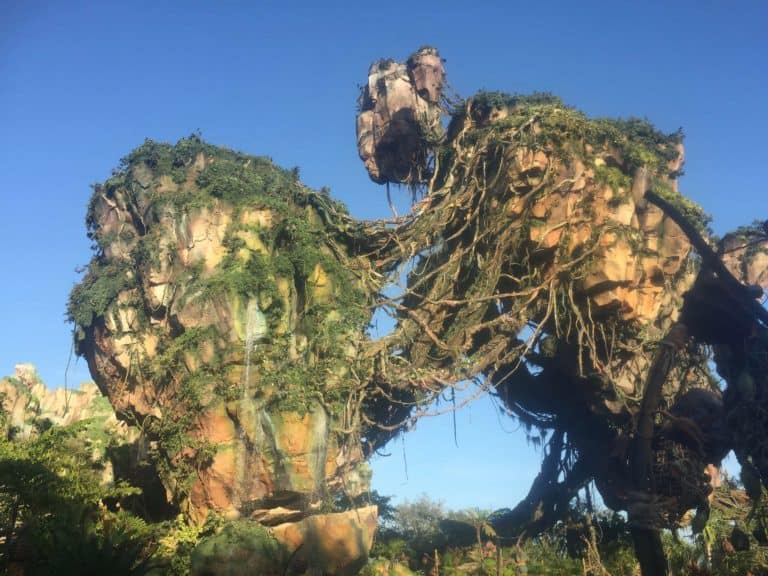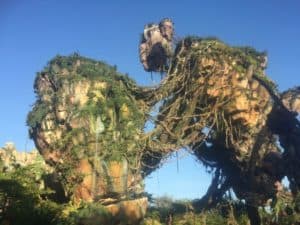 Kilimanjaro Safaris
This is a good one to hit early in the day or later on in the evening so the animals are more active. It's an amazing drive where you get to see many animals that you might not see anywhere else besides in Africa, so if you have animal lovers in the family it's a must see.
It gets pretty busy so booking a FastPass is a good idea.
Expedition Everest
This is the feature rollercoaster in the park. It's got a steep climb and is pretty intense for the young ones (and for dads afraid of heights).
Yet my youngest couldn't get enough of it.
So it might be up to your child's definition of a thrill ride as to whether you opt for it or not.
We were happy we did it a few times. But apart from my son, the rest of us would have been good with doing it once.
On occasion, it does have shorter lines first thing in the morning. But the line ups can be over an hour at peak mid-day times. The other option to get around this would be to use the Magic Hours but those only apply if you are staying at a Walt Disney Resort.
You can, and should, FastPass this ride.

Kali River Rapids
This is another big time suck without a Fast Pass. It's a lot of fun and you don't want to miss it. The best thing you can do is book this at a time that makes sense.
Do you get wet on Kali River Rapids?
Ok, there is no way to sugar coat this. The one thing you must know about going on the Kali River Rapids ride…
You will get wet.
I had a hose blast me for 10 straight seconds (no exaggeration) while the rest of my boat laughed at my wetness. To be fair it was hilarious.
Just know that it's going to happen and prepare for it.
Before you go to the park bring a poncho and a water proof bag for your electronics. You can check your backpack, but we just brought our on and kept in under the poncho and it worked out fine.
Like getting wet? Check out our Disney Water Parks Tips, it's everything you should know for Blizzard Beach and Typhoon Lagoon.
Dinosaur
This is a thrill ride back in time. It's a cool trip, but you can get FastPasses for this later on in the day (meaning after you have used your first 3 in the morning).
We did this ride a couple of times.
This wasn't part of our initial Animal Kingdom Fast Pass strategy, which we go into detail in our Disney Fast Pass Secrets but we did love this ride.
Primeval Whirl
This is more of a midway ride. Something you would see at a local roller coaster.
But it still can get line ups for as long as 40 minutes. So if you have really young ones it could be on your initial Fast Pass list.
Though it was pretty easy when we went to get them later on in the day.
The Best Animal Kingdom Attractions
It's Tough to be a Bug (Tree of Life)
This one should be on your must see list.
Of course you need to go see the show in the Tree of Life. It's a 4D immerse show that you will be happy you went to see. Our family loved it, whether you are using it as a mid day show to cool off at Disney, or you are seeing it first thing in the morning before your FastPasses start. It should be on the list.

Festival of the Lion King
This acrobatic show is a must for everyone. The Lion King is my all time favorite Disney movie this live show is awe inspiring and will leave you wanting to go back a second time.
Finding Nemo The Musical
I LOVED THIS SHOW! There I said, at first I thought " How good could this really be?" My skeptical thoughts disappeared immediately. Add this to your list of things to see, if you are a Finding Nemo fan then you will be so happy you took the time to see it!
The Other Animal Kingdom Rides and Attractions
The Boneyard
This children's playground looks amazing and can be a nice break from the lines and shows for your little ones if they need to just play for a while. There is even a spot to scrounge for fossils. It is designed for younger kids but can be appreciated by adults as well. It's Disney so the detail is always amazing!
Maharajah Jungle Trek
This jungle trek is like Gorilla falls but has is focused on Asian animals. Depending on what you have in your local zoo it may be worth checking out. There are Komodo dragons, Tigers, but no bears (oh my). If you are curious about these animals it's worth checking out.
Conservation Station and Affection Station
This is an exhibit and petting zoo. It's pretty neat to see but I wouldn't make it a priority. If you are interested in the projects going on in the park and getting to talk with some of the staff, then it will be right up your alley.
Flights of Wonder
This is a show that has an amazing amount of birds. It focuses on the traits and natural abilities of the different species of birds. Perfect for the bird lover, or if just need to sit and watch a show. Keep in mind it's in the open so you are subject to weather of he day.
Thinking about Hollywood Studios? Here is our Hollywood Studios one Day Plan or check out the complete list of Hollywood Studios Rides
Gorilla Falls Exploration Trail
This is a walking trail through gorilla habitats, it's a nice walk but may be best earlier on in the day when it's a little cooler rather than in the midday heat. It can take upwards of 30 minutes, so keep that in mind with your timeline.
Long wait until Disney World? Build excitement with these Disney World Countdown ideas
Wilderness Explorers Sign-Up Station
This is a park wide scavenger hunt and puzzle solving game. While many sights say it's not to be missed, personally we skipped it. If you have several days at the park or have kids that aren't into the rides it could be a good activity. It will depend on your kids, since it can take up to 5 hours to complete it wasn't any where near our to do list. But something to know about for sure.
Wildlife Express Train
This is the train that takes you to Rafiki's Planet Watch and Conservation Station, its not very long (7 minutes-is) and can easily be skipped. Still if you love trains and want to get on a ride give it a go. Plus if you have little ones with tired legs it can be a welcome break in the day.
Rivers of Light
This light show is a recent addition, the show itself is impressive. If you have any energy left after the long day stick around and check it out.
TriceraTop Spin
This is a midway fair style ride where you ride on a Triceratop that goes up and down. It's great for younger kids or if you have time in between your fast passes.
Taking a break from the parks? Here are some FREE things to do in Disney Springs
Meet Favorite Disney Pals at Adventure Outpost
Like we have mentioned in previous posts about maximizing your time. Spending an hour in line to meet Mickey and Minnie can easily be combined with your dining plan at Tusker House (table service restaurant).
That said if you don't do the meal plan and really want to meet the characters, then try and pick a time where there aren't as many people (usually earlier on in the day).
If I you are wondering which rides are worth it, and starting to think FastPasses. Here's the FastPasses for Animal Kingdom you must use!
While you are at it make sure to grab our Free Printable Disney World Packing List and see if a Disney fanny pack is a must.
Want more tips? Check out our 100+ Great Disney World Tips
Headed to Disney? Save money by buying these 5 items before you leave home:
Thinking Epcot? Here is our Epcot One Day Plan, and the full list of Epcot rides, along with our Epcot Fastpass+ system. Or if you are looking for what you can do at Magic Kingdom? You can find all of the Magic Kingdom rides here!
Find this useful? Share it and help others find it!