It's always a good time to celebrate the first woman in our life with some great gifts for mom! No matter what your mom (or mom figure!) likes, she'll always appreciate a thoughtful gift. It isn't always easy to shop for someone that means so much to us, so these gift ideas (that are all affordable, too!) will have you covered no matter what your mom's interests are. Get to shopping for her with these 20+ great gift ideas for mom!
The very best part about this vanity mirror, other than being pretty and NOT being an eyesore, is that it simulates natural/sunlight and as touch-control brightness! Such a great gift for mom.
Get this perfect vanity mirror here.
These eye patches are made with real gold and are great for mom to be able to pamper herself with! They're cooling and de-puffing, and something she'll love to have on hand when she needs them the most.
Check out the price for these eye masks here.
While simple, this decorative box is still a great gift! It would look beautiful on her vanity or dresser and is a perfect catch-all for the little things that sit out normally.
These gray and rose gold Nike's are everything your mom would want in a pair of sneakers! Whether she loves a good workout class or just likes to wear comfortable shoes that still are cute, these are great for her.
Check out these sneaker styles here.
Perfect for the mom who has little to no time to get ready on a daily basis! This hot air brush helps to dry AND style your hair all in one.
This dainty, gold bracelet is great for her to wear alone or to stack with some of her other favorite bracelets. It's so pretty and simple, and affordable, but looks luxurious!
Buy this gold charm bracelet here.

This coffee table styled book is also filled with the kind of knowledge that every mom would just love to read!
For the mom that loves to garden, this tote bag is awesome! It fits all of her essential gardening tools and it even comes with gloves and a bunch of tools that will help her grow her garden.
The best part about this smartwatch is that it's a hybrid smartwatch – it looks like a regular, beautiful armwatch and has all of the smartwatch capabilities that you'd want. Perfect gift option!
For the beauty loving mom, this eyeshadow palette is a must! The colors are perfect for any eye look and it's such a wonderful gift.
Check the price of this gift for mom here.

This gel polish is basically equivalent to getting a gel manicure, and mom can do it all from her own home! There's so many colors and they're so easy to use – they're great gifts!
This DNA kit is such an eye opening experience for anyone and it's SO much fun to get your DNA results back, see where you're from that you may not have known about, and even possibly find family members you don't know about.
When you're all out of gift ideas and aren't sure what to buy, this tablet stand is the perfect gift to turn to. It's great for a mom who cooks, and reads recipes from her tablet or even when she's in bed and wants to have her tablet handy, this inexpensive tablet holder is something she will love!
Every mom loves a good handbag, and this is the must have bag for the summertime! Straw bags are so popular these days and you can never have too many bags – plus this one is so affordable!
For the stylish mom, these pink aviator sunglasses are a must! They're beautiful and simple but a fun gift that she'll love the second she opens.
Check the price on these sunglasses here.

An Amazon Fire Stick is truly a one-and-done, perfect gift option for mom. You can do just about everything with a Fire Stick and it's one of those things she will love and use more than she ever thought she would!
Buy the Amazon Fire Stick here.

So many bath bombs for such a great price! Help mom to pamper herself with these luxurious bath bombs! These are ranked #! on Amazon for bath bombs so you know you are getting a good set.
Get this #1 ranked bath bomb set here.
The ultimate, relaxation float for mom to have this summer! It's HUGE and perfect for her to throw into the pool and lounge on on a warm, sunny day.
A perfect addition to mom's kitchen utensils! It's something she may not buy for herself, but would love to have and will love to receive as a gift. This is the best gift you can get for someone who loves to cook, they last a lifetime and are so versatile. Learn more about them in this Le Creuset review.
A gorgeous pair of summery sandals that your mom will love! They're so cute and also come in black and a variety of sizes.
See all the details here.

Great to keep at her desk, by her bed or in the living room, this personal massager is a wonderful gift!
Buy your personal massager here.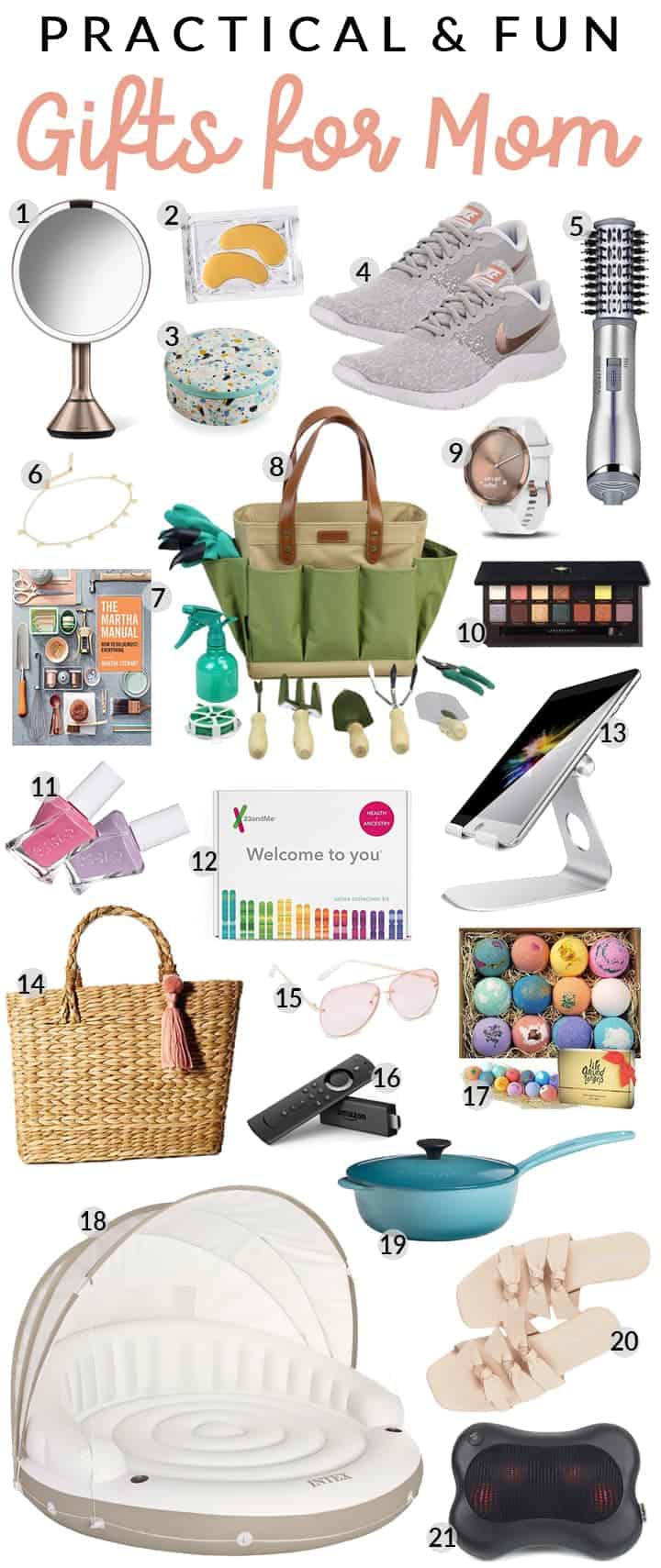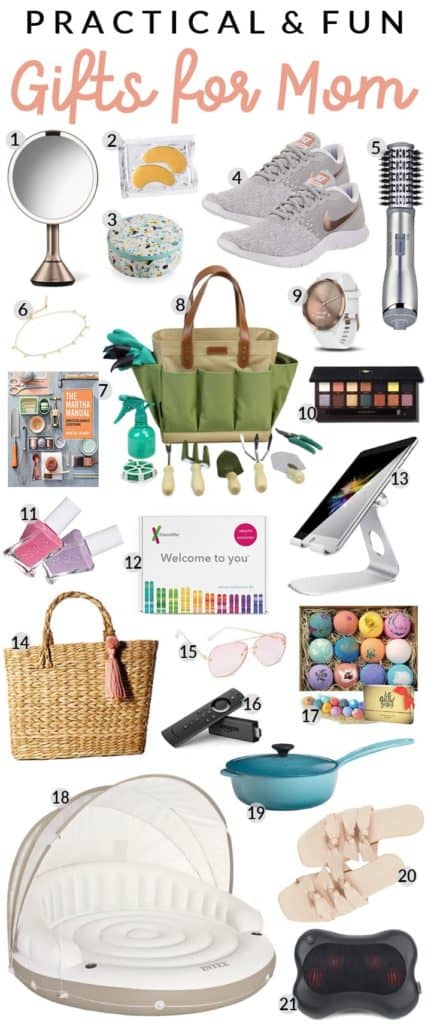 Need to buy gifts for other people? Check out our other gift guides:
Gifts For Young Boys
Gifts For Tween Girls
Gifts For Dads
Gifts For Mom
Gifts For Anyone (Think Work and Secret Santa)
Gifts For People In Your Life