Sometimes you need to get a little something for the ladies in your life, but you don't need to go overboard. Other times you want to get them things that will be a great stocking stuffer. Here are some great gift ideas for her under $10 that you can buy right now and get them off your shopping list. All of them are waaayyyy better than a tea cozy. Trust me.
These $10 gift ideas for her are a great way to see that you don't have to break the bank to give some nice gifts. The hardest part will be deciding which of these gifts under $10 to pick!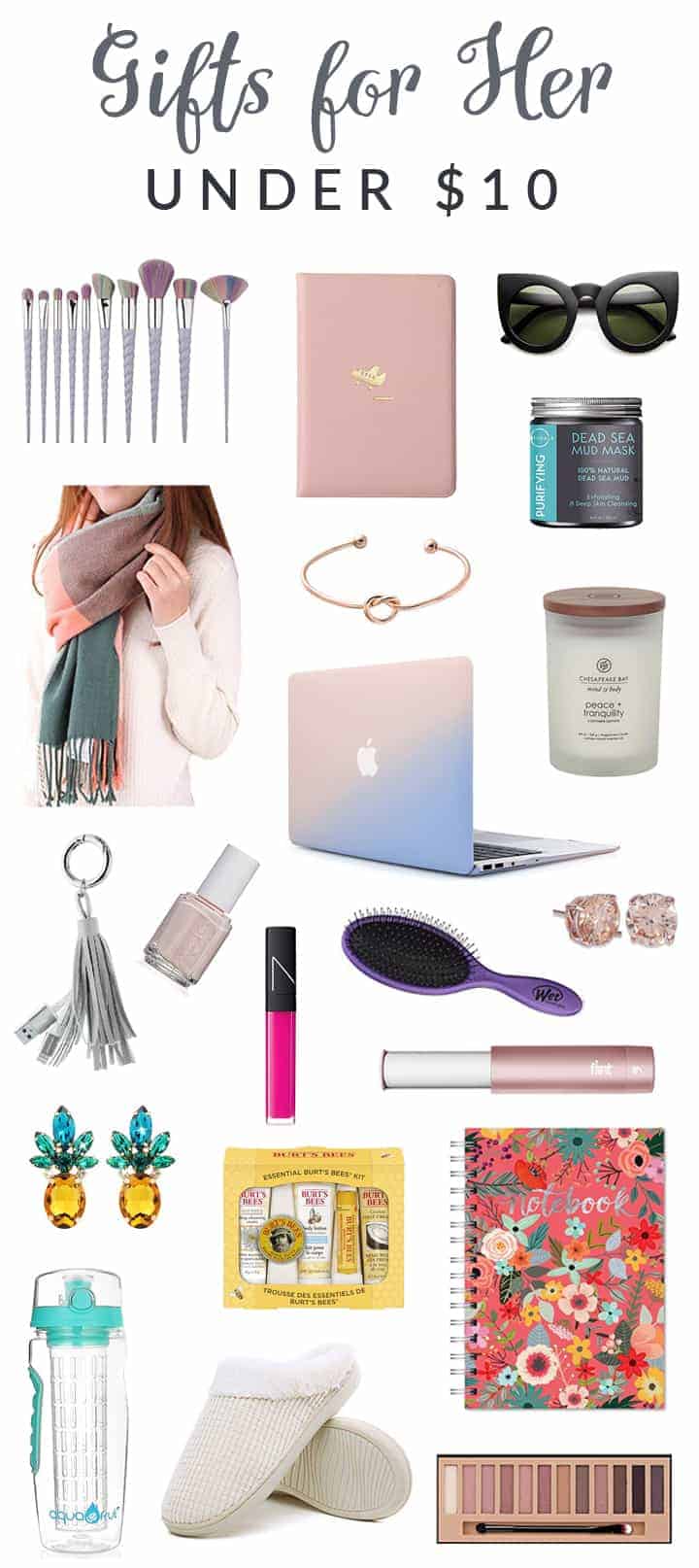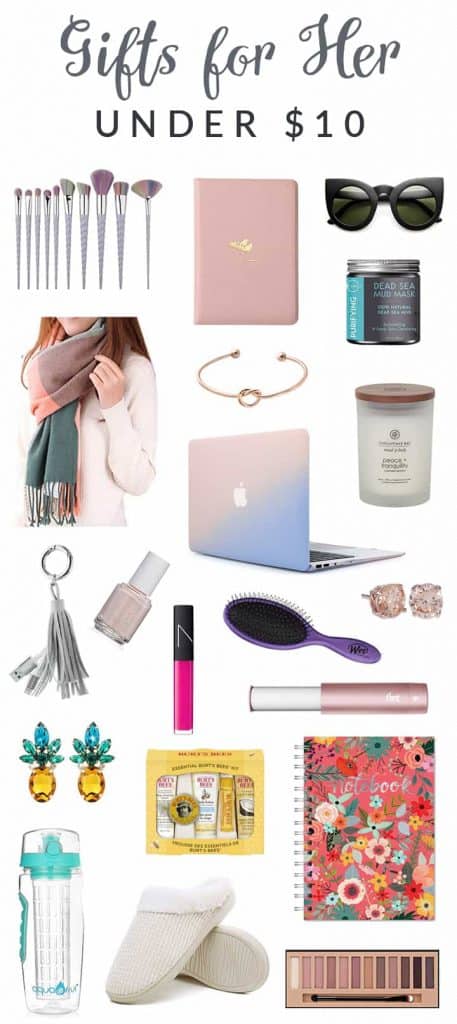 This 14 piece set is an easy buy for anyone you know who is needing some new brushes for their make up kit. They're soft but firm and silky to the touch. Get a set for good price here.
Turn her passport into a fashion statement. Grab one of these little passport holders and transform her passport from drab to a cute thing she's proud to carry around.
Pick up a variety of colors here.
It's crazy how much the price of a good pair of sunglasses has gone down. These come in a variety of colors and are perfect for someone who misplaces their sunglasses all of the time or who just needs an extra pair for the car.
Check out all the colors here.
This product contains 21 natural minerals to smooth and exfoliate her skin. It's a nice little gift that is fancy enough to get the "Cool!" response while at the same time is a great price.
I think the name of this says it all. Cozy. Blanket. Scarf. Who doesn't want something like this? With winter approaching, it's the perfect keep warm item and the price is hard to beat.
They come in a bunch of different colors so take a look here and pick one that works best. Or for this price grab a couple.
This copper bracelet is a simple yet elegant gift that she will love. It also looks like it's worth a lot more than $10 so….double win!
Everyone loves candles or has someone in their household that does! This one lasts up to 50 hours and the wooden lid makes it appear to be a higher price point than it actually is.
You can see more details about the scents and colors here.
I really like all the different types of MacBook cases that are coming out. It's a nice way to style your laptop and give it your own flair.
There are several different colors and patterns. Take a look and see which one would be a perfect fit for your lady friend.
See all the patterns and colors here.
There is nothing more frustrating than not being able to find a cable when you need to charge your phone. This keychain charging cable means that you will always have a cable wherever you go. It's petite and clips easily onto any keychain. Plus, it has Apple's MFi certification so it will work with your iPhone.
If you are needing a little something extra to put in her stocking, you can always grab some nail polish. It's the perfect thing to fit into a stocking for your special lady.
Take a look at the color here.
Everyone loves lip gloss and lip balm. This is an easy buy and can go fast around Christmas time, so make sure you pick them up before they are gone.
We got my daughter one of these since her curly hair gets tangled easily. It has proven to be indispensable. For the low cost of this hair brush, I wish we had bought one sooner. If you ever hear someone complaining about their tangles, this is the brush to get.
I mean, if you are looking for jewelry then these rose gold stud earrings are a nice find. They are shipped in an exquisite jewelry box (their description on Amazon) so it could be a nice touch to an already beautiful Christmas gift.
These are both stylish and practical. How sweet is that?! If you have ever been rushing out of the house only to find your sleeve covered in pet hair, then you know that this is something you need. It's a perfect stocking stuffer under $10.
Get a pair of them and say good by to unwanted hair on clothes.
These are going to be a must for our family after going to Maui this summer. My daughter is obsessed with all things pineapple. They are the perfect little gift for her that she will absolutely fall in love with.
Get a pair of pineapple earrings here.
It's winter, it's cold, and chapped lips and hands are just something that happen. This Burts Bees gift set is a nice compliment to any other gift (or a great gift exchange gift idea). This little package gives a nice impression of all things Burts Bees.
This is a nice notebook for the lady in your life to keep track of things or have a bullet journal. It's perfect for doodling or to-do lists.
If you have never had water infused with fruit, then you are missing out. This is a great bottle that takes water one step closer to amazing. The bottle comes in a variety of colors and for this price, it's hard to beat. My favorite fruit to put in is strawberry.
Get one of these awesome water bottle infusers here.
My wife picked up a pair of these memory foam slippers and they are so nice. If you have hardwoods or tile in your house this gift is going to make you a superstar.
The price can vary on these ones but it's a great buy for anyone with sore feet or who is on their feet all day.
You can check out all the different colors and styles here.
If you are looking for a few more make-up ideas for her under $10 this is another solid find. Pick them up and pop them in the stocking here.
Didn't see anything here? Make sure to check out the $10 and under section in Amazon here. You are bound to find something that will catch her eye.
Need to buy gifts for other people? Check out our other gift guides:
Gifts For Young Boys
Gifts For Tween Girls
Gifts For Dads
Gifts For Mom
Gifts For Anyone (Think Work and Secret Santa)
Gifts For People In Your Life
Love saving money? Share this so others can save big too!