Searching for the perfect 15th anniversary gift ideas? We have you covered! Whether you're shopping for your significant other or are looking for a great gift for a couple who will be celebrating soon, these gifts are all something different and things they'll love.
What is the traditional gift for the 15th Wedding Anniversary?
The 15th-anniversary symbol is crystal, so we made sure to include many (affordable!) crystal gift options as well. Whether you want to stay with tradition or steer in a more modern direction, there's bound to be something perfect here for you. (Guys, if your wife says not to get her anything, here are some gifts to give her when she says she wants nothing).
This set is a great 15th anniversary gift idea option! You can choose from the anniversary as well, so no matter what year the couple is celebrating, it's a gift they can enjoy and will love.
Check out your 15th-anniversary mugs here.

A great journal for a couple to write down their goals together, make all sorts of plans, and a really thoughtful gift to give. This is the perfect compliment to a couple who is starting to forge new adventures
This one of the 15th anniversary gift ideas for under $20, you can give a couple celebrating their 15th anniversary the most beautiful ornament keepsake! Something to remind them each holiday season, but a great gift to give during any time of the year.
Buy your 15th Wedding Anniversary ornament here.
A watch is always a great gift if you're shopping for your significant other for your own anniversary and a thoughtful one for something so important and momentous as a 15th year anniversary! This one is a nice blend of classic and style.
Check out this and other watches here.

Such a great quality gift for an amazing price! These are simple and understated; a pair he can wear with just about anything. They're always a great gift and especially so for an anniversary.
Since crystal is the traditional gift for a 15th anniversary, gift your significant other this crystal flower for their desk, dresser or vanity to remind them of your anniversary every day!
Buy your potted crystal desk rose here.
While this is a beautiful gift for more than an anniversary present, it's a very thoughtful one and goes along with the crystal theme of a 15th anniversary.
Buy this beautiful frame here.
If your partner wears jewelry, consider this crystal set – it's stunning and stays with the crystal theme!
Here is a gift that's more fun than anything else, but will be much appreciated when little notes are left from it!
Buy this cute 15th anniversary gift idea here on Amazon.

Nothing says 'Happy Anniversary' like some delicious cookies! Yum! Stare at this set for a few seconds and you can't help but want to taste them.
Get a set of these delicious cookies here.

Special anniversaries like a 15th are a great time to get your significant other a new piece of jewelry. This is a band that can be added to their ring set and adds a little something extra! It's beautiful and affordable, too.
If you look closely, you'll see that the year of the pennies on these keychains is circled with a heart. You can find the correct year of marriage and get a keychain set like this – how sweet?
Buy this unique 15ht anniversary gift idea here.
Another gift to stay with the crystal theme – and wait until you see how affordable this set is. It's absolutely beautiful and a set that any couple will love.
Beautiful, timeless vases are ALWAYS a great gift option! This is a perfect compliment to the flowers you will be buying that day.
Click here to check the price on this vase.
Another beautiful crystal piece that anyone celebrating a special anniversary would love! This is great for them to store their favorite jewelry pieces on their dresser, vanity or nightstand.
Buy this crystal ring holder here.
Something that is so different and special to gift for an anniversary! This would look beautiful on an outdoor patio or in the garden, and is a great way to celebrate a special couple on their anniversary.
Check out this gift idea here.

With a beautifully made print that displays the couple's names and anniversary date, they can hang it anywhere in their home and have it looking beautiful!
The beauty of a gift card like this is you pick the amount, and the couple can choose a spa that is near their home and included in the participating spas with this gift card. A thoughtful gift that they will love and no doubt enjoy
A simple but beautiful anniversary keepsake that can provide so many uses in your home!
Get your 15th Anniversary gift idea here.
These Willow Tree pieces are always beautiful, and this is something unique as an anniversary gift for your significant other or for the couple you're celebrating.

Place a photo of you and your significant other in this frame or of the couple and you have a super thoughtful gift for an anniversary!
This stunning bracelet is on-theme and too beautiful for words – a great anniversary gift she'll appreciate!
Buy this crystal bracelet here.
The best part about these personalized candles is that you can choose from a variety of scents and get anything you'd like printed on it.
Check the price on this candle here.

A simple keychain that not only reminds you of your anniversary date (but really!), it also is sweet and thoughtful and a fun, different gift for a significant other on your anniversary.
Get your personalized calendar keychain here.
Gifting these personalized cutting boards is always a good idea – it's something so useful and still so thoughtful. If you have someone who loves being in the kitchen this is the perfect gift idea.
Get your personalized cutting board here.
Share the love and spread the word about these great gift ideas.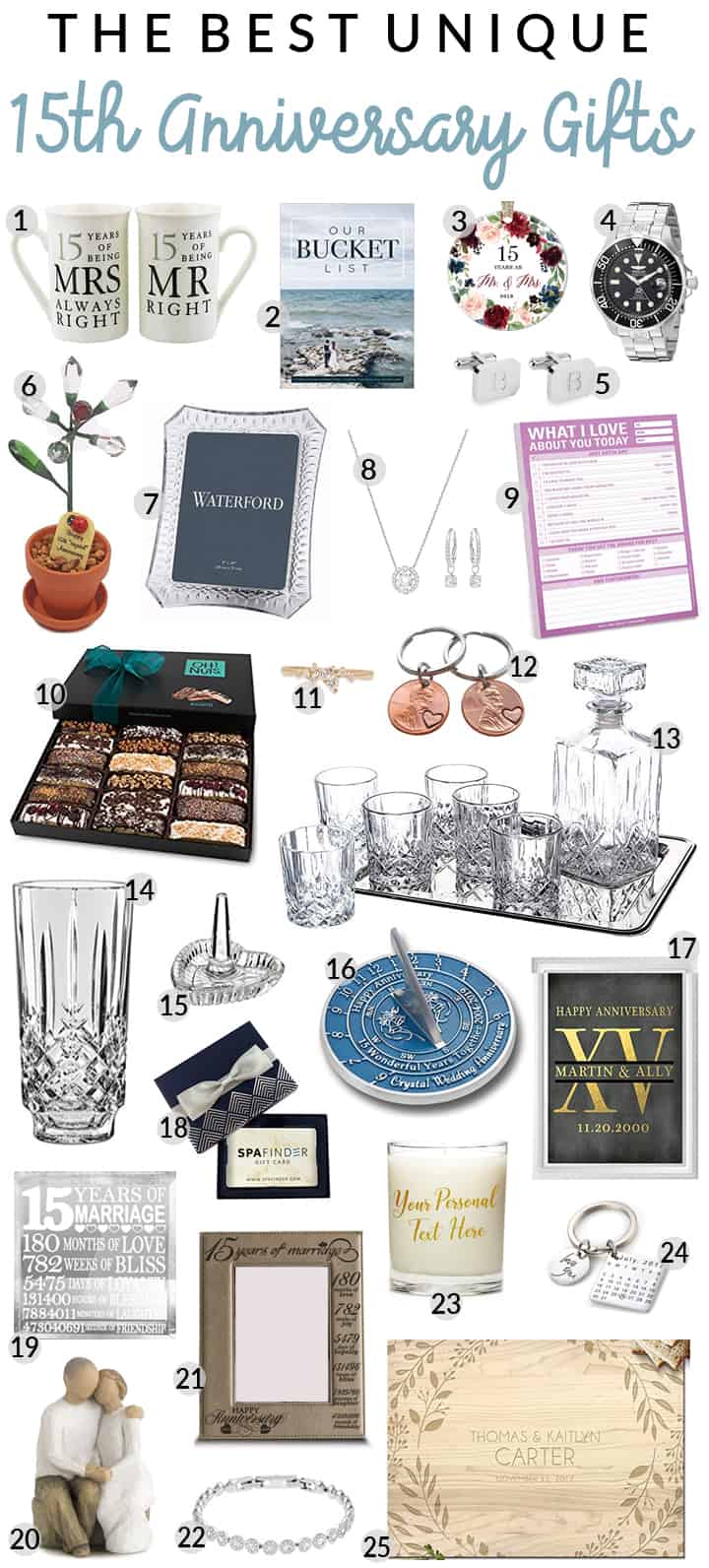 Need to buy gifts for other people? Check out our other gift guides:
Gifts For Young Boys
Gifts For Tween Girls
Gifts For Him
Gifts For Her
Gifts For Anyone (Think Work and Secret Santa)
Gifts For People In Your Life