Like things often do, unicorns are VERY back in style. No one can be mad at that though, right? From iridescent-everything to unicorn inspired frappuccinos and more, I think it's safe to say we all know someone who is unicorn obsessed! Whether shopping for a holiday or a just-because gift, these unicorn gifts are inspired finds for the unicorn lovers in our lives.
Let's kick off these unicorn gift ideas with a great one! What little girl doesn't love slime?! This is a great gift for anyone who loves slime and who is obsessed with unicorns!
Check the price on these here.
These tumblers are seriously always a great gift option, especially if you're out of ideas on what else to gift. This unicorn glitter printed tumbler is beautiful and great for a variety of aged recipients!
This is the cutest little decorative piece for a desk or dresser – and it's also a really great reminder and is SO true!
Buy this inspiring message here.
This is a hilarious gift. Squeeze the plush doll and it makes different noises.
Buy this unicorn gift idea here.
Ring holders are one of those things that most people wouldn't think to buy for themselves, which is why they're always good gifts! This pretty unicorn ring holder is so affordable and fun to gift to the unicorn obsessed person on your list.
Aside from being a really cute little gift option, they'd also be a great favor or to gift with something else as well.
Check the price on these unicorn hair ties here.
More than just a necklace, this comes with a sweetly written little card mentioning to the recipient to make a wish each time they put the necklace on. It's really sweet and VERY beautiful and simple!
Buy this unicorn necklace here.
The best part about these headphones is that they are LED and glow in the dark! So cute and so fun for kids who love unicorns.
Get a pair of these cute unicorn headphones here.
On the inside of this simplistic silver unicorn engraved bangle, it reads, "Be A Unicorn in a Field of Horses" – so sweet and so fun to gift.
Check out the price of this adorable unicorn bangle here.

A fun decor piece that would look so sweet on a shelf or dresser – it adds some light and a pop of color to a unicorn lover's room!
This is the ultimate gift for the unicorn obsessed! Put together in one gift box, it comes with a unicorn bath bomb, cupcake shaped soap and a colorful sugar scrub. It's perfectly ready to go to gift!
Get this great unicorn gift set here.
This eye-catching backpack is filled with sequins and is a fun gift for anyone who loves unicorns. This is the perfect tote for day care or dance lessons. It's so adorable.
This is a great gift for your unicorn lover! So plush, so cozy, so cute! Who doesn't love unicorn slippers??
Buy these unicorn slippers here.

This unicorn lip gloss is vegan/cruelty free, and adds a shimmer to your lips in a simple but fun way!
Get your unicorn lip gloss here.

Relax in the pool this summer with this cute pool float! It's so cute and oversized, which is perfect for relaxation.
Buy your unicorn pool float here.
A sweet little saying along with a unicorn charm to wear on your neck – how sweet?! This is perfect for anyone from little girls to young women who love meaningful pieces like this.
Buy this wonderful unicorn necklace here.
This iridescent tumbler is too cute! A great gift and the color is great for unicorn lovers.
Get this unicorn tumbler here.
Not only is this lipstick hydrating like a lip balm would be, but it also reacts to your body temperature by changing colors!
These makeup brushes are a great gift and there's so many in the set for a really great price!
Get this unicorn makeup brush set here.
A beautiful flower planter made for indoor plants, that elevates your decor look right away! Go above and beyond by purchasing a plant and gifting this planter with the plant in it for an extra fun gift.
Get this unicorn flower planter here.
The most beautifully colored iPhone case ever! Such a great deal and everyone can always use a new phone case.
Buy this unicorn colored iPhone case here.
These cute, colorful bath bombs are the perfect gift for a unicorn lover on your list who also loves to pamper themselves!
Get these awesome bath bombs here.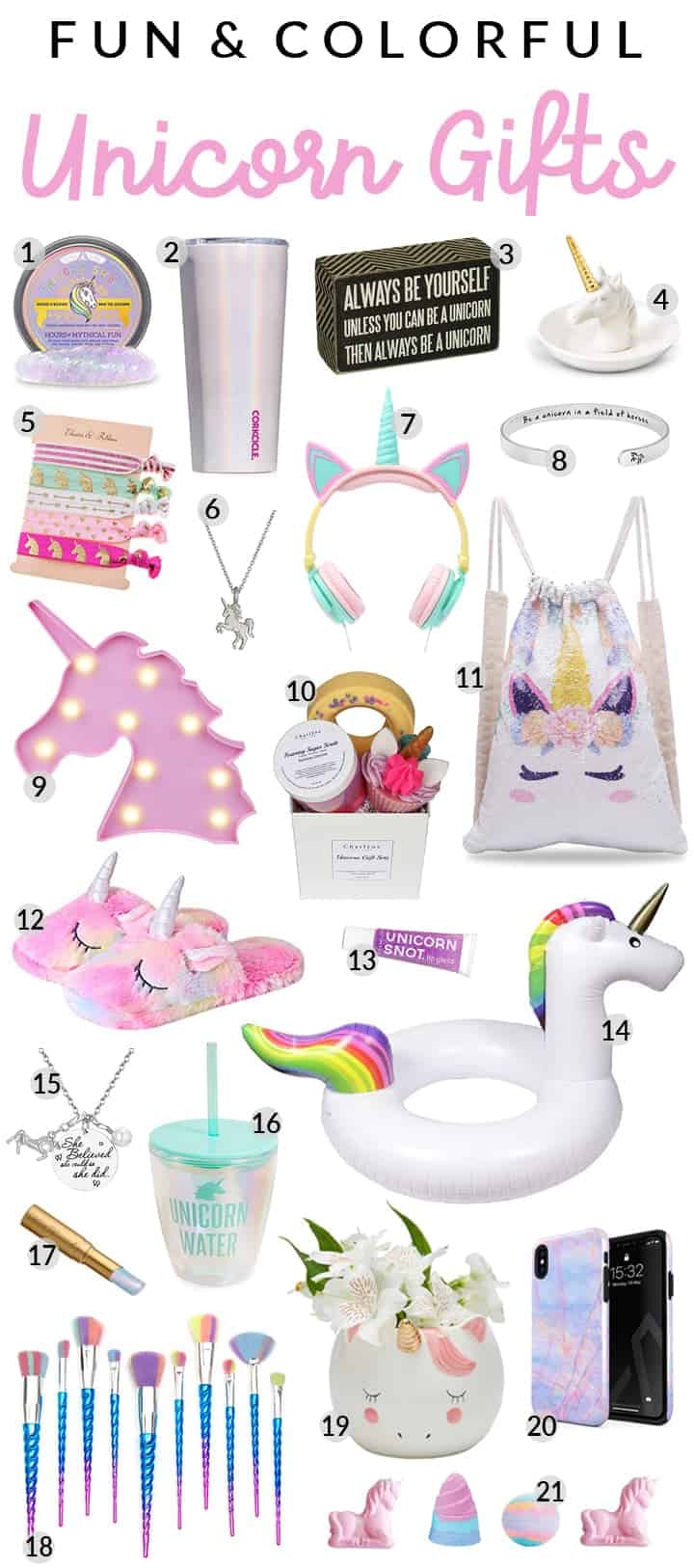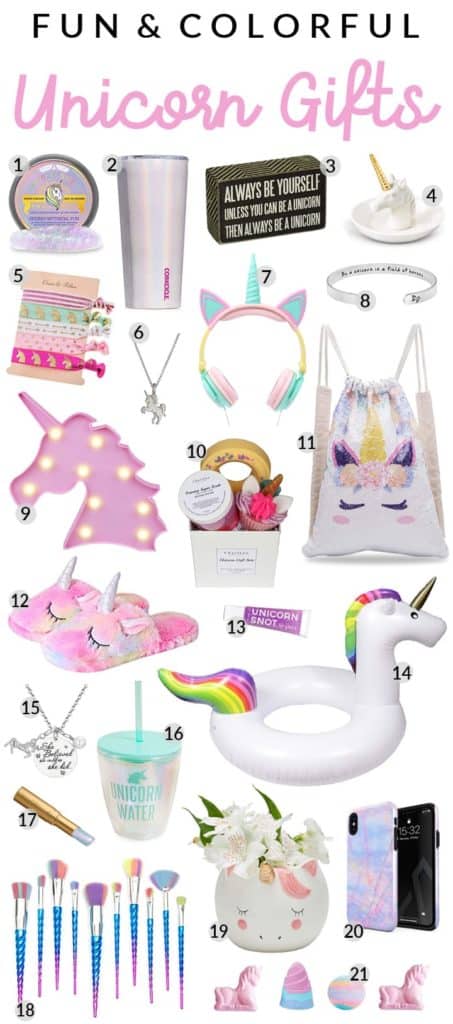 Need to buy gifts for other people? Check out our other gift guides:
Gifts For Young Boys
Gifts For Tween Girls
Gifts For Dads
Gifts For Mom
Gifts For Anyone (Think Work and Secret Santa)
Gifts For People In Your Life