Whether you're looking to shop for some gifts for architects, an architect student, or someone who aspires to be an architect, it can be difficult to find the perfect gift – especially if you aren't one yourself. These gift ideas will cover you from start to finish and leave you having TOO many decisions for the architect in your life!
Pretty sure that being an architect is the sole profession that playing with legos will provide inspiration for! This skyline LEGO set is a fun build, and one architects will love.
Buy these priceless Lego sets here.
This mug looks like it has a blueprint of all of the most famous sites in the world mapped out on it! So cool and a fun gift that they'll think is awesome.
Buy this inspiring and unique gift for your architect here.
This awesome 3D Printing Pen is incredibly cool, and such a fun gift that they'll love to play around with. This is a gift they will never see coming.
What's so cool about this scale is that an architect can obtain three different measurements read to them at once – a true time saver and a practical gift idea!
Architects create their masterpieces using concrete, so what better way to display plants than in concrete vase planters? Plus right now everyone wants more succulents so these vases are prefect!
A fun pair of novelty socks that have blueprints on them – how fun for the architect in your life? They are a cute gift for the architect in your life.
This affordable keychain is something any architect would just love! It's a perfect little gift for that special architect in your life.
This beautiful book includes buildings that Frank Llyod Wright built along the West Coast, and they're simply stunning!
As one of the greatest architects ever, Frank Lloyd Wright is sure to have had a major impact on any – and every – architect and aspiring architect out there. This set of glasses is the perfect way for them to recognize one of their favorite icons.
When they go to dress up, these cufflinks are sure to make a statement! Only an architect could pull these cool, blueprint cufflinks off.
Buy these architect cufflinks here.
A fun-filled, educational book to help learn the ins and outs of architecture – no better gift for the aspiring architect.
Buy this book for your architect here.
This is the perfect tool for someone who quickly goes from drawing or writing (as an architect does) to using a tablet or computer – it's a mechanical pencil and touch screen stylus in one!
Buy this mechanical pencil here.

This chess set is perfect for anyone who loves skylines, AKA all architects! It's truly a unique chess set and the perfect gift for any architect.
A new set of sketching pencils is something that will get lots of use and is always needed by an architect!
Get this pencil set here.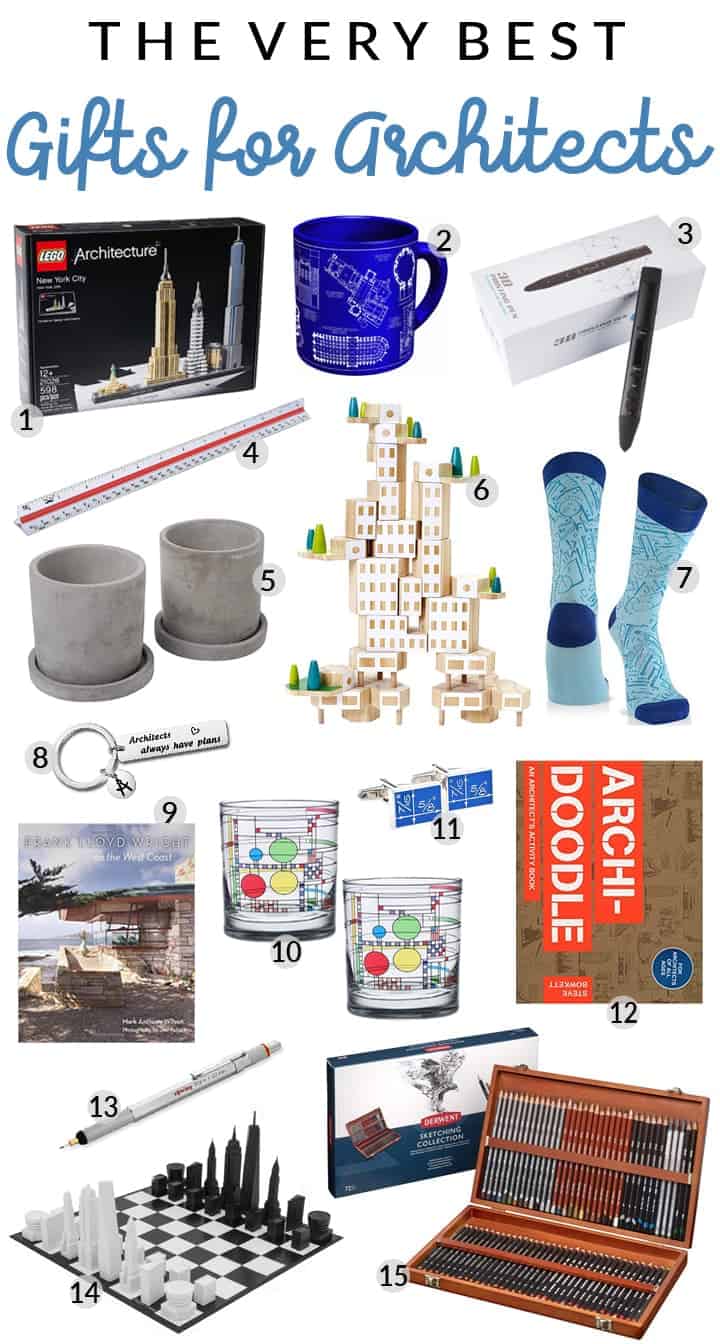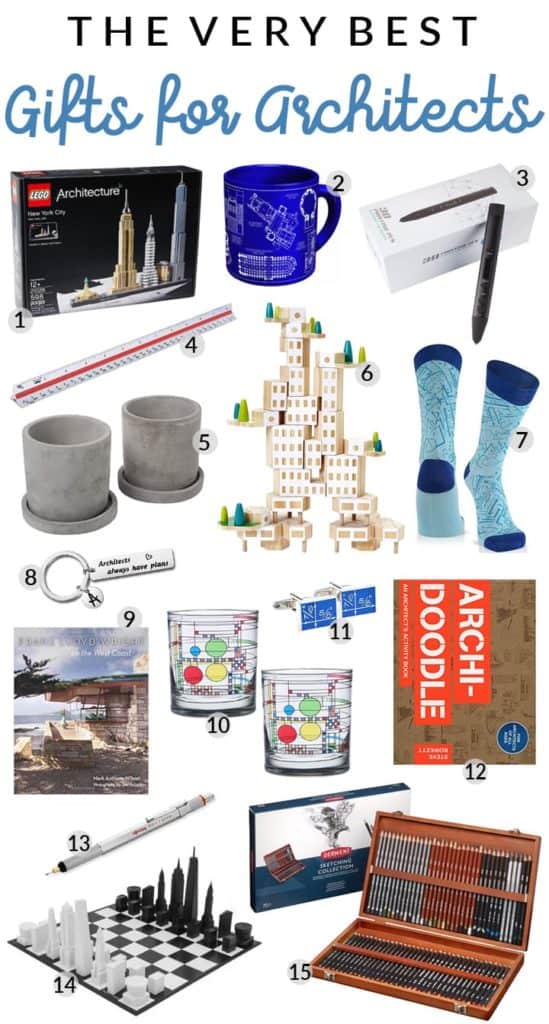 Need to buy gifts for other people? Check out our other gift guides:
Gifts For Young Boys
Gifts For Tween Girls
Gifts For Dads
Gifts For Mom
Gifts For Anyone (Think Work and Secret Santa)
Gifts For People In Your Life