Looking for the perfect gifts from Italy for someone who loves the country? The good news is, while it'd be nice to bring back a gift directly from Italy, there's ways to give an Italian gift without having been there! Italian themed gifts are such a great way to help celebrate such a beautiful culture with the person who loves it the most!
This hand-blown vase made with Murano glass is the ultimate Italian gift! It's handcrafted in Italy and a beautiful, colorful vase that will be so appreciated. If you have ever been to Venice, then you know how big blown glass is, get this great gift from Italy now.
This set comes with soap that was made in Italy! It's imported, natural soap and smells wonderful. It's also a great gift that's under $20!
This candy is a staple in Italy. They're a hard, sour candy that tastes like lemon and if you're gifting these to someone whose familiar with the Amalfi Coast, they'll know that these taste like a little piece of Italy!
There is nothing like a cup of coffee. Italians love their coffee, and they make beautiful, handcrafted mugs to go with said coffee! This hand painted mug is from Deruta, which is a city in Italy that's known as the pottery city.
Get this hand printed Italian mug here.
This cookbook is filled with the very best recipes that come from the streets of Italy! From the more traditional Italian dishes to the more modernized foods you'll find when traveling abroad, this cookbook is filled with the most delicious recipes to help you feel like you're in Italy when you sit down to eat.
Get this unique cookbook here.
Such a gorgeous necklace made with an authentic Lira! A wonderful gift for someone who loves all things Italy, and it looks beautiful on as well.
Italians love their pasta, so big bowls that accomodate all of the pasta they make in one batch are always necessary must haves! This beautiful blue and white painted pasta bowl makes for the prettiest decor piece when it's not being used to feed the family!
A simple t-shirt that reminds them of the country they love so much!
This set of two wine glasses were made with the city of Milan in mind; the stained glass effect was inspired by the Duomo in Milan and these glasses are a beautiful way to pay respect to one of the most beautiful churches in the world.
Buy these stylish wine glasses here.
Anyone who travels to Italy likely doesn't come back to America without bringing a bottle of EVOO! It's an Italian staple, and nothing quite compares to an authentic bottle of Italian Olive Oil.
YUM! This set comes with two bags of authentically Italian, handmade pasta. Nothing beats it!
Get this authentic Italian pasta here.
Page-a-day calendars are the best gift to give to someone who has their own desk – nothing compares to flipping the calendar each day and seeing a new, beautiful image taken in Italy!
Give them a taste of Italy every day of the year by buying this here.
Nothing quite says Italy like cannolis do! This candle is Italy-inspired and smells beautifully of cannolis and chocolate.
Buy this delicious smelling candle here.

Isn't this bracelet gorgeous? It's made with Murano glass, right from Venice. Anyone would love to add this to their collection.
Buy this beautiful glass bracelet here.

Imported straight from Italy, this truffle honey is a decadent and delicious must have. It has a sweet taste and makes for a great meat marinade or paired with cheeses as an appetizer.
This beautifully put together gift basket (which is actually a pasta strainer, how cool is that?!) comes with Italian pastas and sauces and everything the person you give this to needs to put together the most delicious Italian dinner.
Buy this delicious gift basket of Italy here.
If you really want to feel like you're in Italy, you HAVE to make your own pasta! To do so, you need a really great pasta maker like this one. It's stainless steel, and something everyone would love to have in their kitchen.
This coffee table styled book is filled from cover to cover with the most beautiful images from all across Italy. A must have for any Italy lover!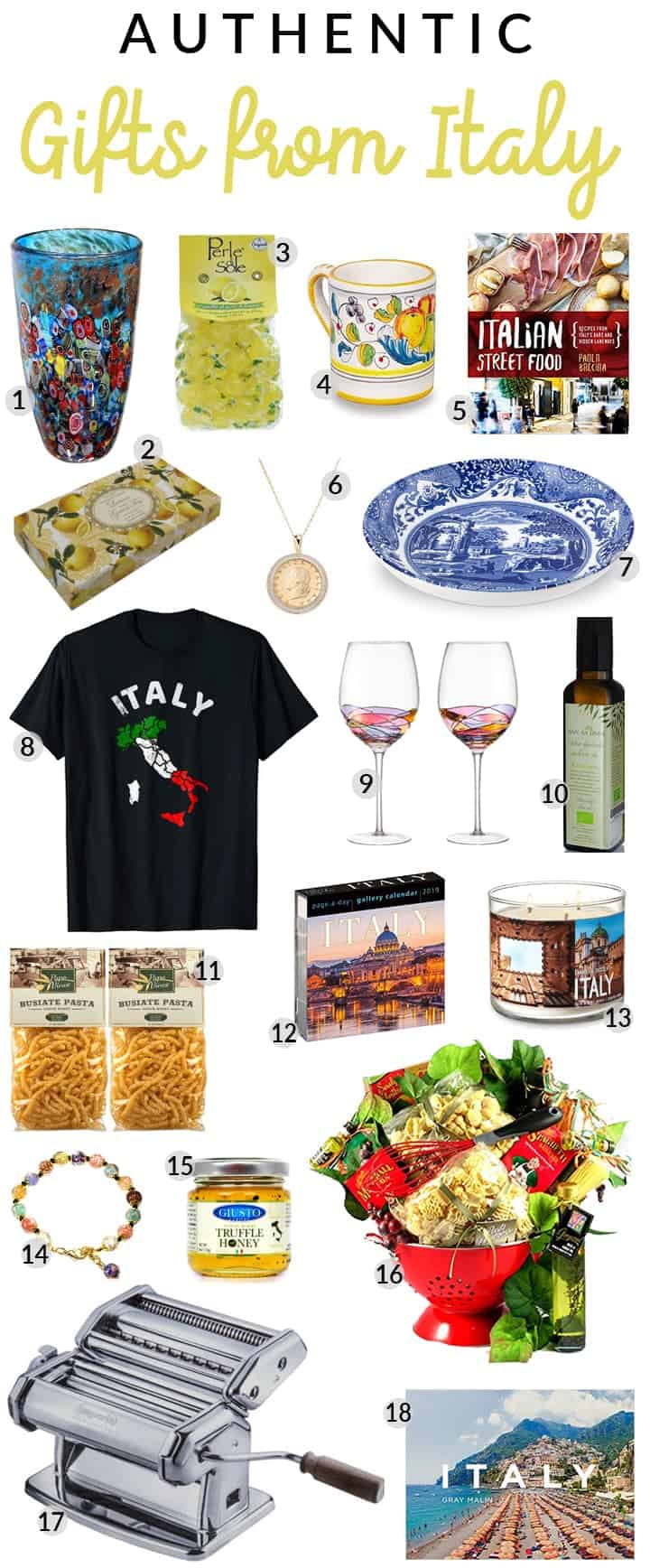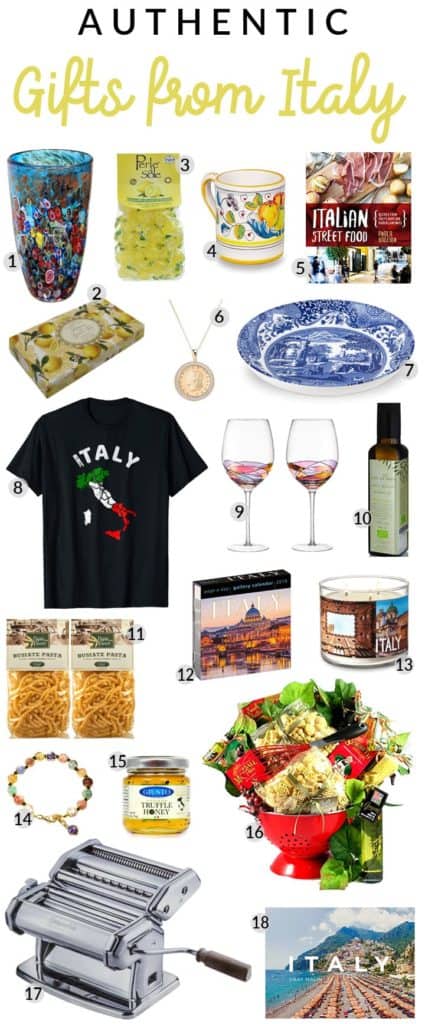 Need to buy gifts for other people? Check out our other gift guides:
Gifts For Young Boys
Gifts For Tween Girls
Gifts For Dads
Gifts For Mom
Gifts For Anyone (Think Work and Secret Santa)
Gifts For People In Your Life