Some of the hardest people to shop for in our lives are entrepreneurs. Finding gifts for entrepreneurs can be tricky because it's SO difficult to know what is needed! No matter what the holiday is, I hope these gift ideas help you to find the perfect gift for the busy, deserving entrepreneur in your life!
Have you tried one of these mugs by YETI yet? If not, you have to! They also make all different sized tumblers and are the best for keeping your hot drinks to stay hot, and your cold drinks to stay cold. Perfect for that person you have in your life who is always working and doesn't always have time to drink their coffee hot!
These Tile Trackers are pure genius – put them on anything you're bound to lose and you'll always be able to track it using their app on your phone! Genius and great to have for just about anyone.
A great tool for anyone – especially entrepreneurs working from home – who doesn't always have an extra set of hands laying around! It's amazing how many times you will use one of these once you have it. With a 4+ star rating and over 17000 reviews on Amazon it's a sure hit.
You can never have too many of these laptop sleeves, especially if you travel a lot. They're so easy to use and convenient to keep your laptop safe and sound in! Even if you're just taking your laptop to work each day, or to a coffee shop – you get the idea! They make for a great gift and this one comes in SO many colors.
Check out all the different colors and styles here.

An absolute MUST have for anyone who works on their computer or who stares at a screen for any extended period of time! These blue light blocking glasses are great if you get headaches from the screen light, or just want to be safer. Either way, they're something that an entrepreneur may not think to buy themselves but will definitely appreciate receiving!
Buy these must-have blue light blocking glasses here.
How many cups of coffee do you drink per day? If you're an entrepreneur, you know there's a lot of caffeine going on each day to get your to-do list done! This is always one of my favorite gifts to give to my entrepreneur friends – it's an amazing, personal coffee maker that allows you to make one cup at a time (and as many per day as necessary!).
This set comes with a planner for each month of the year and is big enough to write just about everything down on it that you could ever imagine! It'd also be great to hang on your wall, and this set is something that the organizer/person who works for themself desperately needs!
Get this monthly desk planner here.
I'm a firm believer that everyone needs one of these, but they're a perfect gift and especially so for a busy, hard worker. You can track your sleep, fitness and help to maintain your health all from your wrist!
These AirPods totally revolutionized how we listen to music, podcasts, movies, etc. There's so many of these cordless earbuds on the market now, but no matter which set you gift, they're sure to be appreciated! These have become my favorite work at home items. Plus they are great to pair with your Apple Tv so you can watch TV without bugging anyone at night… just saying.
Great for on-the-go, traveling, or just for using throughout the day when you're busy and working nonstop, a portable charger like this one is a MUST have for the busy entrepreneur. Our phone batteries aren't always the most reliable, so having a backup close by when you're running a business is basically essential.
Buy your portable charger here.

Ever have a ton of devices to charge but not enough room in one outlet? Problem solved! This is a genius device and a great product to gift to someone like an entrepreneur.
This laptop desk is great to have to prop your computer up, forcing you to sit up straighter, but also great to be able to use your laptop from the comfort of your bed (if you work at home, you know how great that luxury is!) or your couch. It stabilizes things and is something the busy worker you're shopping for will love to use!
Click here for the latest price.
Working from a desk all day means a lot of sitting. A standing desk is a great way to get you on your feet for some or all of your day and create a healthier lifestyle while you work. We recently bought on e and it helps more than I can say.
Check out all the standing desks here.

As much as working at home or for yourself is a luxury, it also means you never truly turn yourself "off". It's easy to get stressed or overwhelmed, and that's where this stress relief candle made with eucalyptus comes in handy! It smells incredible!
Check out this stress relief candle here.

These Fire Stick's really, truly can do EVERYTHING. It's incredible! They're fun to gift to anyone and everyone, but for someone who works at home especially. For some, having background noise is essential and entrepreneurs are usually pretty good multi-taskers, too, so binging some TV shows while they work is always a must and will be so easy to do with an Amazon Fire Stick!
Buy your Amazon Fire Stick here.
This seems pretty generic, but oftentimes, there are courses and classes that entrepreneurs can take online to help better their business. Something more simple like a Visa gift card is a great way for them to buy exactly what they need, or to put toward a class that they may be eyeing.
When days are too busy to grab something for breakfast, this gift basket will come in handy!
These are basically essential for your office these days, it's the perfect gift for an entrepreneur! So helpful and such a fun gift to give. Once you start using this you will wonder how you ever got along without them.
Buy your Amazon Echo Dot here.
Isn't this so cool looking? It docks all of your electronics in one, organized place and allows them to charge using just one outlet! This is a great looking charging dock and very practical and space saving.
Get one of these charging docks here.
A set of notebooks is something that's always needed for an entrepreneur – you never know when new ideas will come to fruition, or when you need to jot down some notes or passwords. It's always important to have these on-hand and a new set is always going to be appreciated!
Get these cute notebooks here.
You would not believe just how soft and cozy this throw blanket is! Being an entrepreneur comes with long hours, and sometimes working into the night requires being cozy. This is a great, thoughtful gift for someone who this reminds you of!
Great Gifts for Entrepreneurs
There are so many other ideas for gifts for entrepreneurs that this list will keep getting updated. Make sure to save it so that you can find more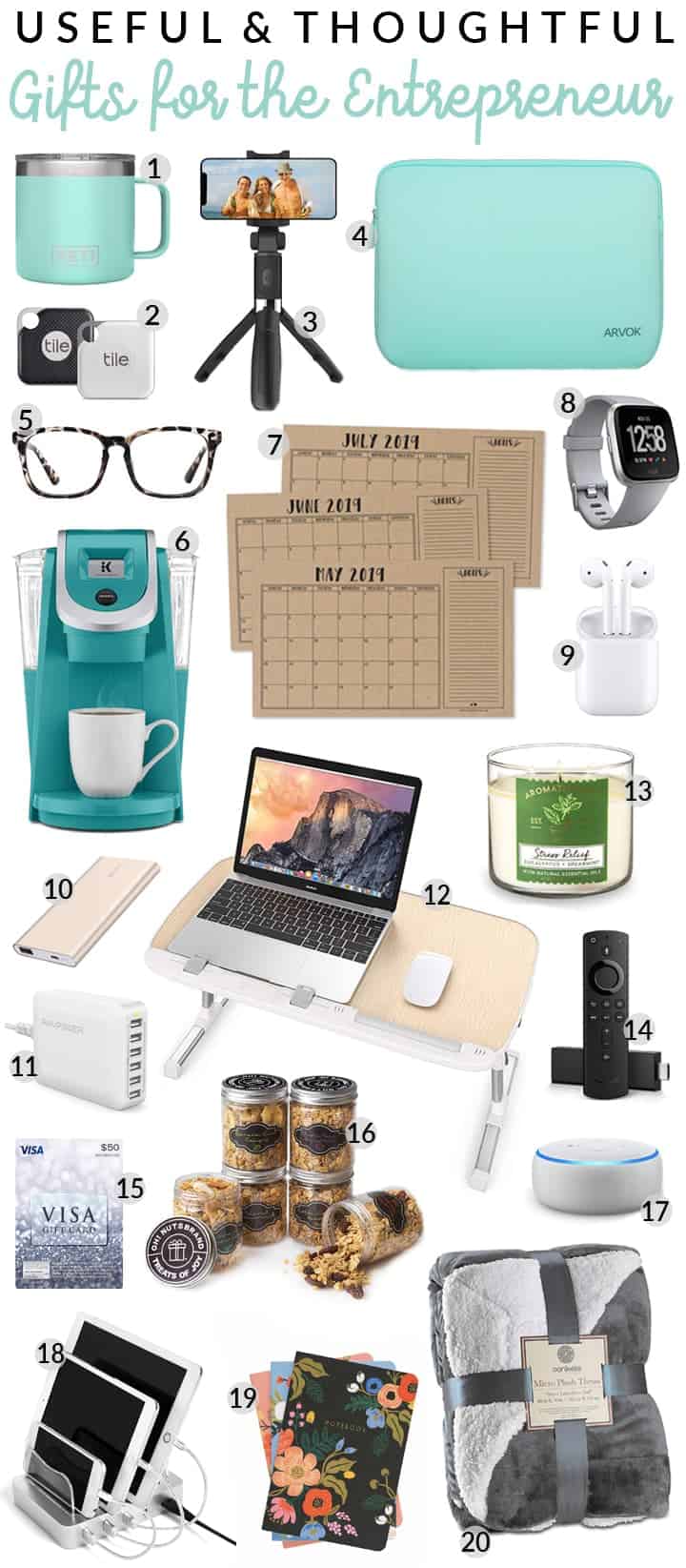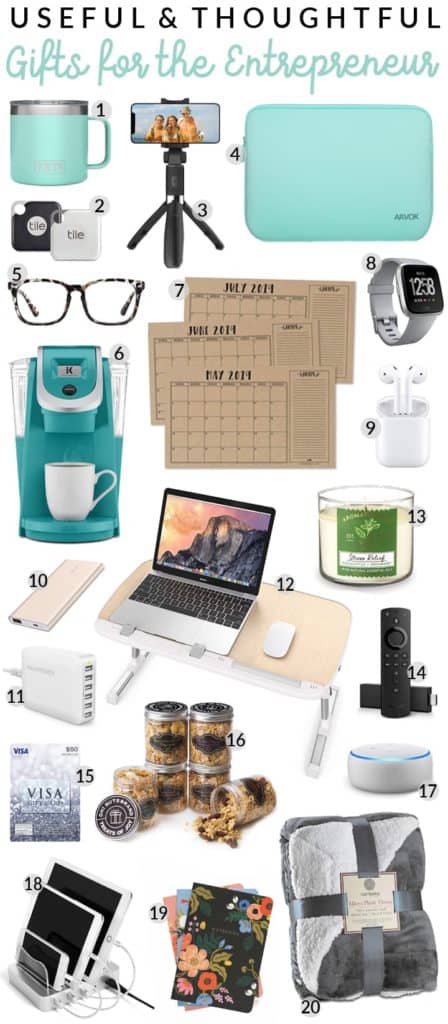 Need to buy gifts for other people? Check out our other gift guides:
Gifts For Young Boys
Gifts For Tween Girls
Gifts For Dads
Gifts For Mom
Gifts For Anyone (Think Work and Secret Santa)
Gifts For People In Your Life