It's getting to be that time of year and there are no shortage of great gifts popping up. If you have someone in your house who loves electronics here are some great Christmas gifts for men under $50.   Normally when I hear someone setting a spending limit on a person the average one that comes up is 50 bucks. Here are some great gift options to help you out.
Related:
Griffin Bluetooth Headphone Adapter
The world is shifting to wireless, but if you're like me, you aren't quite ready to go and ditch all of your headphones. To fix this Griffin has come up with a great in between product. This wireless bluetooth ad
apter pairs with your phone (or anything else bluetooth) so you can move around wearing your headphones without carrying your phone.
It's ideal for around the house or if you are working in an office setting and don't want to lug that phone around all day. FYI I couldn't wait for this and have already ordered it for myse
lf. I'm looking forward to using it on my runs.
(Update: I have had this for months now and I love it! All of my headphones can be bluetooth headphones. It was easily worth the price)
✅ If you can get this under $20 you are getting a good price. See the current price here
Amazon Echo Dot

This year we are starting to see the battle of virtual assistants take over. This is where the Echo dot seems to excel (and I'm an Apple guy!). Not only does it have a great price point but you can do a ton with it.
From controlling your app enabled house with your voice. To ordering your regular pizza at Domino's or getting a car with Uber.   There is so much this little assistant can do it's amazing. Plus it streams music and can connect to head phones. Make sure to check out the video on the product page to see everything it can do!
Amazon Fire TV Stick with Alexa Voice Remote
Being able to stream music and video using the voice commands is pretty much as futuristic as it is cool. Amazon has brought in a great little device that allows you to stream apps like Netflix, Hulu, HBO Now, YouTube and over 7000 other apps all on this little device. Make sure to check out the video to see all of the feature this little device can do.
TP-Smart Plug Link
With all of these voice controlled items you will want to have a few things in your place that you can control with your voice and your smartphone. The TP-Link Smart Plug is a great entry point for home automation. From there the sky's the limit. There is also a $5 coupon when I last checked. I can say that I probably won't wait until Christmas to get this one.
Switch Mate 1 Second Installation Smart Lighting
If you aren't the handiest person in the world, then this is something you should consider for your sm
art home. Rather than needing to rewire the house, this device goes right on top of your existing light switch and you can be controlling your lights via your smartphone in seconds.
Which I have to say getting something like this, where I am not having to rewire my house, is a great thing.   The one thing I noticed with this is that the app only works with it's native app. So you may need to assess your needs. Click here to check it out.
Bluetooth Shower Speaker
If you know someone who is always listening to their favourite podcast/album/radio/streaming channel, then this could be the greatest gift ever. This speaker is waterproof and it's a perfect companion for the shower. Make sure to check it out.
Bluetooth Beanie with Running Earphones
This is the best idea I have seen in a long time. When you live in a cold climate you have something on your head wherever you go. Headphone wires often get frozen so in comes this Bluetooth Beanie, I have already put this on my list for this year I can't wait to get it. Grab one by clicking here.

Nintendo Classic and Super Nintendo Classic
I have saved the best for last. This is the best thing ever….Ever…. EVER!!!   If you grew up in the 80's this will be the gift that blows his mind. All 30 of his favourite original Nintendo games in one console for a crazy low price.   Ladies and gents, getting this will almost guarantee you are giving that special man a gift that will take him back to his 8 year-old childhood Christmas. Placing you in the Hall Of Awesomeness. They have been selling super fast, so finding one may be a bit of a challenge but the reaction will be worth it.
The MSRP is $59.99 but who cares. It's 30 games for a ridiculous price. I want this so, so, so badly.
If you are looking for gift ideas for her that she will love and are under $50 you can check out this article here.
Need to buy gifts for other people? Check out our other gift guides:
Gifts For Young Boys
Gifts For Tween Girls
Gifts For Dads
Gifts For Mom
Gifts For Anyone (Think Work and Secret Santa)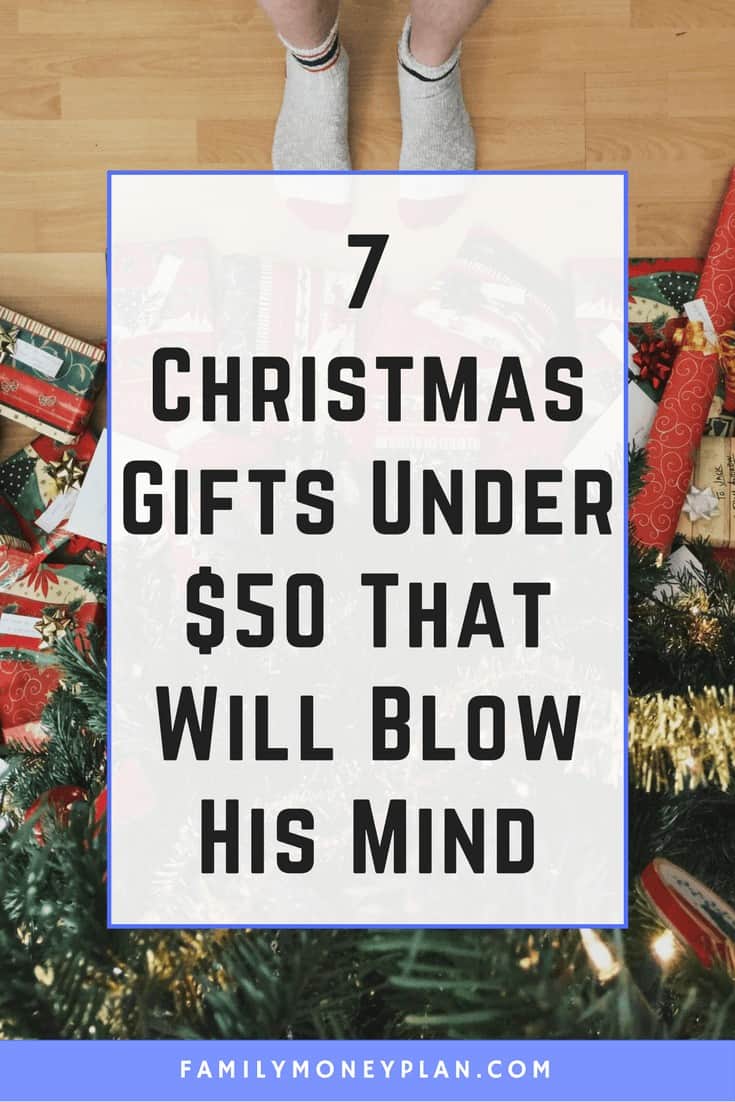 Looking For Some New Ways to Make Extra Money?
Our FREE guide will show you 10 ways you can start making extra money in your spare time!
Plus when you join our newsletter you will get access to our members only area full of great resources.